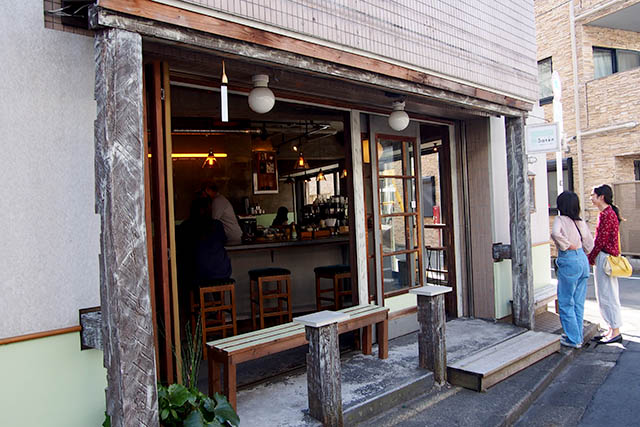 Are you familiar with Tokyo's Nishi-Ogikubo area, next to Kichijoji on the Chuo Line?

Nishi-Ogikubo has many shops and streets with a retro atmosphere, and is being seen as the next break-out city in Tokyo. If you don't know Nishi-Ogikubo, please come and visit the area along with Kichijoji!

This article introduces lunch spots and retro cafes in Kichijoji and Nishi-Ogikubo.
01

The retro vibe of Nishi-Ogi's South Exit Pass through Nakadori Street

Nakadori Street

There is no prominent main street as such around Nishi-Ogikubo Station, but there are many shopping streets that combine to emit an exciting back alley atmosphere.

The arcade of Nakadori Street is colored red and green like a traffic light, and there is a quirky pink elephant statue suspended from the ceiling of the arcade which has apparently been there for more than 20 years. There are many appealing shops in Nakadori Street's arcade, but there are also many other stylish shops and delicious treats to check out, so read on to find out more.

pink elephant statue

Book cafe and Gallery

Shoan Bunko is a café which has been setup in a renovated 80 year old traditional house. You will feel relaxed and comfortable both in body and mind enjoying Japanese style dining whilst bathing in the light coming from the café's large window and watching the splendid azalea tree outside. Served in wooden bowls, you can enjoy the variety of flavors coming from the five or six kinds of dishes that are prepared individually and carefully. It's worth noting that it seems that most of the furniture and miscellaneous goods in the cafe were sourced from local stores in Nishiogikubo.

Lunch menu

Shoan Bunko

4.0

9 Reviews

Tokyo Suginami-ku Shouan 3-12-22

0359413662

[Wednesday-Friday]11:30-21:0…

View All

Re:gendo

"Re:gendo" is a shop in a renovated old private house built in Nishi-Ogikubo during the early Showa era (late 1920's), and is a shop based on the concept of keeping traditional Japanese life alive. The lunch menus "Musubi Zen" and "Nigiri Vegetable Sushi Set" both offer a variety of colorful and healthy dishes, and the menus change depending on the season. Rice and miso soup cooked in a clay pot, homemade pickles etc. might seem simple, but they are dishes which stay true to the taste of Japan! Japanese-style Yakuzen herbal sweets, which are based on Chinese medicine and use healthy ingredients, are also popular and worth trying.

Lunch menu

Tokyo Suginami-ku Shoan 3-chome 38-20

0359418664

View All

Satén

Satén is a must-try café specializing in Japanese tea.

The sense of spaciousness in and around the store creates a very casual and welcoming atmosphere, and it maintains a traditional feel yet is still modern enough without falling victim to today's concrete jungle environment.

As soon as you enter you can feel the cool and sweet aroma of Japanese tea, tea which is served with craftsman-like care one cup at a time in front of you. The specialty is the matcha latte, which maintains an elegant bitterness with modest touches of sweetness and richness. There are also limited Japanese sweets available, so come in and check them out!

Matcha latte and Pudding

4.0

9 Reviews

Tokyo Suginami-ku Shoan 3-25-9

0367548866

URL: https://saten.jp/

View All

MensonRAGE

"Menson RAGE" is like a cool and trendy street-style café that makes you wonder "Is this a ramen shop?"

However, it definitely is a ramen shop, run by a skateboard enthusiast who also happens to be a ramen master who makes excellent tasting ramen! There are two main menu items: "Shamo Soba" (900 yen) and "Niboshi soba" (850 yen). The clear soup with plenty of umami is made from soup stock using shamo chicken and Jinhua ham, and is based on a blend of several types of raw soy sauce. The broth in this ramen is both juicy and refreshing, and it has an addictive, delicious taste that will make you want to eat more!

Shamo Soba 900yen

"Menson RAGE" has won the prestigious "Michelin Bib Gourmand" award for three consecutive years since 2016, so a visit is a must!

MensonRAGE

Tokyo Suginami-ku Shoan 3-37-22

View All

JUHA

About 5 minutes on foot from Nishi-Ogikubo Station, the cafe "JUHA" sits somewhat unobtrusively on the roadside.

When you open the door you'll be greeted by an antique-like atmosphere, which is a gentle space based mainly on a white interior, apparently inspired by the owner's interest in all things Scandinavian. Every item of furniture and tableware in the store also adheres to the afore-mentioned vibe.

One of the most popular menu items is the "Lemon Cream Soda" which is made with homemade lemon syrup, and has a refreshing taste without being too sweet. It's a sweet and sour combination that is perfect for the sentimental air of autumn.

The jazz and pop flowing from the record player add to creating a perfect ambience which will leave you wanting to spend a long time relaxing in the cafe.

Lemon Cream Soda

Monozuki

Monozuki, located in the north exit of Nishi-Ogikubo Station, is a long-established café featuring an eye-catching, chic exterior with stained glass windows set in white walls.

When you open the wooden entrance door, you'll be greeted by the charming sounds of an owl figurine at the entrance signaling your entry. The shop has an old-fashioned, playful character and uniqueness, with soft and calm lighting, a rustic wooden interior and walls lined with antique alarm clocks. The soothing jazz played in the café along with the quiet tick-tocking from the clocks makes for a comfortable environment, perfect for relaxing with a cup of coffee.

Why not pay a visit to this coffee shop and enter an alternate-reality where it seems like you've stepped back into antiquity.

Cake and Coffee set

物豆奇

東京都杉並区西荻北3-12-10

03-3395-9569

View All