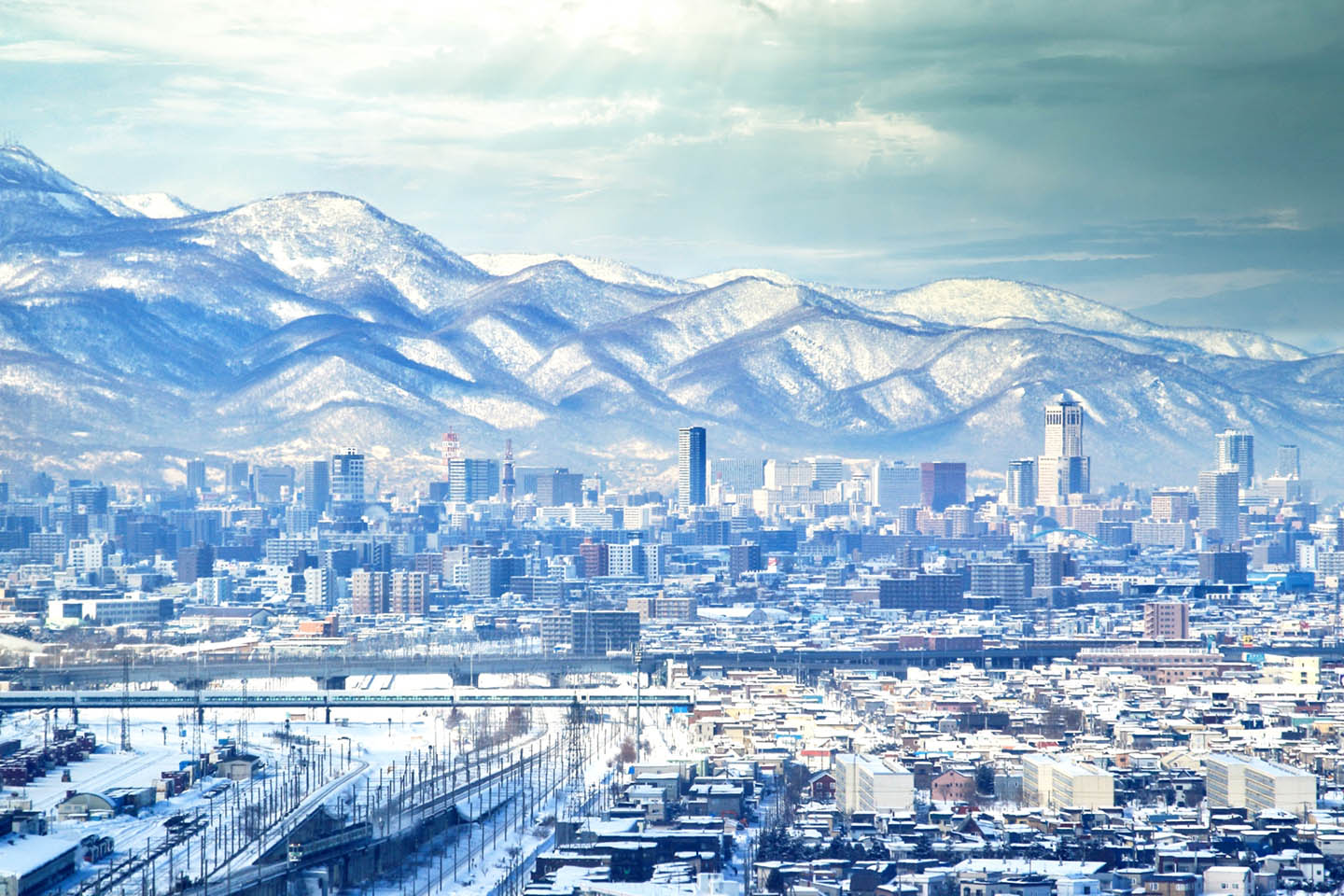 Hokkaido is Japan's largest prefecture drawing people from all over the country to its magnificent natural beauty. Summertime is nice and cool, making it the perfect time to take advantage of its open roads for a drive through its lush greenery.

Wintertime transforms the lands into a sought after ski and snowboarding destination. There are all kinds of dynamic activities waiting for you, and this article will show you all the best things to do in Hokkaido. Welcome to the great outdoors.
01

Hokkaido Basic Information

Japan's northernmost island, bordered by the Sea of Japan (East Sea) to the west, the Sea of Okhotsk to the north, and the Pacific Ocean to the east and south, Hokkaido covers 22% of the total land area of the country. The vast wilderness of Hokkaido provides numerous outdoor pursuits, mainly famous for its ski resort from the abundance of snow, and its cities against a backdrop of mountains, lakes and the sea, provide culinary delights and a dose of culture. It is also home to the Ainu, Japan's indigenous ethnic group of people with their traces still seen through many of the location names in the island.

New Chitose Airport (Central Hokkaido)
If you're headed to the central city of Sapporo, nearby Otaru, or the internationally popular ski resort Niseko, then this is the airport for you. Haneda Airport has more flights to New Chitose than anywhere else in the Hokkaido, and they're only 90 minutes. Inside the terminal you'll find facilities like a movie theater, an onsen, and a market with Hokkaido food specialties. There's even an outlet mall close by, so when you're planning your trip to or from the airport, you'll likely want to set aside extra time to take advantage of these facilities.

Hakodate Airport(Southern Hokkaido)
Hakodate has a distinctly non-Japanese feel to it, but it continues to be a focal point of the Hokkaido Shinkansen bullet train system, which opened in 2016.

Asahikawa Airport(Northern Hokkaido)
For those visiting Furano for its famous lavender fields or the Blue Pond in Biei, Asahikawa will be the where you want to be heading. It's also the closest airport to the renowned hiking destination of Daisetsuzan.

Wakkanai Airport(Northern Hokkaido)
Wakkanai is the northernmost city in Japan where you'll find ferries going to Rishiri and the Rebun Islands. Just keep in mind that there are only a few flights a day.

Memanbetsu Airport(Eastern Hokkaido)
This is the best airport for access to Abashiri where you can go drift ice sightseeing. Or perhaps you'll want to see the spectacular wildlife on the Shiretoko Peninsula. There are several airports in the area, but Memanbetsu has the most flights.

Tancho Kushiro Airport
Head here if you're going to the Kushiro Shitsugen National Park, home of the largest wetlands in Japan. The beautiful Lake Mashū and Lake Akan are also best accessed by using this airport and the train lines.

Hokkaido Chitose-shi Bibi Shinchitose Airport

0123230111

*Please see the New Chitose …

View All

The capital city of Hokkaido is Sapporo and the famous Sapporo beer have established the city as a tourist destination in its own right. Besides the Sapporo Beer Museum, Sapporo offers a plenty of tourist attractions such as the morning fish market, snow festival, parks, restaurants and more. Some may have known this city as the Asia's first ever place to host winter Olympics back in 1972.

Odori Park

04

Sapporo Transportation

About a third of the Hokkaido's population lives in Sapporo. It takes around an hour from New Chitose Airport to get to the city by bus, but the JR Airport Express Train will get you there in 40 minutes.

Sapporo has a solid network of buses and trains running throughout the city, but rental bikes may make the most sense for tourists during the green season. The Porocle share cycles have electric-assisted bikes in a streamlined system. You'll be on your way in no time.

Sapporo Station

05

National Ainu Museum and Park

The National Ainu Museum and Park, more commonly known as Upopoy is Japan's first national museum dedicated to the indigenous Ainu people of northern Japan. On the banks of Lake Poroto in Shiraoi, about an hour drive by car from Sapporo, visitors will be able to learn about the Ainu's rich culture through a variety of hands-on activities, traditional performances, local cuisine and museum exhibitions at Upopoy which are divided into three main parts: the museum, a park and a memorial, the latter used by Ainu for ceremonies.

Hokkaido University, more commonly known as Hokudai to locals, is one of the most famous tourist spots for visitors to enjoy nature as it sits on a large expanse of land noted for its lush greenery. Not only can visitors enjoy the seasonal natural beauty, there are several historical buildings including the bust of William S. Clark. He was the first head of the Sapporo Agricultural School, the precursor to Hokkaido University, when it was formed. This phrase might ring a bell to many, "Boys Be Ambitious" as Clark exhorted to his students. It is inscribed on the base of the bust. There are several statues of Dr. Clark but one of the most famous one is located at Sapporo Hitsujigaoka Observation Hill.

Bust of William S. Clark at Hokkaido University

Statue of William S. Clark at Sapporo Hitsujigaoka Observation Hill

While it is not open to the public, a two-story wooden structure, Furukawa Hall originally constructed to be used as classrooms for forestry studies is another spot not to be missed. It is registered as a cultural asset, and an example of French Renaissance Style architecture in Japan. Because the campus is so huge, visitors are recommended to first drop by at the Elm Forest Information Center immediately to the left of the main gate to pick up the map of the campus.

Access: Less than 10minutes walk to the main gate from Sapporo Station.

Furukawa Hall

Shiroi Koibito Cookie

An iconic souvenir from Hokkaido would be the delicate white chocolate sandwiched in buttery biscuits, known as Shiroi Koibito Cookies. For those who are curious to know the secret behind to this famous cookie, then a visit to Shiroi Koibito Park is a must. Boasting over 750,000 visitors a year, Shiroi Koibito Park in Sapporo, Hokkaido reopened on July 12, 2019, after renovations were completed. This popular theme park is based on the idea of "chocolate entertainment," and visitors can observe the cookie production process in the factory.

Shiroi Koibito Cookie in production

The park consists of a free area with a shop, cafe and restaurant and a paid area with various chocolate-related exhibits too. Since the renovation, the park now features a projection mapping show displaying the history of chocolate, plus an updated cafe with original dessert creations.

Access:

Less than 10minutes walk from Miyanosawa Station on Tozai Line. Its about 30minutes from Sapporo or Shin Sapporo Station.

4.0

4 Reviews

Hokkaido Sapporoshi Nishi-ku Miyanosawanijou 2-11-36

0116661481

10:00-17:00 (Entrance recept…

View All

On the Mt. Moiwa's summit of 531 meters, there is an observation deck with a panoramic view of the city of Sapporo. From its stunning beauty of the night view it has been listed as one of the "Three Best Night Views" of Hokkaido. For both locals and tourists, this is a very popular place to visit and easily accessible via Mt. Moiwa Ropeway. Aside from its cityscapes below, the Bell of Happiness found on the summit's observation deck is a popular photo spot for couples and families. There is a saying that couples who ring the bell while gazing out at the view will become happy.

Access:

From Susukino, take Sapporo's only streetcar line to "Ropeway Iriguchi" station where visitors can change to a free shuttle bus that operates to the lower ropeway station. This bus departs every 15 minutes. (subject to change)

Cityscape at night seen from the observation deck with Bell of Happiness on the right

Hokkaido Sapporoshi Chuou-ku Fushimi 5-3-7

0115618177

[Apr.- Nov.] 10:30-22:00 (La…

View All

In the outskirts of Sapporo, there is a large park surrounded by a marsh called the Moerenuma Park. This park is an artistic green space designed by internationally renowned Japanese American sculptor, Isamu Noguchi. The park is filled with impressive man made features that give visitors a unique experience as they explore them. Of all, A Sea of Fountain in the middle of the park is a must see tourist attraction. The park shoots water 25meters into the air during daily shows. Especially the night show when the water is illuminated into different colors is a stunning view. The show runs about 3 to 4 times per day between mid June to late October. However, these are subject to change and checking its schedule here is recommended.

Access:

To get to the park, visitors will need a train and a bus ride. Take the Toho Subway Line to Kanjodori-higashi Station and then change to local bus number 69 or 79 to the park's east entrance. Get off at Moerenuma Koen Higashi-guchi bus stop.

A Sea of Fountain show at night

Moerenuma Park

4.5

842 Reviews

Sapporo, Hokkaido, Higashi-ku, Moerenuma Park 1-1

0117901231

7:00-22:00(Last entry21:00)

View All

10

The Hill of the Buddha

The Hill of Buddha is located in the precincts of Makomanai Takino Cemetery in Sapporo, designed by Japanese modernist architect Tadao Ando. Ando has concealed a huge stone statue of the buddha within a hill covered in lavender plants. From outside, a round buddha's head is barely visible.

Buddha's head is barely visible

Visitors must pass through a 40-meter tunnel in tandem to heightened anticipation of the statue to get to the foot of the 13.5-metre-tall Buddha. This tunnel is dimly lit and made up of arches of folded concrete, while the opening at the center is naturally lit and surrounded by concrete walls that narrow towards the sky. Visitors will get to enjoy the seasons, as the lavenders turn fresh green in spring, pale purple in summer and silky white topped with snow in winter. Combining nature with architecture, this is an awe-inspiring place to take a visit for anyone.

Access:
Take a bus from Makomanai Station on the subway Namboku Line. At bus stop 2, take the bus bound for Takino Reien. Keep in mind that there is only 1 bus per hour and checking the schedule here is a must.

Stone statue of Buddha seen from inside

Stone statue of Buddah concealed in the hill of lavender

A 45-minute drive from Sapporo will get you to the onsen town of Jozankei. Nestled in an area rich with nature, Jozankei lets you kick back in tranquil hot springs surrounded by gorgeous scenery. Autumn colors the area with bright crimson leaves while in winter, the countless lights from snow candles dimly lit the night in the resort nestled deep in snow.

Jozankei Onsen Yukitouro (Snow Candle Way)

The town of Jozankei Onsen during Autumn foliage

A little day trip from Sapporo is all you need to experience a genuine onsen atmosphere far removed from the bustle of the big city. It's an easy hot spring outing that will leave you relaxed and refreshed.

Hokkaido Sapporoshi Minami-ku Jouzankei Hot spring

0115982012

Please contact each facility

View All

A 100-minute bus ride from Sapporo Station will land you at Noboribetsu Onsen. It boasts the most hot spring water in the prefecture, and the onsen has a variety of water types infused with different kinds of minerals. This is a rare kind of onsen, even for Japan.

Jigokudani (Hell Valley) is a unique tourist spot where an Onsen was created after Mt.Hiyoriyama erupted roughly 20,000 years ago. Take a stroll through the forest where you can see the Oyunuma pond — a sulfurous pond with temperatures of up to 50 degrees Celsuis. You can also enjoy a natural foot bath (called "ashiyu") in the stream flowing out from the Oyunumagawa river.

Noboribetsu Bear Park is located a quick ropeway ride away from Noboribetsu Onsen which is home to around 70 Ezo brown bears, the biggest bears in Japan. Beyond seeing these bears, visitors have the opportunity to feed them too.

Hokkaido Noboribetsushi Noboribetsuonsenchou 224

0143842225

8:30-16:30[7/Aug.] 8:30-17:0…

View All

14

Hoshino Resorts Tomamu

Taking advantage of the spectacular Hidaka Mountains which run through the east of Hokkaido, Hoshino Resorts Tomamu have based themselves at the base of Mt. Tomamu, a 1,239-meter mountain that offers unbeatable hiking opportunities in summer and snow sports aplenty in winter. The resort is home to two sets of eye-catching towers offering top quality accommodation, while at ground level you'll find restaurants, an outdoor center, open air spa, a mall, and even an indoor beach.

If the activities at the hotel isn't enough to satisfy you, then head up to the neighboring Mt. Tomamu to see the sea of clouds at UNKAI TERRACE. Hovering just above the clouds with a view over the surrounding mountains, the terrace's commanding position gives both hotel guests and visitors the chance to see the Hidaka Mountains in all their glory. While the most celestial views are sure to be seen at sunrise and sunset, early morning promises one of the most peaceful experiences.

Access
Take the Limited Express Super TOKACHI or Limited Express Super OZORA from JR Sapporo station and get off at Tomamu Station. Hotel guests will be able to board the shuttle bus to the hotel from there. The total train ride will be about 100 minutes.

Unkai Terrace Cloud Bar

4.0

1484 Reviews

Hokkaido Yufutsu-gun Shimukappumura Nakatomamu

0167581111

[Check-in]15:00[Check-out]11…

View All

Sapporo is a gold mine for good food, with tons of restaurants to choose from. You can't miss Sumire, a shop that's known far and wide for its rich bowls of Sapporo-style miso ramen.

Sumire Sapporo-style Miso Ramen

Sapporo Beer Museum offers beer straight from the iconic Japanese brewery. They also serve the most famous mutton and lamb dish called "Genghis Khan" (pronounced jingisukan in Japanese). The dish itself has no relation to the great Mongolian leader although its name are the same.

Soup Curry is another one you must try while you're in town. Each restaurant has its own version of the dish using different spices. Then there's the fresh bread made with wheat grown in the expansive Hokkaido fields. And let's not forget about all of the delicious dairy products they have. You won't be able to eat everything, but you can definitely try.

You can't mention Hokkaido without bringing up the world-famous Sapporo Snow Festival, which is held in February. Prepare to be amazed by all of the impressive snow sculptures, some towering several stories in the air with intricate designs.

Sappor0 Snow Festival at Odori Park

4.0

3798 Reviews

Hokkaido Sapporoshi Chuou-ku Odorinishi 1 from 12-chome

0112510438

Open 24 hours

View All

17

Sapporo Odori Beer Garden

Sapporo Odori Beer Garden is a beer-lover's dream. From mid-July to mid-August, the beer garden is held right in the city center at Odori Park. The area is bursting with people enjoying the fresh air while chowing down on a diverse selection of food and brews.

4.0

3798 Reviews

Hokkaido Sapporoshi Chuou-ku Odorinishi 1 from 12-chome

0112510438

Open 24 hours

View All

City of Chitose is located in the south-central part of Hokkaido, at the southern end of the Ishikari Plain, and is adjacent to four cities and four towns, including Sapporo. The city itself expands towards the East and the West with Lake Shikotsu in the mountainous region in the West. While the East is mainly used for agriculture and forestry. And the Central area is more less flat where the famous New Chitose Airport is located.

Lake Shikotsu is best accessed by car or bus and lies about an hour's drive from Sapporo and around 40 minutes from New Chitose Airport. Most of Lake Shikotsu is little developed, and less crowded so it's a perfect place to chill while gazing at the wonders of the lake's beautiful blue depths.
If a more touristy area is your preference, then a small town, Shikotsuko Kohan with a visitor center and a small number of lodgings along the lake's western shores is the spot for you. From there, visitors can take a fancy trip by renting boats, kayaks, bicycles or scuba gear to enjoy the natural surroundings. Or, alternatively, join a sightseeing cruise of the lake in glass bottomed boats to see how clear the water is.

Lake Shikotsu

During winter, Lake Shikotsu Ice Festival attracts many tourists. This annual event usually held somewhere between January and February transforms the banks of the lakes into a magical frozen kingdom with a huge range of stunning ice sculptures colorfully illuminated at night, while these glisten blue under the sunshine during the day.

Lake Shikotsu Ice Festival during daytime

Lake Shikotsu Ice Festival at night

Otaru in Hokkaido is a small harbor city, less than an hour away from Sapporo by train. Otaru's historic cityscape like stone-built warehouses, the old housing facility for herring fishermen, temples, churches, and banks which are a reminiscent of past decades from the early days of Hokkaido's colonization in the late 1800s where Otaru served as a major trade and fishing port is a must be visited areas to consider. Aside from immersing in history, the city offers art museums, hot springs, delicious local seafood and sake and of course, its iconic canal area ideal for great photo spots both day and night. All of these makes this city a pleasant day trip from Sapporo.

There are multiple trains per hour between Sapporo and Otaru along the JR Hakodate Main Line. Taking a rapid train will get to Otaru in about 30 minutes and 45 minutes by local train.

Most of Otaru's attractions are located less than a 30 minute walk from Otaru Station, making the city convenient to explore by foot. The map can be found here. Alternatively, there are city buses and Otaru Stroller Bus that go around the major tourist areas.

Otaru Canal was completed in 1923 and served as a central part of Otaru City's busy port. Along this canal, large vessels were unloaded by smaller ships, which then transported the goods to warehouses. The canal was partially reclaimed in 1986 and became a promenade as it stands today. There are 63 gas lamps along the canal which dimly lit up at night making the canal even more nostalgic and beautiful. This canal also serves as the main venue for Otaru Snow Light Path Festival where thousands of glittering candles and lanterns are placed on the snow by the canal to add warmth to the bitter cold.

Access:

10 minute walk from JR Otaru Station

Otaru Canal during green season

Otaru Snow Light Path Festival

23

Kitaichi Glass Sangokan Kitaichi Hall

Kitaichi Glass Sangokan is a historical stone on wood frame building from its outside. But, its inside is an ethereal space with vaulted ceilings, wooden architecture, and over 150 lamps as the sole light source. It's a gorgeous environment to enjoy a drink and feel like you've slipped into another time and place.

Access:
10 minutes walk from JR Minami Otaru Station or 20 minutes walk from JR Otaru Station.
Alternatively, take the Otaru Stroller's Bus from JR Otaru Station and get on either Marine or Roman Course. These two courses will stop by at Kitaichi Glass Emporium No3. bus stop so get off there.

Inside the hall

Exterior

Hokkaido Otarushi Sakaimachi 7-26

0134331993

[Japanese Floor, Country Flo…

View All

24

Nikka Whisky Yoichi Distillery

This is the holy ground of Japanese whiskey. At just 25 minutes via train from Otaru, the Nikka Whisky Yoichi Distillery is an excellent outing for those interested in learning about the classy beverage. You can make reservations for a tour of the distillery online.

After seeing the museum and facilities you can have a taste of the whiskey yourself. It's getting harder and harder to get your hands on Japanese whiskey (due to its popularity), so take advantage of the opportunity!

4.0

5 Reviews

Hokkaido Yoichigunyoichichou Kurokawachou 7-6

0135233131

[Visit Hours] 9:00-17:00[Vis…

View All

Niseko is a group of ski areas which stretch far around the mountain, providing extremely favorable light conditions from morning until evening. This means that after hitting the slopes all day, visitors can continue with night skiing courses that are well-lit for many hours. There are four main areas in the Niseko Ski Resort – Annupuri, Higashiyama, Hirafu, and Hanazono, and from November to April strong winds blow in from Russia, blanketing the region in deep snow making it a great place for powder snow.

4.5

341 Reviews

Niseko town Abuta-gun, Hokkaido Niseko 485

0136582080

8:30-16:30 ¥ [Twitter] 1…

View All

Otaru is known for its fresh fish taken straight from the harbor, so it should come as no surprise that the sushi here is amazing. Do yourself a favor and head to Otaru Sushiya-dori, or Otaru Sushi Street, where famous local sushi restaurants can be found. You don't want to miss it.

LeTAO is gaining international recognition for its delectable sweets, especially for its baked cheesecake. The store is based in Otaru but you'll find their shops all over the city, and even at New Chitose Airport, so it's probably worth checking out every time. With so many sweet things to try, you'll want to split up your indulgences.

Hakodate city is the third most populated falling after Sapporo and Asahikawa respectively. In 1859, together with other Japanese harbor cities like Nagasaki and Yokohama, Hakodate city opened to international trade after the country's era of isolation. The city is famous for its delicious fresh seafood but above all, it has one of the most beautiful views in all of Japan especially enjoyed from Mt. Hakodate. Compared to other Japanese cities, the leftover buildings of churches, residents and consulates from the 1800s when those were built for English and French immigrants somewhat makes an exotic look.

Night view from Mt. Hakodate

28

Hakodate Transportation

The part of the prefecture sticking out on the bottom right is Hakodate. A bus will take you into the city from Hakodate Airport in about 20 minutes. Alternatively, you can take the Hakodate Liner train from Shin-Hakodate-Hokuto Station (Hokkaido Shinkansen), and it'll get you there in about 20 minutes, too.

Once you arrive, transportation in the city is usually done either by train or by bus. Chances are public transit will take you to the places you need to be, so no need to worry about cabs or rental cars.

29

Night View from Mt. Hakodate

The cityscape scattered with lights in the curve between the Tsugaru Strait and Hakodate Bay is a stunning beauty which can only be seen at night from Mt. Hakodate. A 3 star on Michelin Green Guide and also listed as one of the Top Three Night Views in Japan, the view of this flat terrain at the mountain's height is just perfect. While the mountain summit may be reached by Hakodate Ropeway, it can also be accessed by bus, taxi, and other modes of transportation.

Hokkaido Hakodate-shi Motomachi 19-7

0138233105

[4/25-10/15]10:00-22:00[10/1…

View All

30

Goryokaku (a star-shaped fort)

One of the main tourist attractions in Hakodate, Goryokaku is a star-shaped, Western-style fortress that was built during the late Edo Period. It's also one of the most popular cherry blossom viewing spots in Hokkaido, with the season arriving a few weeks later than mainland Japan. Around 1,600 trees line the fort's moats where you can rent boats, then soak up the views from the 100-meter-tall Goryokaku Tower. Catch the tram from Hakodate Station to Goryokaku Koen Mae Station and it is just 10 minutes' walk away.

Goryokaku during cherry blossom season in Spring

You can't leave the city of Hakodate without trying out its well-known squid for yourself. Get up early one morning and head over to the Hakodate Morning Market to try your hand at fishing for squid yourself! It's a fairly straightforward process. Catch a squid from within the large tank with a small fishing rod, then hand it off to the staff who will prepare it for you on the spot. It doesn't get fresher than this!

Access:
The market is about few minutes walk from JR Hakodate Station.

Dancing squid bowl

3.5

50 Reviews

Hokkaido Hakodateshi Wakamatsuchou 9-19 (Hakodate morning market cooperatives Federation Secretariat)

0138227981

[Jan.--April.] 6:00-After 14…

View All

32

Furano and Biei Travel Guide

Furano and Biei is a small town surrounded by vast scenery of picturesque hills and fields. These fields are disposed of as if they were a beautiful patchwork seen from above. And the area northwest of the town center is named "Patchwork Road" after such an appearance of the fields. The south of the town center is called the "Panorama Road" and ideal for exploration by car or bicycle. These two routes bring visitors to meander between rolling hills and wheat fields and arrive at various lookouts, viewing towers, and parks. Between April to October, Shikisai no Oka along the Panorama Road is great for exploring the green hills with beautiful flora.

Shikisai no Oka (panoramic flower garden)

San-ai-no-Oka view park

33

Furano and Biei Transportation

A trip to the colorful flower fields and verdant driving courses of Biei and Furano starts from Asahikawa. It's 11 km to Biei and 33 km to Furano in a rental car from Asahikawa Airport. There are also buses leaving from the airport heading to Biei, Furano, and Asahikawa city.

From June to October, you can ride the Norokko Train from Asahikawa to Biei and Furano, which takes you through gorgeous country scenes like farming lands and lavender fields.

The Twinkle Bus lets you see sights you'd normally need a car for. It leaves from Biei Station. Bus tickets are limited to those who already have JR train tickets or passes. To buy the pass, it can be purchased at all major JR Hokkaido Ticket Counters (Midori-no-Madoguchi), Twinkle Plazas and major travel agencies in Hokkaido.

Farm Tomita is famous for its 15-hectare lavender fields. During the peak blooming season between late June to early August, many people visit the farm to see its magnificent views. Today the farm's popularity only seems to grow by the year. The popular Farm Tomita has no entry fee and, besides the wonderful natural splendor of the flower field landscapes, also has a number of cafes and shops that sell a rich assortment of lavender related goods including the iconic and super tasty lavender cream puffs.

Access
25-minute walk from JR Nakafurano Station or 7 minute walk from Lavender Farm Station on JR Furano Line via Norokko Train.

Hokkaido Sorachi-gun Nakafurano Town Near base line 15

0167393939

[July-Aug.]8:30-18:00[5-6, S…

View All

35

Shikisai no Oka (panoramic flower garden)

A panoramic flower garden, Shikisai-no-oka has about 30 varieties of flower on display, ranging from lavender, cosmos, lupine, and sunflowers, which visitors can enjoy from spring until fall every year. While in the winter, visitors can experience standing in the midst of a vast expanse of snow. Besides the extensive flower gardens, farmers' fields and Alpaca ranch, Shikisai-no-oka also has a farm guesthouse where visitors can stay. The farm shop sells vegetables grown locally, as well as other products sourced directly from local farmers.

Access
Shikisai-no-oka is located 25 minutes walk from JR Bibaushi Station.

3.5

24 Reviews

Hokkaido Kamikawagumbieichou Shinsei number 3

0166952758

[4-5/Oct.] 9:00-17:00[June--…

View All

On the outskirts of the hot spring town of Shirogane Onsen lies the Instagram famous Blue Pond of Biei, which takes its name from its deep blue colour which occurs naturally thanks to the minerals from nearby hot springs dissolved in the pond's water. The pond has only recently become a tourist hotspot thanks to the magical atmosphere and equally magical photos which can be taken on location.

Access
20 minutes drive by car from JR Biei Station

Hokkaido Kamikawagumbieichou Shirogane

0166924378

[Light up] 18:30-21:00

View All

37

Asahikawa Travel Guide

After Sapporo, Asahikawa is Hokkaido's second largest city. The city may not be known as a leading tourist destination, but its zoo, Asahiyama Zoo and hike/snowshoe at Daisetsuzan National Park and Mt. Resort Asahidake is a popular destination for visitors.

38

Asahikawa Transportation

Asahikawa is about 90minutes train ride via limited express trains from Sapporo. Within the city, there are urban public transportation provided by a bus network which connects JR Asahikawa Station with Asahiyama Zoo too. Its bus schedule can be found here.
Asahikawa Airport is located about 35minutes bus ride from JR Asahikawa Station too. This main station serves as a base for exploring to many locations including Furano and Biei to the south and Mt. Asahidake Resort and Daisetsuzan National Park to the southeast.

Asahiyama Zoo is a very popular zoo year round as it's easily accessible via car or bus from either Sapporo or Asahikawa. Its popularity lies in the enclosures which allow visitors to observe the animals from various angles, many of which are unique to Asahiyama Zoo. However, the one special attraction that occurs only during the winter months is the famous Penguin Walk. This winter-exclusive event results in an annual surge of visitors from across Japan and all around the world, coming to see the chubby waddle of flightless Antarctic birds. It is said that the penguin walk was first introduced in order to give some of the pudgier birds a workout so they wouldn't get too inactive and fat over the winter.

Access
The zoo can be reached via a bus from JR Asahikawa Station. The ride is about 30minutes. Its bus schedule can be found here.

4.5

2769 Reviews

Hokkaido Asahikawashi Higashiasahikawachou Kuranuma

0166361104

9:30-17:15 (Last entry 16:00…

View All

40

Daisetsuzan National Park in Sounkyo

Daisetsuzan National Park is an exceedingly popular hiking spot for mountain trails. The best times to hike is from June to October; outside of those times the paths are covered in snow and make for harsh conditions, even for experienced hikers. Be sure to check forecasts and reports before you go, so you can focus on taking in the scenery.

The park also boasts the earliest fall colors in Japan, with the mountainsides awash in vibrant reds that are sure to take your breath away. It's a great chance for fall pictures if your trip ends before the true start of the season.

Furano City in Hokkaido, Biei-cho in Kamikawa-gun, Kamifurano-cho in Sorachi-gun, others

0165822574

View All

41

Camping at Lake Shumarinai

Shumarinai is an area in northern Hokkaido that's known for being a particularly cold region that gets lots of snow. Lake Shumarinai is the largest man-made lake in the country, and is surrounded by a lush forest. Camping at Lake Shumarinai during the summer gives you the rare opportunity to do some freshwater fishing for Ito fish (Sakhalin Taimen).

Lake Shumarinai during green season

In the winter, the lake freeze over, which means you can try all sorts of snow-like activities like snowmobiling across miles of fresh snow. Be prepared for the extreme cold though.

Access

90 minutes drive by car from Asahikawa Airport. For more information on how to get to the lake, see here.

Lake Shumarinai during winter

42

Teuri Island in Haboro

Teuri Island is known as "sea bird paradise," and with upwards of 1 million sea birds on the island, it's a must for avid bird watchers. The island is home to 8 different species of sea birds, like the common guillemot, as well as endangered species like the rhinoceros auklet and the spectacled guillemot.
You can get there by driving from Asahikawa Airport to Haboro (about 2 hours), and then taking a 25-minute ferry to the island.

Try the Asahikawa Ramen while you're here too. Fans of a soy sauce based ramen bowls will love Asahikawa's take on the classic dish.

Yubari in central Hokkaido is a rural city located in a mountain valley, surrounded on both sides by rugged peaks. Once a bustling coal mining community, the city is now known for being somewhat of a ghost town due to a sudden decrease in population after the last of the mines closed in the early 1990s. Yubari is also known among film buffs for its links with contemporary film, playing host not only to the occasional international film star but also the city's annual International Film Festival. People also flock to Yubari from all over Japan to sample their deliciously sweet melons, which grow in abundance in farms around the city.

Yubari City is located about 70km away from Sapporo and will take about 90minutes to drive there. Getting around the city will require a car.

Takinoue Park has a strange rock formation and waterfall landscape formed by the erosion caused by the Yubari River. The expression of the valley changes from season to season, with cherry blossoms in the spring, green trees in the summer and during autumn, both sides of the valley will be coloured red by the maple leaves. These seasonal beauties make this place a scenic spot. The park is easily accessible from New Chitose Airport in about 40 minutes by car and is open between early April to usually first week of November.

A perfect place for melon lovers, at Yubari City Agricultural Cooperative Production Center, during the harvest season, all-you-can-eat melons are available. This isn't just your regular run of the mill melon either, what's on offer is something special; melon royalty – The Yubari King. The king of rock melons is a cantaloupe cultivar which is farmed in greenhouses all across the town of Yubari, Hokkaido. The Yubari King is a hybrid of two other cantaloupe cultivars – 'Earl's Favourite' and 'Burpee's 'Spicy' Cantaloupe'.

48

Yubari Coal Mining Museum

Yubari was considered a coal capital in Japan after large deposits of coal were discovered underground in the 1940s. At the peak of the city's coal mining industry it boasted a population of 120,000, many of whom were miners. The industry started to lose traction throughout the 1980s and the last of the city's coal-mines closed its doors in 1990 after a large underground explosion. The Yubari Coal Mining Museum pays tribute to the city's mining past with information on its history and a life size underground mine shaft that visitors can explore. The museum is open between April to early November.

Access

From Sapporo, its about 100minutes drive by car or 70minute drive from New Chitose Airport.

49

Shimizusawa Power Plant

The Shimizusawa Thermal Power Plant was built in 1926 and served as a power supply to various coal-mines at the height of Yubari's coal mining days. The power plant closed in 1991 and subsequently a large chunk of it was demolished but the now-abandoned control rooms remain standing, and are open to visitors to look around and explore, but since 2018, visitors will need to make prior reservation in order to see the power plant. Reservation can be made here but only available in Japanese.

Access

The power plant is about an hour drive by car from New Chitose Airport

Former Hokutan Shimizusawa Thermal Power Plant

Hokkaido Yubari-shi Shimizusawaseieicho

0123577463

View All

Kushiro is a city well known for Japan's largest marshland, the Kushiro Shitsugen. Dedicated as a national park, this marshland is home to rare, wild Japanese red-crowned cranes known as tancho. These cranes can be seen during winter months. Besides the vast nature, as a major fishing port city in Eastern Hokkaido, the city is naturally renowned for its fresh seafood which can be enjoyed at various restaurants within the city. Kushiro Washo Market, a public fish market which is just a short walk from JR Kushiro station is said to be one of Hokkaido's three biggest markets that offer a selection of seafood savory that must not be missed.

51

Kushiro Transportation

There are 22 km between Kushiro Airport and Kushiro city. You can ride the Akan Bus from the airport to get you there in about 45 minutes. From there you can drive out to the main tourist destination Kushiro Shitsugen National Park, which holds the largest wetlands in Japan.

For those who won't have access to a car, you can still take a Sightseeing Bus that will take you to the Kushiro Wetlands, Lake Akan, and Lake Mashū, all in the same day. You'll hit the major spots with time to spare.

SL Fuyu-no-Shitsugen Train

52

Kushiro Shitsugen National Park

Boasting the title of Japan's largest marshland, Kushiro Shitsugen National Park is a whopping 269 square kilometers of wetlands found between Kushiro City and Akan National Park in Eastern Hokkaido. Not to be underestimated, this protected national park is home to a huge number of complex ecosystems and fascinating wildlife including the iconic Japanese crane.

The Kushiro Shitsugen Norokko train takes a path through the wetlands. It's a special sightseeing train with large windows open to the outdoors, giving you a great view of the marshes and wildlife. We recommend visiting the park between late April and early November.

Hokkaido Kushiro-shi Kushiro-gun Kushirocho Akan-gun Tsuruimura Kawakami-gun Shibechacho

Free walking ※ Each Dependi…

View All

53

Lakes at Akan-Mashu National Park

Established in the 1930s, Akan National Park is one of the oldest national parks in Hokkaido. Adorned with naturally formed hot springs, breathtaking scenery and some of the clearest lakes: Lake Akan, Lake Mashu and Lake Kussharo which all go through radical transformations with the seasons, the park promises outdoor activities aplenty and a true feast for the eyes.

Hokkaido Kushiroshi , Teshikaga Town, Kawakami gun, others

View All

54

Shiretoko Travel Guide

The Shiretoko peninsula located in eastern Hokkaido is a UNESCO listed National Park that boasts biodiversity and an ecosystem unique to the area. It is known for being one of Japan's most beautiful and unspoiled regions.
The peninsula is home to an abundance of wildlife, including animals such as brown bears, Yezo sika deer, foxes, and various birds, as well as a wide range of flora. Popular all year round, in winter it transforms into somewhat of a winter wonderland with stunning scenery in every which way one looks.

55

Shiretoko Transportation

The Shiretoko Peninsula juts out into the Sea of Okhotsk on the northeastern side of Hokkaido. It's been designated as a World Natural Heritage Site for its untouched environments and wildlife habitats. To get there, you'll start at Memanbetsu Airport and then head to Abashiri. From Abashiri you'll head to either Rausu or Utoro, which act as entry points for Shiretoko.

It's about 30 minutes by bus from Memanbetsu Airport to Abashiri, and just under 2 hours from Abashiri to Utoro by bus. The Akan bus from Utoro to Rausu takes around 50 minutes.

The Shiretoko Airport Liner will take you straight from Memanbetsu Airport to Utoro, but it takes over 2 hours. Information on the buses can be found
here.

Shari Bus Terminal

Utoro lies in the western portion of the peninsula being the focal point of tourism in Shiretoko. Several companies offer sightseeing cruises leaving from Utoro which include tours that have brown bear-watching. The wildlife watching tours use smaller boats though, so avoid this if you get seasick easily.

Shiretoko Five Lakes are a collective name of 5 lakes formed long ago by the eruption of nearby Mt. Ito and fed by underground springs. The lake is located next to the Okhotsk Sea with a backdrop of mountains and beautiful woodland views making it an unmissable spot. For an open view of the vast surroundings, head to the 800-meter wooden elevated boardwalk which leads from the parking lot to the first lake. On this trail, visitors can meander around all five lakes which takes about 90minutes. For more details of the lake and the pathways, see here.

4.5

962 Reviews

Shari-cho, Shari-gun, Hokkaido Yuzu Iwa 549

0152243323

7:30-until Sunset* Depending…

View All

Rausu is a port town on the southern end of the Shiretoko Peninsula, and it's a particularly special place for the types of whales you can encounter there.

During the following periods, you will see:
April - July: Killer Whales
May - December: Dall's Porpoises
April - September: Minke Whales
July - October: Sperm Whales

Wintertime brings other wildlife, like white-tailed eagles and Steller's sea eagles, making it favored by bird watchers. The season also has northern sea lions and seals. You'll feel like you're living in a nature documentary!

Shiretoko Rausu Tourism Association provides a brochure of the area in different languages and can be downloaded from here.

Killer whales seen during warmer months

Steller's sea eagles spotted during the harsh winter

4.0

95 Reviews

Hokkaido Menashigunrausuchou Yunosawachou 6-27

0153872828

[Opening Hours] 9:00-17:00 …

View All

Found in the very east of rural Eastern Hokkaido, Abashiri is home to a number of lakes, views over the Okhotsk Sea, and museums about the fascinating Okhotsk culture as well as one of the most in-depth prison museums around for the perfect mix of nature and culture. Of all, the drift ice which can be observed in the Okhotsk Sea during the winter attracts many wildlife, especially the Steller's sea eagle stand out in the beauty over the winter wonderland.

60

Abashiri Transportation

From the closest airport, Memanbetsu Airport, it takes about 30minutes by car to Abashiri. Renting a car is the easiest way to get around the area, however, there are public buses that go around the major tourist attractions which makes it convenient for visitors. Abashiri Tourism Association offers detailed information on how to get around the area so checking its page here is recommended.

61

Abashiri Prison Museum

Sandwiched between Mt. Tento and Lake Abashiri, Abashiri Prison Museum, often referred to in the past as "the prison in the farthest land", is an outdoor museum made up of a number of buildings conserved from the original Abashiri Prison including the oldest wooden prison structure in the world. Replicas of inmates in the different prison buildings provide a fascinating, albeit dark, insight into what life in an isolated Hokkaido prison over 100 years ago was really like.

4.5

785 Reviews

Hokkaido Abashirishi Yobito 1-1

0152452411

9:00-17:00 (may change depen…

View All

62

Okhotsk Ryu-hyo Museum

Okhotsk Ryu-hyo Museum focuses on the drift ice and sea animals of the Sea of Okhotsk. The museum provides a simulated drift ice experience in a room where the temperature is set at -15c°. Aside from the museum areas, there is an observatory that gives a great panoramic view over Abashiri City and out to sea in the direction the drift ice comes from.

4.0

389 Reviews

Hokkaido Abashirishi Tentozan 244-3

0152435951

[May- Oct.]8:30-18:00[Nov.- …

View All

Okhotsk Chipmunk Park is the ethical zoo animal lovers have been searching for. The passionate owner of the park has done her best to provide these adorable little rodents with as much space as possible. The 400-yen entrance fee includes a bag of food which the chipmunks are fearless enough to eat straight from a human hand. While visiting the park, watch where you step as you may accidently step on the chipmunks.

64

Flower Gardens HANA TENT

With over three hectares of up to 45,000 flowers in a kaleidoscope of colors, the Flower Gardens HANA TENT is a vibrant spot just to the east of Lake Abashiri. Sage, marigold, salvias, sunflowers; the park is home to a whole host of different flowers which make up one Instagrammable picture carefully planted in rows of contrasting colors. While the flowers bloom from July to October, August and September are the months to visit for the most vibrant views.

65

Abashiri Okhotsk Drift Ice Festival

From early February to early April, drift ice can be seen in the Sea of Okhotsk by the city's coast. For a week or so during this time, they hold the Abashiri Okhotsk Drift Ice Festival, which has intricate snow and ice sculptures.

66

Wakkannai Travel Guide

Given its location between Japan and Russia, Wakkanai has an interesting mixture of cultures. It is a place for visitors to see the historical side of Hokkaido or the indigenous populations of Japan. The region is home to stunning National Parks, wetlands, volcanic islands and a regular ferry that connects Japan with Russia – perfect for overland travellers looking for an epic adventure.

67

Wakkannai Transportation

Wakannai holds the northernmost point in Japan and an air, rail and ferry travel hub for visiting Cape Soya and other islands like Rebun and Rishiri. From Wakkanai Airport, its about 30-minute bus ride into the city, and to Wakkanai Ferry Terminal. By using these ferries, visitors can go to Rebun Island and to Rishiri Island. Both of these islands have become quite popular with international tourists in recent years, and it's around a 2-hour cruise from the ferry terminal to get to either of them. There are only a handful of ferries each day, so checking and reserving the ticket from
here is highly recommended.

4.0

87 Reviews

Hokkaido Wakkanai-shi Kaiun 2-chome 7-1

0162233780

View All

Mt. Rishiri (Rishiri Fuji) has a profound beauty that dominates the island's landscape. At Hime Pond (Himenuma), you can see the dormant volcano's grandeur reflected in the water's surface.

Rishiri Island is a serene place of untouched old-growth forests, ezokanzo yellow daylilies, and alpine plant life. The local specialty is sea urchin, and there are all types of local eateries featuring the delicacy.

Be sure to rent a car if you plan to make your way completely around the island.

Mt. Rishiri

Rebun Island boasts a colorful collection of rare alpine flowers, earning it the nickname "The Floating Island of Flowers."

Many people enjoy trekking along its southern coast, where you can see sweeping vistas of verdant flora against the azure sea. From the right spot on the island, you can also see the nearby Rishiri Island in the distance. Rebun Island lets you experience the unspoiled beauty of nature.

Alpine flowers at Rebun Island

Facing both the Sea of Okhotsk and the Sea of Japan, Cape Soya stands at the northernmost point of Hokkaido. The cape is a popular stopping point for tourists and there is a direct bus from Wakkanai Station to the cape. There are few gift shops nearby to pick up a souvenir and a monument, windmill and a lighthouse for a photo opportunity.

Engaru is a town located just below the coast of the Okhotsk Sea in Hokkaido, close to the city of Monbetsu. The name has roots in the language of the Ainu–Hokkaido's native people–in which it is known as "the lookout point", probably due to its wide-open plains that allow fantastic views across sparsely populated terrain.

Engaru is about an hour drive from Okhotsk-Monbetsu Airport and getting around the area requires a car.

73

Dog Sledding in Engaru

Engaru is a town several kilometers off the coast of north-central Hokkaido, and the especially adventurous will want to travel here for a chance to dog sled. The company Outrider sets you up in a yurt with a team of 2 to 7 people. They will also provide you with 42 huskies that'll pull you around the winter wilderness.

Heavy snowfall is a staple of the region, so you should be prepared for extreme temperatures (-15˚ to -25˚ C). It's a rustic experience that will let you bond with the dogs and your group, instilling you with a genuine appreciation of Hokkaido's winter in the great outdoors.