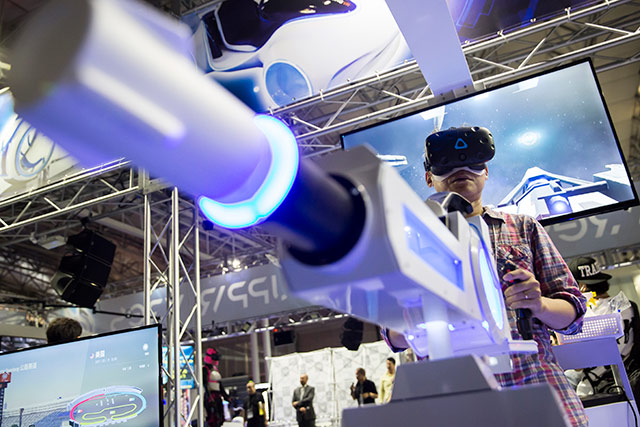 Japan is a country of video games and technology, the birthplace of international franchises like Pokémon, Final Fantasy and game industry giants like Sony and Nintendo.

That's why we're breaking down all the best spots for video game culture in Tokyo, starting with the Tokyo Game Show 2019. We'll go over Tokyo's main areas for all things gaming.

Akihabara is the flagship area for games, anime, and electronics, while Ikebukuro's buzzing commercial vibe caters to gamers, too. Then there's the neon madness of Shibuya and Shinjuku as well as futuristic Odaiba for more places to get your game on. Because Tokyo is the heart of gaming in Japan.
01

The Tokyo Game Show 2019 (TGS)

The Tokyo Game Show©2002–2019 CESANikkei Business Publications, Inc.

The Tokyo Game ShowGetty Images for TOKYO GAME SHOW

The Tokyo Game Show is one of the three largest video game expos in the world.

It's so massive that it takes over the expansive Makuhari Messe convention center for 4 full days. Gamers, both casual and hardcore alike, will look forward to worldwide reveals, playable demos, and dazzling stage events. There are also e-sports tournaments and all kinds of swag to be had. Vendors and exhibitors come from all over the world to be part of this landmark gaming event, giving it an international air.

Kaihimmakuhari Station is the closest train stop for Makuhari Messe, so be sure to check directions before heading out.

Event Information:
Open to the public September 14th and 15th
Same-day tickets available for 2,000 yen

Related article tag:

Read more:
・Tokyo Game Show (TGS) 2019 : One World, Infinite Joy

The Tokyo Game ShowGetty Images for TOKYO GAME SHOW

3.5

451 Reviews

Chiba Pref. Chibashi Mihama-ku Nakase 2-1

0432960001

Depending on the event

View All

Taito HEY Akihabara

Taito HEY Akihabara

Hirose Entertainment Yard, or HEY, is one of the original arcades in Akihabara.

Here you can find an abundance of Japanese arcade favorites like online card games, nostalgic retro machines, and arcade shooting games.

They also have the latest and greatest crazes in the market, too, so you can move from one generation to another as you see fit. Expect flashing lights, endless screens, and every type of game you could ever need for some welcome sensory overload.

Their currency exchange machine means that foreign visitors can spend a little extra travel cash to keep the party going.

ASOBIBA

ASOBIBA

If you want to test your skills of survival and sharpshooting in the urban jungle, head to Asobiba, a vast yet hidden playground in the middle of Electric Town.

This place is a five-minute walk from Akihabara station. It's on the second floor so you'll have to look a little closer for the entrance. Asobiba welcomes players of all abilities, from newbie to pro, and provides instructions in English.

Don't worry if you're a lone player, as Asobiba schedules days with open games that anyone can join. While you can drop by, it's better to call beforehand and see how many players there are. If you're coming in a group, you can reserve the field in advance.

Beginners are given instructions on how to use the equipment as well as basic survival training. The field at the Akihabara branch is a labyrinth made from the cavernous halls of a building, making it a taste of urban guerrilla warfare. There's also a practice shooting range where you can warm up before a match.

You can rent all the gear required, so the only things you need to bring are your wits and a thirst for victory.

Tokyo Chiyoda-ku Sotokanda 3-1-16 DIDE - Limited Building 2F

0335271743

[Weekday]11:00-22:00[Saturda…

View All

【 Tokyo · Akihabara】 Survival game at electric city Akihaba! Beginner welcome! Free participation war plan 4 hours

¥4,000

Update date:2022/07/03

SUPER POTATO

SUPER POTATO

Super Potato is the heaven that awaits all good retro gamers.

Once you've climbed the fire escape of an entrance stair, you'll gain access to the impressive library of classic and beloved Japanese video games. You'll find titles for your Gameboy that you weren't sure even existed.

Besides the extensive collection of video games for Nintendo and Playstation, there also stacks and stacks of video game and anime merchandise, like toys, figures, consoles, clothing, and hats. The sheer volume of stuff available makes it a treasure trove for video game enthusiasts. Even if you're not a hardcore gamer, it's an interesting way to spend a couple of hours.

If want to play some of the games you've seen, climb up to the fifth floor and you'll reach the arcade floor, which is dedicated to memorable vintage games.

Tokyo Chiyoda-ku Sotokanda 1-11-2 Kitabayashi Building 3F4F5F

0352899933

View All

Sega Tower

Sega Tower

Aside from the smattering of arcade games available at Sega Tower, there are very unique games that are garnering a lot of attention from international visitors. The "Toylet" is one such example. It's an interactive urinal where participants aim their stream to win contests visible on the screen.

Building 5 of Sega Tower just opened in July 2019, offering a special selection of prize and crane games in addition to retro machines. Plus, you can get your hands on a Sega Taiyaki, which come in cute fish shapes as well as Sega logos. They're tasty Insta-ready treats.

Official Website:
https://tempo.sega.jp/en-top.html

Mazaria

Mazaria

Mazaria

Mazaria is an entertainment complex that lets you enter the world of anime and video games through VR experiences. Get ready for completely immersive gaming with favorites like Taiko no Tatsujin and Mario Kart to get the blood pumping.

You'll be dropped straight into interactive worlds that blur the line between virtual and reality. They even have a full Pac-Man board that lets you run away from ghosts yourself!

Mazaria also houses AR (augmented reality) games and an assortment of game-themed food and drinks. This amusement park focused specifically on video games and anime. You may never want to leave.

Official Website:
https://bandainamco-am.co.jp/others/mazaria/en/

Mazaria

アニメとゲームに入る場所 MAZARIA

東京都豊島区東池袋3-1 サンシャインシティ・ワールドインポートマートビル3F

05020187899

View All

Biohazard Valiant Raid

Biohazard Valiant Raid

Located inside Q Plaza Ikebukuro, which just opened on July 19th, 2019, Plaza Capcom is a compact arcade experience utilizing the latest technology.

There are VR experiences as well as VR-X, which uses real-world vibrations and other tactics to immerse you into the game world. The gem of the Plaza Capcom is Biohazard Valiant Raid, a 4-player VR and VR-X game where you fend off hordes of zombies.

It's the first of its kind in Japan, and it can only be played here. Resident Evil fans won't want to miss this one.

Official Website:
https://www.q-plaza.jp/ikebukuro/

Biohazard Valiant Raid

10

Sky Circus Sunshine 60 Observatory

Sky Circus Sunshine 60 Observatory

Sky Circus Sunshine 60 Observatory

Branded as "An Aerial VR Experience," the Sky Circus Sunshine 60 Observatory offers VR adventures that take the sky-high setting into account.

You'll don a VR headset and sit in special seats that make you feel like you're blasted from a cannon or riding a swing above the city. Or you can try the MX4D motion seats for 2 types of attractions, the Ultra Reverse Bungee Jumping and Kyoryu Giga, that provide all the excitement of a roller coaster, complete with blowing air and water mists.

Decide what kind of thrill you're looking for and get ready for some fun.

Official Website:
https://sunshinecity.jp/file/observatory/vr/index_eng.html

Sky Circus Sunshine 60 Observatory

Tokyo Toshima-ku Higashikebukuro 3-1 Sunshine 60 building 60F

0339893457

12:00-20:00 (Last entry 19:0…

View All

Sky Circus Sunshine 60 Observatory Tickets—Ikebukuro, Tokyo

¥1,100

Update date:2022/07/03

First Airlines

First Airlines

This is not an actual airline, but a service that uses VR and projection mapping to take you to places all over the world.

You can choose between first and business class for trips to different regions of Japan. Choose from 8 locations spanning from Hokkaido in the north to Kyushu in the south. Much like a typical flight, you'll get to choose between two different meal plans for your 2-hour trip.

And of course, you'll be putting on a VR headset and exploring the tourist destinations of your choice. By the time your flight returns, you'll have a taste of what it's like to fly in style to some of the Japan's largest regions. Bon voyage!

Official Website:
https://firstairlines.jp/japan/en_index.html

First Airlines

Joypolis

Joypolis

Tokyo Joypolis is one of Japan's largest indoor amusements parks, home to over 20 attractions like indoor roller coasters, VR games, and even haunted houses.

There's an arcade too, in case you get the urge to play the old-fashioned way. The projection mapping stage shows are high-energy performances sure to get you on your feet, and they rotate every few months. Joypolis is games and tech at its best.

Official Website:
http://tokyo-joypolis.com/language/english/index.html

Joypolis

Tokyo Minato-ku Daiba 1-6-1 Dex Tokyo Beach 3-5F

0355001801

[Weekday]10:00-20:00[Saturda…

View All

8% OFF E-Tickets to TOKYO JOYPOLIS in Odaiba Tokyo!

¥4,500

Update date:2022/07/03

Tyffonium

Tyffonium

Tyffonium has VR attractions that let you wander through a haunted mansion with Magic-Reality Corridor and explore foreign worlds from atop a ship with Magic-Reality Fluctus.

The Magic-Reality Corridor creates a VR environment of gothic horror. You walk through a haunted mansion with a friend, both of you holding lanterns. What surprises await you in the house's dark corridors?

Tyffonium Cafe Shibuya has a cafe as well, so you can relax over drinks or sweets after your harrowing experiences.

Official Website:
https://www.tyffonium.com/en/

Tyffonium

Tokyo Koto-ku Aomi 1-1-10 Diver City Tokyo Plaza 5F

0355796332

View All

15

―Other various game spots

16

Anata no Warehouse in Kawasaki, Kanagawa

Anata no Warehouse

Designed to resemble Kowloon Walled City in Hong Kong, Anata no Warehouse is an arcade that transports you to a completely different place in time.

Anata no Warehouse

Anata no Warehouse

Expect heavily weathered walls, shuttered shops, and a discernible layer of grime coating this gritty space. Anata no Warehouse does have different locations, but the one in Kawasaki is for ages 18 and up.

The bright arcade games cut an eerie contrast to the run-down atmosphere, so you can still enjoy the frenzy of an arcade while feeling like you've stepped into another world. Think Resident Evil, but instead of zombies you get rhythm games and Mario Kart. It's a combination bound to leave an impression.

Anata no Warehouse

Anata no Warehouse

ウエアハウス 川崎店

神奈川県川崎市川崎区日進町3-7

044-589-9651

View All

VREX

VREX combines the latest VR games with a futuristic cafe/bar, letting you grab a drink or a bite to eat between game sessions.

VREX

You don't pay with cash, but rather buy medals that let your purchase drinks or access games. The medals are 350 yen each, and you pay when you order or want to play a game.

Since there's no time limit, you can take your time and chat with your friends or make a few new ones in the cafe before hopping over to another VR experience. It's a more casual cafe setting that offers various VR games.

Official Website:
http://www.vrex.jp/en/

VREX

VREX Shinjuku

Tokyo Shinjuku-ku Kabukicho 1-27-5 APM Building 5F

0362056170

View All

18

Red Bull Gaming Sphere Tokyo in Nakano

Red Bull Gaming Sphere Tokyo

Red Bull Gaming Sphere Tokyo

You can get free Red Bull at the events hosted at the Red Bull Gaming Sphere Tokyo, which is another reason to show up to one of their gaming tournaments.

This space hosts live events and tournaments for popular games like League of Legends, and you can watch some of the best go head-to-head on the big screen. Check the homepage for information on what's playing at the Gaming Sphere.


Official Website:
https://www.redbull.com/jp-ja/projects/red-bull-gaming-sphere-tokyo

Read more
Discover a New World of Gaming at Red Bull Gaming Sphere
These days the name Red Bull is just as synonymous with sporting events as it is with energy drinks. " …

19

Shin-Okubo E-Sports Café

Image photo

Image photo

E-Sports Cafe is a gaming and internet cafe geared towards, you guessed it, e-sports.

What's got gamers excited is that you can play for 4 hours at this cafe for only 1,000 yen. The cafe is designed around the motif of a Korean PC bang, or internet cafe where you can get a feel for what a real PC bang is like without leaving Tokyo.

There are 80 high-spec desktops in the cafe, and neon lights abound in the colorful interior, which also has a smoking section. Each computer has voice chat, live game broadcasting capabilities, and outside food is allowed. You've got no reason to leave.

Official Website:
http://esportscafe.co.jp/

20

Konica Minolta Virtual Link in Yurakucho

Konica Minolta Virtual Link

Konica Minolta Virtual Link

Planetataria Tokyo's Virtual Link is a group VR experience that lets you enter a shared space for up to 24 people.

Depending on which program you choose, you could be astounded by auroras or awed by a night sky full of stars. The focus of Virtual Link is to let guests experience the wonders of the heavens, and VR allows for such an experience.

Official Website:
https://planetarium.konicaminolta.jp/planetariatokyo/foreigner/

Konica Minolta Virtual Link

Nazobako

Nazobako

Nazobako is an escape room with a Japanese flair, and it's designed with foreign guests in mind.

Before you start your game you'll dress in cute costumes reminiscent of Sherlock Holmes and then take a group photo. After you complete the game, there will be tea and light refreshments served to let you come back to reality with ease. The room is fairly small, so a group of about 4 people is probably best.

English instructions for the escape room are also available, so don't worry about your Japanese level.

Official Website:
https://www.nazobako.jp/en

Dasshutsu game nazobako

Tokyo Taitou-ku Asakusa 1-10-5 KN Asakusa Building 6F

03-6231-6621

View All

22

VR Park Tokyo in Shibuya

VR Park Tokyo

You can be immersed in almost 10 VR attractions at VR Park Tokyo.

The focus here is on smaller groups of 1 or 2 people, so VR Park Tokyo offers cooperative attractions that let you share the fun. It's an excellent option that takes advantage of the Shibuya setting, since many people come to this part of the city to hang out with friends or meet up for dates.

What better way to start the night than diving into the treetops with Jungle Bungee VR? Time slots are for 110 minutes, including free soft drinks.

Official Website:
https://www.adores.jp/vrpark/en/shibuya.html

VRPARKTOKYO (VR Park Tokyo)

Tokyo Shibuya-ku Udagawacho 13-11 KN Shibuya Building 4F

0334611311

View All