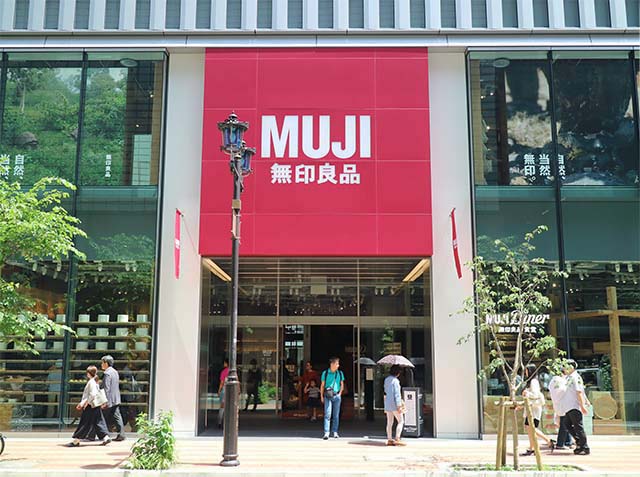 MUJI's flagship store MUJI Ginza opened on April 4, 2019.

The new store has a total of ten floors.
The MUJI shopping floors occupy B1 floor to the 6th floor, and MUJI HOTEL GINZA occupies the 7th to 10th floors.
You'll also find "MUJI Diner" on the B1 floor, and a bakery on the 1st floor that is open early in the morning.

After the closure of MUJI Yurakucho, this newly reborn MUJI, which is bigger and better than any other MUJI, is a must-visit spot if you are a fan of the brand!
01

1st floor: Fresh Juice and Bakery, Blend Tea Studio(Ginza store-limited)

This is a fresh juice stand that uses amazake instead of sugar, which gives the juice a very healthy and subtle taste.
There is also soft serve ice cream available made with farm fresh jersey milk i.e., milk delivered directly to MUJI from the farm.

Upper left: ginger pine, Upper right: avocado kale, Lower right: orange carrot, Lower left: strawberry beets (for a limited time). All S size 350 yen and M size is 480 yen.

The main MUJI Ginza store opens at 10a.m., but the bakery is actually open from 7:30a.m., and is accessible nice and early before the rest of the store opens.
The bakery's popular "roll bread" is only 90 yen and the "condensed milk cream bread" is 250 yen. There is an eat-in space at the back of the bakery area, and there are power-outlet equipped tables available too.

Roll bread and Condensed milk cream bread

A popular corner on the first floor is the Blend Tea Studio. The tea is blended on the spot, and you can select tea leaves from a range of 32 kinds of leaves.
The staff will then create original tea combinations for you that suit any taste, mood or time of day.
This area of the store seems to be very popular with the ladies.

Blend Tea Studio

02

1st floor: MUJI's First Lunch

MUJI purchases organically grown vegetables and fruits which use little or no pesticides, sourced mainly from farmers within the Kanto prefecture.
At the vegetable corner you'll be welcomed by a choice of anywhere from 30 to 50 kinds of vegetables depending on the season.

Vegetable corner

MUJI's first lunch box (bento) has also been launched.
The "daily lunch", available only at the Ginza store, does not use any chemical seasonings, and therefore is great for those people who are health conscious.
You can also find Gapao rice bento, and Barley and Edamame and Salted Sea Weed rice balls (onigri) - must-try items if you like MUJI gourmet!

Daily Lunch

03

B1 floor: Japan's first "MUJI Diner"

The dining room "MUJI Diner" on the B1 floor is based on the theme of "the taste of raw food", and you can enjoy a delicious meal whilst treating your body gently with healthy food at the same time.
Breakfast is from 7.30am to 11am, lunch 11am to 5pm and dinner 5pm to 11pm.

Daily set meal and Salad bar

At lunchtime, large, fresh fish brought from the fishing port of Odawara every morning are served as a daily set meal.
There is also a "tofu workshop" inside the cafeteria where you can observe fresh tofu being made, and there is also a popular set meal available featuring the carefully prepared in-store tofu.

There is a one trip per person "salad bar" for 400 yen, i.e. * 400 yen for morning and lunch, 700 yen for night.

* MUJI Diner is a very busy shop, and thus you may have to wait even on weekdays.
Once you have registered your booking at reception you don't have to wait at the restaurant, so it's recommended that you go to "MUJI Diner" before shopping, put your name down for a table, and then go and enjoy your MUJI shopping experience. It's worth noting that mornings are relatively less crowded.

04

2nd floor: Popular MUJI Clothing Floor

The second floor has Women's / Men's Wear, Bags, Shoes, and "MUJI Labo".
In amongst the clothes available we recommend those within the "MUJI Labo" range.

This is a popular line of clothing which is not only made from quality materials but is also designed as unisex apparel (which appeals to couples who want to wear matching or complimentary outfits).
MUJI Labo's motto is that their clothes can be worn regardless of gender, age, or body type, so you should be able to find something within this range of MUJI's products that suits you.

MUJI Labo

05

3rd floor: Stationery, Bicycles, Makeup supplies, Travel goods

The makeup supplies have a trial corner available which gives customers the chance to try before they buy.
Also, in the "travel corner" be on the lookout for the soft luggage case that can be folded down to half its thickness.
This is a very popular item as it's very easy and convenient to be kept out of the way when stored at home!

Soft luggage case that can be folded down to half its thickness

06

4th floor: "MUJI BOOKS" and Baby floor

The 4th floor hosts Living Room, Kitchen & Table Supplies, Children's Clothing & Maternity, Tree Playground, Design Studio, IDĒE, MUJI BOOKS and Found MUJI.

"MUJI BOOKS" has a wide range of design books, picture books, paperback books and more.
In the back section of the floor there is a comfortable space where you can sit and peruse your favorite book of choice, whilst relaxing drinking a cup of 100 yen coffee.

Picture books of MUJI BOOKS

There is also a Tree Playground, an area designed to stimulate children's curiosity where young kids can play with baby-friendly toys, therefore the 4th floor is great place for child-rearing parents to take their young ones.
In addition, there is a vending machine called "MUJI POCKET" where you can purchase drinks, food, and wet tissues for babies, so you will always have access to the necessary supplies to keep your children happy. Also, the "Baby Care Room" has several private rooms that can be used for breastfeeding.

Tree Playground

07

5th floor: Bedding items and Simple storage options

Bedding and furniture is found on the 5th floor, and a nice feature of this area is that you can receive the service of an interior advisor staff member (called "MUJI SUPPORT").
These are staff members with specialized knowledge who will assist you with advice on queries such as the best combinations of bedding for a good night's sleep.

Bedding items and Simple storage options

08

6th floor: ATELIER MUJI GINZA featuring design exhibitions

The 6th floor is the reception floor of MUJI HOTEL GINZA, but there is also a gallery section dedicated to design culture and art known as the "ATELIER MUJI GINZA" that can be appreciated by hotel guests and non-hotel guests alike.

The area called "Salon" features a large bar counter made from a 400 year old camphor tree, and it also has a spacious area with seats and tables.
Here can enjoy non-alcoholic beverages such as green tea, as well as whiskeys such as "Taketsuru" and "Chita".

You can enjoy green tea at the bar counter.

09

6th-10th floor: "MUJI HOTEL GINZA"

The 6th to 10th floors are where you will find Japan's first MUJI hotel, MUJI HOTEL GINZA, which attracts many domestic and overseas guests.
This hotel is a place where you can relax in comfort whilst losing yourself in the world of MUJI.
Prices start from 14,900 yen and reservations can only be made from the official website.

MUJI HOTEL GINZA

There is a MUJI vending machine "MUJI POCKET" beside the hotel elevator.
The machine contains items such as bath salt, sweets, and retort package curry.
If you ask at the front desk you can use the microwave, so you can eat the curry in your room.

You'll get a charm at check-in time. We'll leave it for you to discover what's inside.

There are nine types of rooms, the largest being a 52 square meter room which features a cozy tatami mat area which is designed for relaxing and reading.
The bathroom is fitted with a hiba wooden bath, which fills the bathroom with the warm, soothing aroma of wood, and with all this luxury you'll have no reason not to be able to have a relaxing hotel stay.

Room type I

Most items and all amenities inside the rooms are MUJI products, and are available for purchase within the store (*some items are hotel only such as bed sheets).
Also items found in the rooms such as toothbrushes, toothpastes, hairbrushes, shavers, cotton swab sets, lotion sets, face wash sets, essential oils, coasters, water/tea, sweets, sugar/milk, pens/memos, shoe shine paper, slippers and slipper bags, laundry bags are all yours to use freely or take home!

10

Restaurant "WA" for breakfast and dinner

There is a restaurant called "WA" behind the hotel's reception area.
The hotel regularly sources local dishes from various parts of Japan and offers those dishes to the restaurant's customers.
Breakfast is available to hotel guests only, and lunch and dinner are available to everyone.

Restaurant "WA"

Chocolate strawberry set and Puchi candy set

Left: "Chocolate strawberry set with cotton drawstring" 990 yen.
Right: 590 yen "Puchi candy set with cotton purse" – designed by MUJI featuring a map of the Ginza area, recommended as a Tokyo souvenir.

Small size shopping bag and Indian cotton room sandals

A small size shopping bag with kanji design is 1500 yen, and Indian cotton room sandals are 690 yen.
They are popular Japan-flavored souvenirs.

MUJI GINZA, MUJI HOTEL GINZA is located along Namiki-dori, between Ginza Station and Ginza-itchome Station.

・1 minute walk from Tokyo Metro Ginza Station at Exit C8
・3 minute walk from Tokyo Metro Ginza-itchome Station at Exit 4
・5 minutes walk from JR / Yurakucho Station at Central Exit

Access to MUJI Ginza

無印良品 銀座店

東京都中央区銀座3丁目3番5号

0335381311

View All