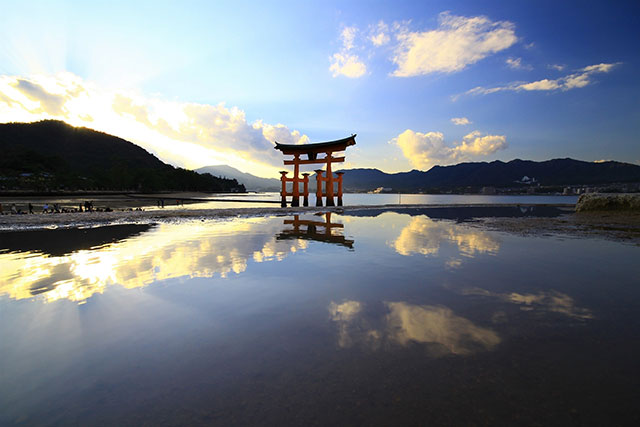 Hiroshima is one of the most popular destinations for tourists to visit on Japan's "Golden Route" and resonates with many foreigners due to its atomic bomb history.

But aside from the Hiroshima Peace Memorial Park, the city is also the access point for the UNESCO-listed Itsukushima Shrine and its floating torii gate, as well as the sacred Shimanami Kaido cycling route.

With numerous small islands to explore and local delicacies to taste, there are plenty of reasons to stay a little longer. In this article, we'll introduce 33 of the best things to do in Hiroshima to help plan your visit.
01

Photograph Miyajima's Itsukushima Shrine

Itsukushima Shrine

Situated in the middle of Hiroshima Bay, Miyajima is a small island that's an easy day trip from Hiroshima. It's famed for the UNESCO World Heritage-listed Itsukushima Shrine and its bright orange torii gate that appears as though it's floating on water at high tide. Miyajima and the Itsukushima Shrine comprise one of Hayashi Gahō's "Three Views of Japan", which were selected in 1643 and have become iconic scenes in the country.

Aside from this 6th-century Shinto shrine, the island is also home to the Museum of History and Folklore and the beautiful Momijidani Koen ("Red Maple Valley Park").

N.B. Please be aware that the torii gate is currently undergoing major renovations and a completion date has not yet been announced.

Itsukushima Shrine

02

Sample the local oysters at Kakiya

Kakiya

No trip to Miyajima is complete without sampling the local specialty - oysters! The clear streams of the Ota River are renowned as prime places for oyster aquaculture and Kakiya, a restaurant on Miyajima, offers one of the best oyster lunches in the region.

Here you can have your oysters fried, grilled or au gratin, as well as eaten fresh from the water. Their menu is available in English so it's easy to order and there's a good selection of beer and sake to accompany your meal.

Kakiya

4.5

476 Reviews

Hiroshima Pref. Hatsukaichishi Miyajimachou 539

0829442747

10:00-closes when sold out

View All

03

Eat conger eel at Anago-Meshi Ueno

Anago-Meshi Ueno

Another local specialty is conger eel and the Anago Meshi Ueno restaurant serves some of the best.

It's located directly in front of the ferry port that takes you to Miyajima, so it's a convenient place to grab a quick bite to eat or a takeaway lunch box to enjoy on the island.

Their conger eel is caught in the waters near Miyajima and served with a sweet and spicy teriyaki sauce, with small, medium or large servings available.

Anago-Meshi Ueno

4.5

503 Reviews

Hiroshima Pref. Hatsukaichishi Miyajimaguchi 1-5-11

0829560006

9:00-19:00 (LO 18:30)[Wednes…

View All

04

Explore the Hiroshima Peace Memorial Park

Atomic Bomb Dome

For many visitors to Hiroshima, the Atomic Bomb Dome and Hiroshima Peace Memorial Museum are high on their list of things to do.

The Atomic Bomb Dome was originally opened as the Product Exhibition Hall in 1915 and after the atomic bomb "Little Boy" was dropped at the end of World War II, it was the only structure left standing near the hypocenter of its impact.

It's been left as a constant reminder of the destruction that was caused and the thousands who lost their lives.

The Atomic Bomb Dome is surrounded by the Hiroshima Peace Memorial Park, which was designed by Japanese architect Kenzō Tange.

It's dotted with sculptures and monuments in memory of the victims and lies in what was once the bustling center of Hiroshima.

Be sure to visit the Hiroshima Peace Memorial Museum where you can learn about the city before the bombing and the impact it left.

Hiroshima Peace Memorial Park

Hiroshima Pref. Hiroshimashinakaku Nakajimachou 1 Otemachi 1-10

Admission freedom

View All

05

Take in the views of Hiroshima from the Orizuru Tower

Orizuru Tower

Situated on the east side of the Atomic Bomb Dome is the Orizuru Tower, which takes its name from the folded paper crane that became a symbol of peace in the aftermath of World War II.

It features a rooftop observation deck that offers sweeping views of Hiroshima City, stretching all the way to Miyajima on a clear day.

After viewing the cityscape, you can pick up unique Hiroshima gifts in the first-floor shops.

Orizuru Tower

Hiroshima Pref. Hiroshimashinakaku Otemachi 1-2-1

0825696803

[Observation Deck/Product Ha…

View All

06

Stroll through the Shukkeien garden

Shukkeien garden

Situated adjacent to the Hiroshima Prefectural Art Museum is this tranquil garden, which was established in 1620 during the Edo period.

It suffered extensive damage following the atomic bombing of Hiroshima and served as a refuge for victims in the aftermath.

Today, it has been reconstructed to its former glory, with valleys, mountains and forests represented in miniature form while following traditional Japanese aesthetics.

Shukkeien centers around a tranquil pond, with a pathway leading to several teahouses where you can stop and enjoy the views.

Shukkeien garden

4.5

1095 Reviews

Hiroshima Pref. Hiroshimashinakaku Kaminoborichou 2-11

0822213620

9:00-18:00 (Admission is pos…

View All

07

See Hiroshima Castle illuminated after dark

Hiroshima Castle

Also reconstructed following the nuclear attack was Hiroshima Castle (also known as "Carp Castle"), which dates to 1958.

The original Hiroshima Castle was built in 1589 by the feudal lord, Mori Terumoto, and served as the heart of the town.

The modern castle centers around the main keep that's five stories tall and is surrounded by a protective moat, a shrine and a scattering of ruins.

If you want to learn more, you can visit the history museum inside the castle and discover how it was reconstructed.

Aside from exploring during the day, be sure to return after dark when Hiroshima Castle is beautifully lit up.

Hiroshima Castle

4.0

2003 Reviews

Hiroshima Pref. Hiroshimashinakaku Motomachi 21-1

0822217512

[Mar.- Nov.] 9:00-18:00 (Adm…

View All

08

Admire the yōga and French Impressionist works at the Hiroshima Museum of Art

Hiroshima Museum of Art

The Hiroshima Museum of Art is situated in Hiroshima Central Park and is renowned for its collection of French Impressionist paintings that are displayed alongside traditional Japanese prints.

Works by Monet, Picasso and Van Gogh are all featured in the gallery spaces, as are paintings by Japanese artists in a Western style. See yōga Western-style oil paintings by leading exponents such as Kuroda Seiki and Kishida Ryusei, then marvel at the bronze statue of Venus by Maillol.

Hiroshima Museum of Art

4.5

297 Reviews

Hiroshima Pref. Hiroshimashinakaku Motomachi 3-2 In the central park

0822232530

9:00-17:00(Last entry16:30)

View All

09

Visit Mazda Zoom-Zoom Stadium, the current home of Hiroshima Toyo Carp

Mazda Zoom-Zoom Stadium

If you're a sports fan, then don't miss the opportunity to visit the Mazda Zoom-Zoom Stadium where the Hiroshima Toyo Carp compete. Founded by citizens in 1950, the Hiroshima Toyo Carp are now hugely popular and it can be difficult to get tickets to games.

Even if your visit doesn't coincide with a game day (or you can't get tickets), you can still explore the stadium on a tour and get a behind-the-scenes look at areas that are usually off-limits to the public. See where the players get ready and where they warm up, then step onto the field to experience the stadium from their perspective.

Mazda Zoom-Zoom Stadium

Hiroshima Pref. Hiroshimashiminamiku Minamikaniya 2-3-1

0825682777

Depends on the match [Conco…

View All

10

Feast on Hiroshima-style okonomiyaki at Okonomimura or Mitchan

Mitchan

If you're visiting Hiroshima, don't pass up the opportunity to try Hiroshima-style okonomiyaki, which is unique from other okonomiyaki around Japan. The story began when Isao Ise opened an okonomiyaki stand in 1950 and it was later taken over by Mitchan who began to enhance the recipe with soba, creating a layered okonomiyaki. You can try this local delicacy at one of the seven Mitchan stores in Hiroshima that exist today, with the oldest one in Hatchobori.

Alternatively, head to Okonomimura, a Hiroshima-style okonomiyaki food court where you can select from 24 different okonomiyaki restaurants.

4.0

317 Reviews

Hiroshima Pref. Hiroshimashinakaku Hacchoubori 6-7 Turris Hatchobori 1F

0822215438

11:30-14:30(L.O.14:00)/17:30…

View All

11

Discover the Japanese naval history at the Yamato Museum

Yamato Museum

Showcasing the maritime history of Kure, the Yamato Museum is named after the large model ship that features in the lobby.

The Yamato is a 1/10 scale replica of a battleship that was the flagship of the Japanese Combined Fleet during World War II, with the museum standing where the battleship was originally built. Aside from the Yamato, the museum also features artifacts that explore the modernization of Kure following the Meiji Restoration, with steel and shipbuilding the major industries.

Highlights include getting behind the controls of a ship simulator and witnessing a real-life Mitsubishi Zero A6M fighter plane.

Yamato Museum

Hiroshima Pref. Kureshi Takaramachi 5-20

0823253017

9:00-18:00(Last entry17:30)

View All

12

Step aboard the "Iron Whale" submarine

Japan Maritime Self-Defense Force Kure Museum

Adjacent to the Yamato Museum is the Japan Maritime Self-Defense Force Kure Museum, which is also known as Tetsu no Kujira ("Iron Whale Museum") after its main exhibit - the decommissioned Akishio submarine.

It's a unique opportunity to step onboard this 76-meter-long sub and experience life on board. Look through one of the two periscopes, then explore the exhibits related to submarine operations and minesweeping.

Actual mines are displayed on the second floor of the museum where you can also learn about the JMSDF's role in clearing mines throughout the Persian Gulf during the Iraq War.

Japan Maritime Self-Defense Force Kure Museum

Hiroshima Pref. Kureshi Takaramachi 5-32

0823216111

10:00-18:00 (Admission until…

View All

13

Take in the historic views above the old navy shipyard

Rekishi no Mieru Oka Hill

If you're interested in the history of Kure, take time to climb the Rekishi no Mieru Oka Hill that overlooks the old navy shipyard where the Yamato was built.

The docks here are currently being reconstructed but you can see the shed where the vessel was built and the shell of the main gun armor. Also visible is the Samurai (Oh) Battleship Yamato Tower and a stone monument to the former Naval Factory.

Hiroshima Pref. Kureshi Miyahara 5

0823237845

free to visit

View All

14

Have a drink on Kuramoto Street

Kuramoto Street

If you want to grab a drink or bite to eat at night, head to the red-brick street of Kuramoto Dori.

Also known as "Red Lantern Road", it's clustered with Yatai stalls and always has a bustling atmosphere as locals come to dine on traditional dishes, drink and socialize into the early hours of the morning.

Feast on ramen, oden or teppanyaki, as well as the local specialty, chicken skin cooked in miso.

Kuramoto Street

Hiroshima Pref. Kureshi Chuou 3 Around

0823237845

Depends on establishment

View All

15

Make a day trip to Osaki-Shimojima

Osaki-Shimojima

One of the most interesting islands in the Seto Inland Sea is Osaki-Shimojima, which can easily be visited as a day trip by ferry from Takehara or along the road that connects the island to Hiroshima.

It's renowned for the well-preserved Edo period architecture of Mitarai, which once thrived as an anchorage port. It's a picturesque place to wander and just soak up the history but the services of a local guide will offer a deeper insight.

Be sure to try the island's celebrated Ocho Mikan, a type of orange that's only produced here!

16

See hundreds of rabbits on Ōkunoshima

Ōkunoshima

Another island not to miss in the region is Ōkunoshima, which is also known as "Rabbit Island" due to its more than 700 resident rabbits. It's believed that rabbits from a local elementary school were released in 1971 and have bred wildly to reach the huge population seen today.

The rabbits are incredibly tame and will often approach people, making for some cute photo opportunities. But the island also has a darker history as the home of a poison gas plant of the Imperial Japanese Army that played a key role in the chemical warfare carried out in China during World War II.

Ōkunoshima

Hiroshima Pref. Takeharashi Tadanoumichou

0846260321

[Hours that can come and go …

View All

17

Stroll through Takehara's beautifully preserved townscape

Takehara Townscape Preservation Area

Takehara serves as the gateway to Ōkunoshima Island but is also a destination in its own right thanks to its beautifully preserved architecture.

This small port was once an important salt production center and much of it is now protected as the Takehara Townscape Preservation Area. It's a lovely place to stroll, with charismatic old buildings and a number of museums where you can learn about the town's 350-year history and traditional life.

Takehara is also famed for its sake, with a handful of famous breweries where you can taste the finished product.

Takehara Townscape Preservation Area

Hiroshima Pref. Takeharashi Honmachi 3

0846227745

10:00-16:00(Depends on estab…

View All

18

Tour a sake brewery in Takehara

Taketsuru Sake Brewery

If you're interested in tasting Takehara's renowned sake, two places not to miss are the Taketsuru Sake Brewery and the Fujii Sake Brewery.

The Taketsuru Sake Brewery first opened in 1733 and they continue to use traditional methods and a process known as Kimoto-zukuri to create their signature sake. The result is a smooth and clean taste that's free from impurities. The company's heir, Masataka Taketsuru, also went on to establish Nikka Whiskey.

The Fujii Sake Brewery also has a long-standing history (having been founded in 1863) and is famed for its award-winning Sake.

Tour a sake brewery in Takehara

Fujii Sake Brewery

3.5

50 Reviews

Hiroshima Pref. Takeharashi Honmachi 3-10-29

0846222021

8:00-12:00/13:00-17:00

View All

19

Explore the mysterious landscapes of Sandankyo Gorge

Sandankyo Gorge

Around 75 minutes' drive from Hiroshima will take you to Sandankyo Gorge, which has been designated as a Special Place of Scenic Beauty and awarded the highest ranking of "3 stars" in the French "Blue Guide".

It's a paradise for hikers, with lush jungle, waterfalls and hanging bridges all encountered along its network of trails. You can embark on a short, 10-minute stroll or a 5-hour-long round trip that accesses three waterfalls and numerous streams.

At the end of your hike, why not soak your weary muscles at the Sandankyo Hotel's onsen baths, which are located on the riverside.

Sandankyo Gorge

Hiroshima Yamagata-gun Akiotacho Yokogo

0826281800

[Spring-Summer] Until around…

View All

20

Photograph the Ini no Tanada rice terraces

Designated as one of "Japan's 34 most beautiful places" by CNN USA, Ini no Tanada comprises more than 300 terraced rice fields that hug the slopes of a mountain valley in Akiota-cho.

The landscape changes throughout the seasons and is arguably at its most photogenic between late May and the end of June when the paddies are filled with water and create beautiful reflections.

The area is also home to stone walls that date back 500 years and the rice produced here is a national delicacy. It's prized for its pure taste, resulting from irrigation water that's sourced from high mountain streams.

21

Cycle or drive the Akinada Tobishima Kaido

Akinada Tobishima Kaido

Spanning five islands, the Akinada Tobishima Kaido is a scenic driving route that's also incredibly popular with cyclists.

After crossing the Akinada Bridge to the east of Nigata Station in Kure, this picturesque route takes you to Shimo-kamagari, Kami-kamagari, Toyoshima, Osaki-Shimojima and Okamura islands where you can stop and soak up the sights.

There are spectacular views across the sea with every bridge crossing, all of which are free of charge (except the Akinada Bridge, but free for only bicycle).

There are bicycle rentals available on JR Nigata Station if you want to begin there, with the entire route about 30 kilometers in length.

Hiroshima Pref. Kureshi Shimokamagarichou ・ Amagari-cho ・ Toyohama-cho ・ Toyocho-Okamurajima

0823237845

Freedom of traffic

View All

22

Explore the islands of the Seto Inland Sea along the Shimanami Kaido

Shimanami Kaido

Connecting Japan's main island of Honshu to Shikoku, the Shimanami Kaido is about 70-kilometer-long stretch of road that spans six small islands in the Seto Inland Sea.

The most popular way to explore is by bicycle, with most beginners taking between 8 and 10 hours to complete the entire length, although you can ride just a section if you prefer.

Beginning in Onomichi City, it travels to Mukaishima, Innoshima, Ikuchijima, Omishima, Hakatajima and Oshima before ending in Imabari City on Shikoku Island. There are plenty of small towns and beautiful scenery to explore along the way, so there's no need to rush!

Hiroshima Prefecture Onomichi City - Imabari City, Ehime Prefecture

View All

23

Ride the Senkojiyama Ropeway to Tenneiji Kaiunto

Senkojiyama Ropeway

A highlight of visiting Onomichi is riding the Senkojiyama Ropeway to the summit of Senkojiyama to soak up the views, then strolling through Senkoji Park.

It's renowned for its literary connections, with numerous monuments where you can learn about the writers and poets who have been associated with Onomichi throughout the ages.

Part way up the mountain lies the Tenneiji Kaiunto, a temple pagoda that's been designated as an Important Cultural Property.

This slope is also renowned for the many cats that can be seen lazing in the sun, with Onomichi nicknamed the "Cat Town" as a result.

Tenneiji Kaiunto

Hiroshima Pref. Onomichishi Higashitsuchidouchou 20-1

0848224900

9:00-17:15

View All

4.0

117 Reviews

Hiroshima Pref. Onomichishi Higashitsuchidouchou 17-29

0848222078

[Visit]9:00-17:00

View All

24

Hang out at Onomichi U2

Onomichi U2

Situated on the waterfront in Onomichi is the newly-opened Onomichi U2, a former warehouse that's been transformed into a fashionable lifestyle hub, gallery and event space.

It's famously home to the cyclist-friendly Hotel Cycle that caters to riders on the Shimanami Kaido.

Enjoy the cycle-through check-in, then grab freshly baked pastries at the Butti Bakery. Great espresso is available at the Yard Cafe while the Kog Bar is the place to head for happy hour.

You can rent bikes at the Giant bicycle shop or browse the eclectic range of gifts and goods at the U2 Shima Shop.

Onomichi U2

4.5

178 Reviews

Hiroshima Pref. Onomichishi Nishigoshochou 5-11

0848210550

Depends on Shop

View All

25

Overnight at the Onomichi LOG hotel

Onomichi LOG hotel

Another stylish place to rest your head is the LOG hotel, which occupies an old 1960s building on the slope of Mount Senkoji.

It was designed to recreate an apartment of the Showa era, with Indian architect Bijoy Jain of Studio Mumbai and Discover Link Setouchi collaborating on the project.

Japanese washi paper covers the guest rooms while a mix of local and Indian craft and design pieces decorate the spaces. The result is a minimalistic yet somehow cinematic aesthetic that takes full advantage of the exceptional views on offer.

Onomichi LOG hotel

LOG<広島県>

広島県尾道市東土堂町11-12

0848246669

View All

26

Take the ferry from Onomichi to Mukaishima

Take the ferry from Onomichi to Mukaishima

If you just want a taste of the Shimanami Kaido, you can embark on the cycling course that takes you from Onomichi to the neighboring island of Mukaishima.

This scenic journey begins with a short ferry ride (departures every 5-10 minutes) and once you arrive on Mukaishima, it's around 28 kilometers to cycle the entire island.

Explore the former downtown area of Kankichi and stop in at Goto Fountain, a retro drinks factory that's renowned for its Margo Cider. Continue cycling to the picturesque Tachibana Shokudo resort for lunch or grab a "screw bread" from the famous Sumita bakery.

Margo Cider

27

Enjoy an easy cycle on Ikuchijima Island

Ikuchijima Island

If you're after an easier cycling route, why not head to Ikuchijima, an artistic island along the Shimanami Kaido. Begin with a 40-minute ferry ride from Onomichi Station to Setoda Port on Ikuchijima Island where you can rent a bike and begin cycling.

Ikuchijima is renowned for its lemon production, as well as being dotted with outdoor sculptures that include giant lemons! Don't miss the beautifully decorated Kosanji Temple or shopping for local specialties in the Shiomachi Shotengai (Shopping District), then experience the Californian vibes of Setoda Sunset Beach.

Kosanji Temple

Setoda Sunset Beach

28

Marvel at the white marble sculptures of Miraishin no Oka

Miraishin no Oka

A highlight of Ikuchijima Island is Miraishin no Oka ("Future Heart Hill"), a unique marble garden that was created by the Hiroshima-based sculptor Ittou Kuetani.

Immense slabs of white marble sourced from Tuscany have been used to create a road, stairs and monuments, resulting in enviable photos for your social media channels.

Climb to the top of the tower that offers 360-degree views across the island, as well as a bird's eye views of Setoda Town and the Kosenji Temple below. Be sure to bring your sunglasses, as the white marble makes it incredibly bright!

Miraishin no Oka

4.0

156 Reviews

Hiroshima Pref. Onomichishi Setodachousetoda 553-2

0845270800

9:00-17:00

View All

29

Explore the Zen temple-museum of Shinshoji

Zen temple-museum of Shinshoji

Situated just outside of Fukuyama City is the beautiful Zen temple of Shinshoji, which was constructed in 1965. It recently reopened as a museum where visitors can experience the world of Zen through meditation classes, tranquil tea houses and a gallery dedicated to the art of Zen master Hakuin.

Follow the nature trail that leads to the ornate main hall of the temple and admire the contemporary art installation that features a light show every 30 minutes. If you're feeling hungry, there's also a restaurant where you can dine on unique Shinshoji Udon and a hot spring where visitors are invited to soak.

Zen temple-museum of Shinshoji

Hiroshima Pref. Fukuyamashi Numakumachou Kamisanna 91

0849881111

9:00-17:00(Last entry16:30)

View All

30

Visit the photogenic spots of Tomonoura

Tomonoura

Located at the southern tip of Fukuyama City, Tomonoura is a picturesque port that exudes an old-fashioned fishing town atmosphere.

In recent years, it's become a popular filming destination for both local and international movies, including "The Wolverine" and "Ponyo on the Cliff by the Sea" by Studio Ghibli.

It's a pleasant place to stroll while enjoying the sea breezes and photographing some of the port's famous landmarks. Don't miss the Taichoro reception hall of Fukuzenji Temple that affords magnificent views of Tomonoura and stay until the sun sets to see the famous Joyato lighthouse that illuminates the waterfront.

Taichoro

Joyato lighthouse

Hiroshima Pref. Fukuyamashi Tomochou Tomo 843-1

0849281042

Open 24 hours

View All

31

Detox at Sensuijima Island

Sensuijima Island

Situated in east side of Tomonoura, Sensuijima is an uninhabited island that's renowned for its natural beauty. It can be accessed by the Heisei Iroha Maru boat that travels back and forth every 20 minutes from Tomonoura.

Swim in the crystal clear waters or follow one of the picturesque trails that traverse the island's rocky landscapes.

A highlight of the island is the Edo Buro, which features various bathes where you can soak, as well as saunas and a cave steam bath. Relax in the mineral-rich seaweed steam bath or opt for the bath infused with mugwort.

Sensuijima Island

Edo Buro

32

Try a takeaway Oyatsu to Yamaneko pudding

Oyatsu to Yamaneko pudding

If you're visiting Onomichi and need a sweet treat, don't hesitate to grab an Oyatsu to Yamaneko. This local pudding comes packed in a milk-style bottle and is made from local eggs, Hiroshima Sagotani milk and sugar sourced from Hokkaido.

Attached is a soy sauce-like fish bottle that's filled with lemon syrup, allowing you to make your pudding as sweet as you like. Select from plain, matcha or yogurt and blueberry flavor, then enjoy your pudding overlooking the waterfront. Aside from being a cute dessert, the bottles can be kept as a souvenir.

Oyatsu to Yamaneko

4.5

40 Reviews

Hiroshima Pref. Onomichishi Higashigoshochou 3-1

0848235082

11:00-17:00 (closes when sol…

View All

33

Eat Onomichi Ramen at Tsutafuji

Onomichi Ramen at Tsutafuji

No trip to Onomichi is complete without eating Onomichi Ramen, a soy sauce-based soup with noodles and pork back fat.

There are plenty of restaurants where you can try this local dish, including the ever-popular Tsutafuji, which has been serving Onomichi Ramen for over 60 years.

Expect to queue here during busy lunch periods but the wait is worth it for a taste of their sweet soup and friendly hospitality.

Aside from ramen, the store also sells sushi and rice balls if you're after something different.