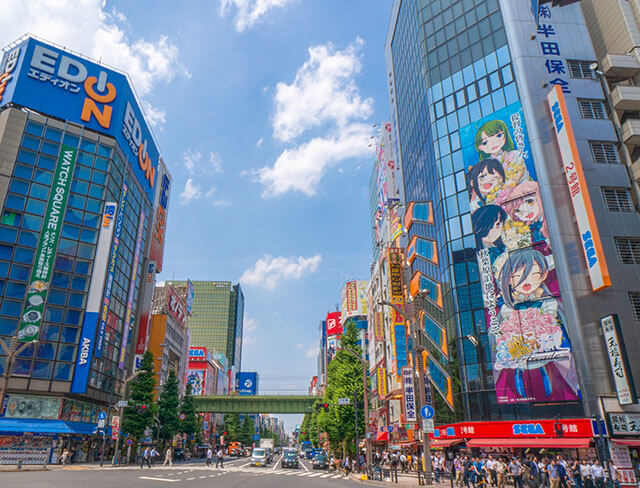 Akihabara (aka "Akiba") is where anime diehards come together. Famous for its themed restaurants and anime themed nightclubs, It's also well-known for its vast number of electronic stores. You can find any gadget you can think of.

In a nutshell, Akihabara is a paradise for otaku (geeks) and gamers.

Even if you aren't into the anime and gaming world, there are also other things to enjoy such as visiting unique art galleries, finding one of a kind items in artisan shops, and much more. Here are 24 of the best things to do and see in Akihabara.
01

Experience Otaku culture

ACOS

ACOS

In Japan there is a large number of anime obsessed, self-professed nerds that are called otaku. Otaku culture is very well represented in Akihabara and is considered a favorite when it comes to anime.

Lovers of anime can go to shops like ACOS where you can get everything you need to dress up as your favorite anime character. Choose from a variety of colorful costumes, wigs, special cosplay makeup, and even colored contacts.

Mandarake

Mandarake

Even if you're not crazy about otaku culture, you can find great anime souvenirs at Mandarake where they sell figures, comic books, and video games.

Read more
・Guide to Akihabara's Otaku Culture

Mandarake Complex

Tokyo Chiyoda-ku Sotokanda 3-chome 11-12

0332527007

View All

02

Purchase your very own Japanese sword at Busou Shoten

Busou Shoten

Busou Shoten

Enter the world of sword fighting when you step into Busou Shoten (武装商店) and shop for all the weapons that you're used to seeing in video games. Replicas of popular Japanese weapons are available for purchase.

Busou Shoten

Busou Shoten

Are you looking for an authentic replica to display in your home? Or are you looking to do some sword fighting practice on your own? This place will get you armed for battle.

On top of selling swords, Busou Shoten sells weapons such as western style handguns and different kinds of axes.

03

Retro games at Super Potato

Super Potato

Super Potato

Many gamers still have a special place in their hearts for the first time they got a gaming system like a Super Nintendo, Sega Genesis or a PlayStation. If you're a fan of retro games, you should check out "Super Potato". It's their specialty, so you know they'll have the best selection of retro games.

Surrounded by games from your childhood, you'll be drowning in nostalgia. Have some fun in their retro arcade area, or have a look through their wide range of collectors' items. Original consoles, clothing, toy figures, books, and soundtracks are up for sale.

Read more
・Akihabara:Retro Games
・The Game Lover's Guide to Akihabara

Super Potato Akihabara < Retro Museum >

Tokyo Chiyoda-ku Sotokanda 1-11-2 Kitabayashi Building 3F4F5F

0352899933

View All

04

Travel into Gundam world at Gundam Café

Gundam Café

Gundam Café

Gundam is a hugely popular anime series that features giant robots called "Gundam". As you walk through the doors of Gundam Cafe you'll feel as though you have stepped right into the Gundam universe.

Located near Akihabara Station, the cafe is easy to find with its giant Gundam "V-antenna" logo at the entrance.

Gundam Café

The dishes are named after characters from the show & episode titles. Try some Jaburo coffee while you're at it (Gundam fact: Jaburo is the home base of the Earth Federation). You can also get Gundam goods here of course.

Gundam Cafe (Akihabara Shop)

Tokyo Chiyoda-ku Kandahanaokachou 1-1

0332510078

【URL】http://g-cafe.jp/en/

View All

05

Check out the latest Esports experience

Razerstore X Tsukumo

Razerstore X Tsukumo

Gamers will be interested on checking out some of the gaming shops that offer all the latest cutting-edge technology.

Razerstore X Tsukumo is a Razer brand shop in Japan and is located on the B1F of the TSUKUMO eX building. It sells the latest and greatest when it comes to gaming. There's a game room where you can use try out their equipment while playing games.

Tsukumo eX.

GALLERIA Lounge

GALLERIA Lounge is an experience type esports specialty shop where you can try out all the latest esports equipment.

In December 2018 they reopened and now have a play area on B1 where they offer 2 hours of free playing on your first visit.

YAMADA Denki TSUKUMO eX

Tokyo Chiyoda-ku Sotokanda 4-chome 4-1

0352075599

View All

GALLERIALounge

Tokyo Chiyoda-ku

0352076411

View All

06

Drive around the city in Akiba Kart

Akiba Kart

Akiba Kart

If you find yourself in Akihabara and you want to do some sightseeing around town in a more extravagant way, try renting a custom built go-kart and explore the town in a true Mario Kart style fashion. Just know that you'll need to get an international driving permit if you want to partake in the festivities.

Akiba Kart

There are various routes to choose from, but you can choose to go with a guide if you're not familiar with Tokyo's streets. Don't forget to wear your themed costume so that you look the part as you drive your life-size Mario Kart.

Read more
・AkibaKart: The Most Authentic Inauthentic Experience in Tokyo

Popular tours: ・Rent a Go-Kart and ride around Akihabara Tokyo!  (Voyagin)

07

SEGA VR area Akihabara

SEGA Akihabara has multiple sites (buildings) where UFO catchers, Pirikura, video & music games can be enjoyed. This time around, we'll be focusing on SEGA buidling 3 where you can indulge on VR. They have 5 different VR games to choose from: Taboo, Western Cowboy, Tower Tag, Tiger Night, and Mortal Blitz.

If you're new to VR, this will be a delightful new experience! Reservations for Mortal Blitz can be made here. The other games will need to be same-day tickets. Visit their homepage for more info.

Open from 10:00 - 23:00, SEGA buidling 3 is just a three-minute walk from JR Akihabara Station Denkigai Exit.

Mortal Blitz

SEGA Akihabara 3 Gokan

Tokyo Chiyoda-ku Sotokanda 1-chome 11-11

0352973601

View All

08

Take a walk in Pedestrian Paradise

Pedestrian Paradise

Pedestrian Paradise (歩行者天国) was instituted in areas of Japan, including Akihabara, to have certain days when the streets are given back to pedestrians. On Sundays, no vehicles are allowed on the roads in certain areas and the pedestrians totally take over.

You will notice the mood of the crowd to be a bit more relaxed, thanks to the absense of traffic. Pedestrian Paradise is held on Sundays on Chuo-dori street from 1pm to 5pm (October to March) and 1pm to 6pm (April to September).

Manseibashi Intersection

Tokyo Chiyoda-ku Sotokanda

View All

09

Experience Maid cafe and tour

Maid Tour

Another thing Akihabara is well known for is its themed cafes including maid cafes where women dressed as maids prepare and serve the food right at your table.

At some cafes the maids perform a dance and song for their guests. At the Maidreamin cafe the atmosphere is cheery and fun. You'll fell immediately feel like the boss when you walk in and are greeted with "Welcome home master!".

Maidreamin café

If you want to learn all about Japanese anime and manga culture, be sure to check out the Akihabara Anime and Manga Culture Tour by Voyagin. A maid will escort you throughout the tour. To make the tour And what Akihabara tour would it be if it didn't include a trip to a pretty maid cafe?

Popular tours: Akihabara Anime & Manga Culture Guided Tour  (Voyagin)

maidreamin(めいどりーみん) 秋葉原本店

東京都千代田区外神田3-16-17 住吉ビル6F

0367446726

View All

10

Check out Akihabara's underground idols

Kamen Joshi of Underground Idols

The P.A.R.M.S Theater in the Manseibashi area is the home of the underground idols known as Kamen Joshi (仮面女子), which means "masked girls".

As you can safely presume, this girl group is known for performing with their faces covered with masks.

Kamen Joshi of Underground Idols

Although considered underground idols, the girls of the Kamen-Joshi group have risen to fame and now have thousands of fans.

They have been so influential that they were even named as ambassadors of Akihabara tourism. For 3,000 yen (the cost of buying a ticket on the same day as the performance) you catch one of their performances which are held two times every day.

Akihabara PARMS

Tokyo Chiyoda-ku Sotokanda 1-1-107F

0120-190-759

View All

11

Enjoy the Gourmet meat of Akihabara

Akiba Doner Kebab

Akihabara may be known for electronics and everything anime, but when it comes to food it surely does not fall short. There are many restaurants in the area offering up some delicious gourmet meats.

Akiba Doner Kebab

Akiba Doner Kebab is a shop near Akihabara station. We'll skip the obvious reasons for why you should get a kebab here.

Tonkatsu Marugo

Tonkatsu Marugo

One of the best places to enjoy tonkatsu is at Tonkatsu Marugo (とんかつ丸五). A must try is you haven't eaten Japanese-style crispy fried pork cutlets before.

Read more
Where to Eat in Akihabara- Including Halal Food

アキバケバブ

東京都千代田区神田佐久間町1-21

View All

丸五

東京都千代田区外神田1-8-14

0332556595

View All

12

Akihabara's largest Gacha spot

Gachapon Kaikan

Gacha Item

Gacha are capsules that contain a toy or a souvenir inside. People love gacha vending machines because you never know what'll get.

Gachapon Kaikan (ガチャポン会館) is popular with children and adults alike with gatchapon vending machines lining its walls.

Inside the capsules you can find a wide variety of things such as keychains, anime figurines, and other trinkets. Gachapon vending machines are found in many places but Gachapon Kaikan offers the widest variety with new gacha merchandise arriving every month making each visit fresh.

Akihabara Gachapon Hall

Tokyo Chiyoda-ku Sotokanda 3-15-5 GEE! STORE Akiba 1F

0352096020

View All

13

Check out Electric Town

Electric Town

Yodobashi Camera Akiba

Close to Akihabara Station, Electric Town is home to many electronic shops where you can find any gadget you are looking for. There are also many establishments here that are geared toward anime and manga fans.

Yamada Denki LABI

Yodobashi Camera Akiba is a huge electronics store that has a riddiculous variety of electronics. Many locals and tourists from all over the world make the trip.

Another big electronic store is Yamada Denki LABI which is located directly across from Akihabara Station. It offers electronics and home goods at affordable prices. One thing tourists love about shopping here is that the items are sold duty-free.

Read more
・Akihabara Electric Town Guide: 10 of the Best Shops

Yodobashi Camera Multimedia Akiba

Tokyo Chiyoda-ku Kandahanaokachou 1-1

0352091010

View All

14

Visit the PC specialty stores

Dospara

Dospara

In the west area of Akihabara you will find Dospara Akihabara's main shop which happens to be one of the most popular PC specialty shops in the area. You can shop for a wide range of PC units and PC accessories for reasonable prices.

BUY MORE

BUY MORE

Don't worry if you don't have much knowledge about computers. The staff are knowledgeable and ready to assist you with any inquiries.

Another PC specialty shop is "BUY MORE" where you can also get PC parts. Its biggest sell is that you can get a customized PC built just the way you want it.

Dos Para Akihabara Main Store

Tokyo Chiyoda

0352953435

View All

PC Workshop Akihabara BUYMORE

Tokyo Chiyoda-ku Sotokanda 3-14-10 Akihabara HF Building 1F

0352097330

View All

15

Get your very own camera!

Lemon-Sha

Lemon-Sha

One of the most popular items to buy in Electronic Town are cameras manufactured in Japan.

Here you'll find a camera suitable for every demand, from cheap to high end models, both used and new. Whether you are looking for a vintage camera or a modern digital one, something will be avaiable in your price range.

If you haven't bought a camera for your Japan trip yet, consider stopping first in Akihabara and finding the camera that is right for you. Some shops to check out are Lemon-Sha, Nisshin Camera, and Akiba Camera.

Read more
・The Photographer's Guide to Akihabara's Camera Shops

Lemon Yashiro Akihabara

Tokyo Chiyoda-ku Kanda Sakumacho 1-19

03-3253-0255

View All

16

Wind down at a Japanese Internet café

Nagomi-Style.Cafe AKIBA

Nagomi-Style.Cafe AKIBA

Once you've had your fill of electronic shops and anime themed experiences, relax at "Nagomi-style.Cafe AKIBA"; a unique internet cafe designed just like the Japanese style inns in Kyoto.

Resting on a tatami mat, reading one of their many books, and taking a shower are just some of the things you can do here to freshen up before heading back out.

Nagomi-Style.Cafe AKIBA

Since it is open 24 hours a day, so you can visit anytime you want. Membership is not required for entry, but you won't be able to use any PCs. Remember to bring your passport as well since that is another requirement for using the PCs. Click here for more info about prices & conditions.

wa style.cafe AKIBA

Tokyo Chiyoda-ku Sotokanda 6-14-2 Sakai Suehiro Bldg. B1F

03-5812-9753

View All

17

Shop for specialty items at 2k540 Aki-Oka Artisan

2k540 Aki-Oka Artisan

2k540 Aki-Oka Artisan

Contrasting sharply with the surrounding anime culture outside of its doors,
2k540 Aki-Oka Artisan is where you can find many shops featuring handmade artisan goods.

You can find all sorts of items including hand-dyed fabric, jewelry, pottery, leather goods, and greeting cards.

2k540 Aki-Oka Artisan

2k540 Aki-Oka Artisan

Many of the handmade goods are one of a kind, making this a great place to find gifts for friends or something to keep as a momento.

Since years ago artisans were pushed out to make room for the big brand stores in the area, 2k540 Aki-Oka Artisan was established to bring these skilled workers and their high quality goods back to the scene.

2k540 AKI-OKA ARTISAN

Tokyo Taitou-ku Ueno 5-9-23

0368060254

View All

18

Art gallery at 3331 Arts Chiyoda

3331 Arts Chiyoda

3331 Arts Chiyoda

Another place to clear your mind from the hustle and bustle of the city is 331 Arts Chiyoda. This art gallery is located in a place you would probably least suspect to find an art gallery - a junior high school.

3331 Arts Chiyoda

3331 Arts Chiyoda

When the art gallery moved here, no renovations were made to the building so the classrooms now serve as art galleries with works from various artists represented in different classrooms.

There is also a cafe which serves coffee and light meals. In the gift shop you can buy merchandise related to the art featured in the gallery.

3331ArtsChiyoda

Tokyo Chiyoda-ku Sotokanda 6-chome 11-14

0368032441

View All

Manseibashi

Manseibashi

Manseibashi (万世橋) used to be the location of a railway station. Now the building has been transformed into a commercial complex called MAAch Ecute Manseibashi.

Having kept its original red brick arches, this old architecture makes for great pictures in the evening.

MAAch Ecute Manseibashi

MAAch Ecute Manseibashi

MAAch Ecute Manseibashi shops sell unique hand-crafted items including homegoods, pottery, and clothing. There are also a number of cafes where you can take a break from shopping. Since the mall is situated right by the river, you can enjoy a nice relaxing stroll around the area both in the daytime and at night.

Read more
・The Not Otaku Guide to Akihabara

Maach Ecute Kanda Manseibashi

Tokyo Chiyoda-ku Kandasudachou 1-25-4

0332578910

View All

Kurand interior

Kurand offers around 100 different kinds of Japanese sake. A place where you can discover new & interesting brands of sake you would otherwise never know about. Instead of the traditional payment per drink, its an all-you-can-drink situation. Perfect for adventurers in search for the right cup. Although, your time will be limited (more info below).

Great thing about Kurand apart from its ridiculous variety of sake, is that you can bring your own food. Getting food delivered straight to the store is also A-ok. They will lend you the essentials such as plates, microwaves and cutlery, if you as them for it.

All-you-can-drink plans:
17: 00-23: 00 (22: 45LO) ¥ 3,000 (excluding tax)
90 minutes ¥ 2,000 (excluding tax)
30 minutes ¥ 1,000 (excluding tax)

Lunch plan (all-you-can-drink) on Saturday, Sunday and public holidays
12: 00-16: 00 (15: 30LO) ¥ 2,000 (excluding tax)
* Credit card, PayPay, LINE Pay can be used.
* The payment for the Lunch plan is cash only.

Finding the right one

KURAND SAKE MARKET 秋葉原

東京都千代田区外神田4-4-2 HULIC&New AKIHABARA 10F

0352444399

View All

21

Party at an anime themed Nightclub

MOGRA

MOGRA

In Japan, otaku culture has even infiltrated nightclubs such as Mogra where anime music is played all night long. Although they mostly play anison, they also play some other music too that otaku are fans of.

Anime fans from all over the world can also live stream and be a part of the party through their computer screens. When they get a chance to travel to Japan, they finally get to party in real life with fellow anime fans. Mogra is truly a unique nightclub and the experience there is not one to be missed.

Popular tours: Go to "Anison" (Anime Song) Event in Akihabara!  (Voyagin)

22

Bar Hopping at Showa Dori

Shingari

Shingari

For a Japanese-style experience head over to Shingari (殿), a very popular Izakaya. Try the sake alongside one of their tasty seafood dishes.

This place is easy on your wallet with meals costing just around 500 yen. It's cash on delivery, so have your money ready to be collected in a basket when your order is up. Only use 1,000 yen notes in the basket!

Shingari

Cash on Delivery by the Basket

If you enjoy a good beer, be sure to go to Craft Beer Ibrew Akihabara which opened in 2019 and offers many kinds of beer for just 390 yen a pint.

You will never run out of beer to choose from since Craft Beer Ibrew has a whopping 47 taps. They have a variety of meat dishes that will surely go well with your beer.

Craft Beer Ibrew Akihabara

Craft Beer Ibrew Akihabara

殿 シンガリ

東京都千代田区神田佐久間町2-22秋葉原再開発ビル

03-5829-6500

View All

CRAFT BEER BAR IBREW AKIHABARA

東京都千代田区神田佐久間町3-38 大陽ビル 1F

03-5825-4520

View All

Mogbug vending machine

The food that will save us all. Mogbug is the new nutritional snack that no one was expecting. If you're not a fan of creepy crawlers, skipping this section might be the right choice.

Ever wondered what insects such as crickets, scorpions, superworms, or silkworms taste like? Probably not, but that questions alone might've sparked your curiosity. With just one 500 yen coin, get your very own bag of crunchy fun (seven to choose from). Just a one-minute walk from JR Akihabara Station.

You might have a bug problem

秋葉原ダイニング ラフィーネ

東京都千代田区神田佐久間町2-20-2 翔和秋葉原ビルB1F

0358299317

View All

Zen Gardentaken by Tomooki KengakuZEN GARDEN, photo by Tomooki Kengaku

A place where art lovers can appreciate Japanese art and get a good night's rest. BnA Studio Akihabara is what has unified these two worlds.

Traveling art lovers have the opportunity to discover/experience art in a new way. The rooms themselves are the art pieces, meaning you will have all the time you need to appreciate the artwork. Although quite pricey, it will certainly be a memorable night.

Wonder Parktaken by Tomooki KengakuWONDER PARK, photo by Tomooki Kengaku

BnA STUDIO Akihabara

東京都千代田区外神田6-3-3

View All