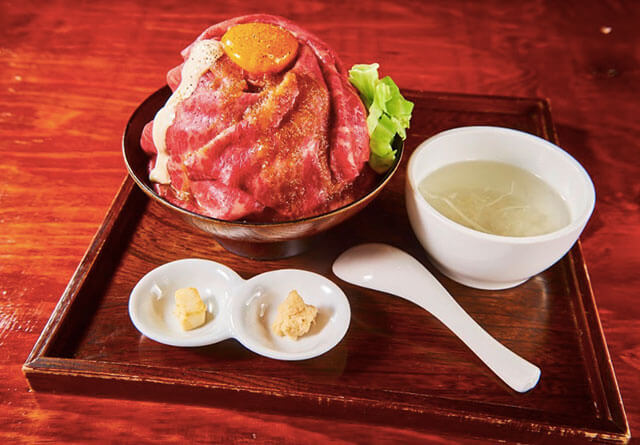 Akihabara is a paradise for meat lovers from all over the world, and it is here where you can taste the highest-quality meats, from the prized Wagyu steak to a delicious kebab.
Although not well known, Akihabara also has various gourmet options such as ramen and curries.

This isn't a place just for the carnivores though, as it offers vegetarian and vegan options as well. If you eat a halal diet, there are also a number of halal certified restaurants. Akihabara is home to many delicious gourmet dishes and below are the best restaurants that offer meat dishes as well as halal food.
Japanese Black Beef Wagyu Rice Bowl Set

Roast Beef Ohno

Meat lovers flock to Roast Beef Ohno ローストビーフ大野 to get a taste of the scrumptious Japanese black beef wagyu rice bowls that they serve up.
People can't get enough of the tender, juicy roast beef topped with a delicious homemade sauce and an egg yolk.

The dish goes for 1,760 yen and because of its popularity you can always expect to see a waiting line outside the restaurant.
Located in the Manseibashi area near Akihabara station, the restaurant is hard to miss with its bright red facade as its landmark.

Opening hours: 11 am ― 10 pm

Kyushu Jangara

Kyushu Jangara with all the toppings

Kyushu Jangara 九州じゃんがら is a popular Tonkotsu Ramen restaurant (tonkotsu is a pork bone broth) in Akihabara.
Kyushu Jangara and Bonshan are both popular menu items.

「Kyushu Jangara」 uses a mild tonkotsu broth and costs 670 yen or 1,170 yen with all the toppings.
In contrast, 「Bonshan」 uses a rich tonkotsu broth and it costs 760 yen, or 1,260 yen with all the toppings.

Vegan Shoyu Ramen

Also, you can order their 「Vegan Shoyu Ramen」, vegetarian ramen with soy sauce soup costs from 1,000 yen.
This soup and noodles are made from vegetables.
So, vegetarians can eat that without worry.

Kyushu Jangara is a favorite spot for many people, so arrive early so as not to wait a long time side by side.


Opening hours:
10:30 am ― 11:30 pm on weekdays
9:30 am ― 11:30 pm on Saturdays and Sundays.

Tonkatsu Marugo

Special Pork Loin Cutlet

Tonkatsu is a dish with tender, juicy pork coated in breadcrumbs and fried to perfection.
If you want some of the best tonkatsu in all of Japan, be sure to stop by Tonkatsu Marugo とんかつ丸五.
You can order their special katsu and choose your own toppings such as their special sauce, mustard, or even just some plain salt if you want to keep it simple.

Special Pork Loin Cutlet

Choose your preference

Recommend dish is special pork loin cutlet, which will cost you 1,850 yen and for an additional 450 yen the dish will also come with rice, miso soup, and pickled vegetables.
The restaurant has been hugely popular and has a long history of having a waiting line outside so expect to wait in line when you arrive.

Opening hours: 11:30 am ― 3 pm / 5 pm ― 9 pm, closed on Tuesdays

Tonkatsu Marugo

丸五

東京都千代田区外神田1-8-14

0332556595

View All

Zarusoba

Kanda Matsuya

To get one of the best bowls of soba in all of Tokyo, stop by Kanda Matsuya 神田まつや which has been open since 1884 and is known for their homemade soba noodles.
With so much experience in preparing tasty dishes, you can expect the best when you come here.

Kashiwa Nanban

The unique tasting buckwheat noodles are carefully made by hand and served either in a hot soup or served chilled and dipped in a reduced broth.
Side dishes are also available to top off the dish, such as shrimp tempura.
Kanda Matsuya has kept much of its original decor from when it first opened which gives it its antique vibe.

Opening hours: 11 am ― 8 pm, until 7 pm on Saturdays (closed on Sundays)

Curry wa Nomimono

Black Curry

If you are a curry fan, you must visit Curry wa Nomimono カレーは飲み物。 which translates to "Curry is a Drink".
The black curry costs 890 yen and is chunks of tender pork mixed with a combination of spices that accounts for the unique color.
There are 10 different toppings to choose from and the first 3 you choose are free.

At the Akihabara location you can also get a super spicy red chicken curry for 950 yen, so be sure to try this if you like spicy food.
The restaurant is near Akihabara station and is easy to find with its big yellow sign as its landmark.

Opening hours: 11 am ― 4 pm, 5:30 pm ― 9:30 pm

Niku no Mansei

Niku no Mansei

Originally opened as a deli and butcher shop in 1949, Niku no Mansei 肉の万世 has a long history of giving customers the best quality meats. It is also called by the name "Nikubiru" ("niku" means meat and "biru" means building).
Come here to enjoy a variety of dishes such as steak, hamburg, Yakiniku, Shabu-Shabu, and more.

Niku no Mansei

Niku no Mansei

Each level features its own special dishes.
On level 10F they serve up Teppan-Yaki grilled wagyu beef steak, level 7F showcases Sukiyaki, shabu-shabu, and steak. Head over to 5F for some Korean-style barbeque or for western-style dishes go to levels 3F and 4F.

Opening hours: 11:30 am ― 11 pm

肉の万世 本店 ステーキハウス

東京都千代田区神田須田町2-21 2F

03-5294-1202

View All

Roast Beef Rice Ball

Roast Beef Rice Ball

Located on the second floor of the Akihabara UDX building, Kamugen is popular spot to get soba but its giant rice balls are also a favorite for takeout orders.
They have 5 different types of rice balls such as the tuna and mayonnaise rice ball and shrimp ahijo rice ball. But the roast beef rice ball is the most popular.

Shrimp Ahijo Rice Ball

The roast beef rice ball has a boiled egg in the middle which is encased with rice the whole thing is wrapped in tasty roast beef. Be sure to get there early to try the roast beef rice balls since they usually sell out early.

Opening hours:
11 am ― 11 pm on Mondays to Saturdays
11 am ― 10 pm on Sundays

Chuka Soba Aoba

Chuka Soba

Chuka Soba Aoba 中華そば青葉is a popular restaurant in Ramen Yokocho.
Here you can try Chuka Soba and Tsukemen which both have a light taste.
At Chuka Soba Aoba, they use a special kind of soba noodles that are unique to Aoba. Their noodles are a cross between a Chinese noodle and udon and the distinct texture sets these noodles apart from the rest.

Chuka Soba

The menu is purposefully kept simple to let the ramen shine.
Inside the restaurant is a small bar stool seating area that overlooks the kitchen where you can see your dish being prepared.

Opening hours: 10:30 am ― 11 pm.

Tokyo Taito-ku Ueno 5-10-14 Okachimachi Ramen Yokocho

0358122254

View All

Ikinari Steak

CAB Angus Sirloin Steak

Ikinari Steak いきなりステーキis a steak specialty restaurant that features a stand-up eating style.
A popular chain restaurant with stores all over Japan, this restaurant makes authentic steak easily accessible. Many of their locations have normal seating areas but their Akihabara-Manseibashi location is completely stand-up style.

Fillet

Ikinari Steak

If you go for dinner you can try a special way of ordering your food which is only available for dinner and not for lunch. After deciding what you want to eat, you go to the counter and tell them how many grams you want your steak to weigh. They then cut off that exact amount for you. Then you get to watch as they grill your steak to your specifications. You can choose from a variety of seasonings, sauces, and sides to complete your dish.

Opening hours: 11 am ― 11 pm

Ikinari!STEAK Akihabara Manseibashi

Tokyo Chiyoda-ku Kandasudacho 2-23-9 Yamato Building 1F

0335262629

View All

Jiromaru

Jiromaru

At Jiromaru 治郎丸, you can enjoy a Tachigui 立ち食い eating experience (stand-up eating style) where delicious barbeque is grilled right in front of you on individual-sized grills in a sushi restaurant counter style atmosphere.


Serving up high quality grilled meat at budget prices, Jiromaru also allows you the option of trying just one slice of meat for 30 yen, giving you the opportunity to try a variety of meats which you will see displayed in a glass showcase (including some animal parts that are more unusual such as organs). The restaurant is located next to Roast Beef Ohno.

Opening hours: 11 am ― 11 pm

11

【 Halal Food around Akihabara 】

Halal

The term "halal" refers to foods that are permissible to eat for Muslims according to the guidelines in their religion.
For instance according halal guidelines, animals must be alive and healthy before they are slaughtered and after being slaughtered they must be drained of their blood so as not to contaminate the food.
Halal food must also be prepared with utensils that have been properly cleaned.

Halal

Halal food isn't just for Muslims though as some prefer halal foods for health reasons.
For those looking for halal food while in Akihabara, here are the best places to go.

AKIBA DONER KEBAB

AKIBA DONER KEBAB

AKIBA DONER KEBAB is a famous kebab shop near Akihabara Station that is exclusively a takeout restaurant so there is no eat-in option.
Although it is a takeout restaurant, the staff are very cheerful and welcoming so feel free to stop by.

AKIBA DONER KEBAB

Kebab Sand

Be sure to try the Chicken Kebab Sand ("sand" means sandwich) which costs 500 yen.
The kebab can be served in a pita or on top of a rice bowl.

Opening hours: 10 am ― 12 midnight

CoCo Ichibanya

CoCo Ichibanya

Established in 1978, Curry House CoCo Ichibanya Halal Akihabara CoCo壱番屋ハラール秋葉原 (also commonly called "CocoIchi") is a halal specialty restaurant and a Japanese curry chain. Since it is halal certified, it is an easy to go and pick out whatever you are craving while still meeting your dietary requirements.

Popular chicken dishes include Sasami Katsu Curry and Chicken Katsu Curry which both cost 950 yen.
When ordering you can choose how much rice you want as well as the level of spiciness (maximum level is 10). There are also a variety of 8 toppings to choose from.

Opening hours: 11 am ― 10:30 pm

4.5

35 Reviews

Tokyo Chiyoda-ku Kanda Matsunagacho

0362608667

View All

Sultan

Biryani Set

Sultan is a halal certified Indian and Pakistani restaurant that mainly serves curry along with nan, but their Biryani is also popular.
You can choose from a variety of curries including seafood, lamb, and chicken.
Curry meals cost between 680 to 1,400 yen.


Biryani set costs 1,000 yen and comes with your choice chicken or mutton, and salad or raita.
Sultan Akihabara is located between Ueno station and Akihabara Station.
You have the choice to either eat in or you can choose takeout.

Opening hours: 11 am ― 11 pm

スルターン 秋葉原店

東京都台東区上野5-5-8 第7協立ビル1F

0338369292

View All

Veg Kitchen

Veg Kitchen

As you can guess from the name, Veg Kitchen is a meat-free vegetarian restaurant (also halal certified) so this is a great choice for those who eat a halal diet as well as vegans and vegetarians.
Veg Kitchen serves authentic Indian food from northern parts of India as well as southern India and they are famous for their Vegetable Curry.

Vegetable Curry

Vegetable Curry

They also serve some Chinese dishes.
Each dish is prepared individually and can be customized to your liking.
If you stop buy for lunch, a meal will cost you 750 yen.

Opening hours: 11 am ― 3 pm, 5 pm ― 11 pm

ベジキッチン

東京都台東区台東3-44-8

0358178165

View All

Ayam-YA

Torisoba

Ayam-YA, also called "Torisoba Ayam-YA" in Japanese, ("Torisoba" means chicken Ramen) is a halal certified ramen restaurant.
They serve delicious ramen such as the popular Tori Ramen which features chicken in a rich, flavorful broth and costs 850 yen.

Torisoba

You can choose to have it seasoned with soy sauce or salt, but we recommend salt.
Be sure to ask to have your bowl of ramen topped with a delicious seasoned soft-boiled egg as well. You can choose to have a light and mild ramen or a rich and spicy ramen.
If you want to sit and relax be sure to go to 2F since 1F only has counter seating.

Opening hours: 11:30 am ― 3 pm, 5 pm ― 10 pm

Tokyo Taito-ku Motoasakusa 3-10-3

0343603672

View All

Yakiniku Panga

Yakiniku Panga

Also a halal certified restaurant, Halal Wagyu Yakiniku Panga ハラル和牛焼肉班家is a Japanese Black Wagyu Yakiniku (Japanese barbecue) restaurant.
They have been serving customers with the high quality melt in your mouth Wagyu.

Instead of purchasing their meat piece by piece, they are famous for purchasing one entire cow from a ranch and preparing it in their restaurant which is the reason they are able to provide their customers with high quality wagyu at a cheaper price.
Here you can try the Japanese Black Wagyu (Satsuma beef 薩摩牛) which is usually pricey, but here you will get it for a reasonable price.

Opening hours:
11:30 am ― 2 pm, 5 pm ― 10:30 pm from Mondays to Saturdays
5 pm ― 10 pm on Sundays

焼肉 ぱんが 新御徒町店(halal wagyu yakiniku PANGA)

東京都台東区台東3-27-9

0338398929

View All