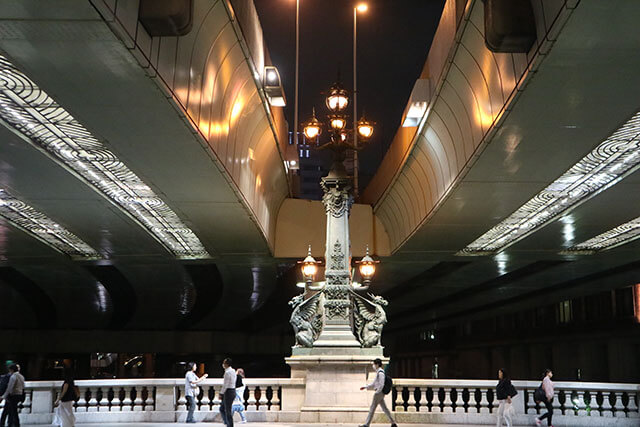 Nihonbashi is a destination where you can feel the taste of the Edo period (1603-1868) and has tremendous spots where you can enjoy Japanese culture.
With a symbolic bridge in the center of the area, it has been a popular business district in Tokyo for hundreds of years. The bridge is also known for appearing in the famous Ukiyo-e picture by Hiroshige Utagawa, a Japanese traditional artist.

From the old to the new, Nihonbashi will inspire you with its many-sided attractions.
01

Start at the Tourist Information Center

Nihonbashi Tourism Information

It's always best to get information from local professionals.
There are two information centers that you can use: the Nihonbashi Information Center and the Nihonbashi Tourism Information.

Nihonbashi Information Center

The Nihonbashi Information Center is on the B1 floor of the COREDO Muromachi1 shopping mall. They offer tours led by an international concierge too.
The other information center, the Nihonbashi Tourism Information, is a three-minute walk from the Tokyo Metro Tozai Line's Nihonbashi Station or the Hanzomon Line's Mitsukoshimae Station.
Nihonbashi cruise information is also available here.

Tokyo Chuo-ku Nihonbashi 1-1-1 Chisaki

View All

Tokyo Chuo-ku Nihonbashi Muromachi 2-2-1 COREDO Muromachi 1B1F

0332420010

View All

02

Go Shopping at Nihonbashi Coredo Muromachi

Coredo Muromachi

You might think it's an historical building on hearing its name, Coredo Muromachi コレド室町, but it's actually a stylish building full of interesting shops.
It exudes a perfect combination of established culture and new vibes.

Ocharaka

Hakuza Nihonbashi

Nihonbashi Kiya

You can experience Japanese tradition in trendy shops like Ocharaka おちゃらか , a specialty shop for Japanese green tea, or Hakuza Nihonbashi 箔座日本橋 , which sells various gold leaf products from Kanazawa, as well as Nihonbashi Kiya 日本橋木屋 , an established cutlery shop. These are perfect examples of the mixing of new and old.

Coredo Muromachi Terrace

Coredo Muromachi Terrace will open on September 27th this year and they will have the world-renowned Taiwanese bookstore which has been selected as the best bookstore in Asia, Seihinseikatsu Nihonbashi 誠品生活日本橋.

Seihinseikatsu Nihonbashi

Seihinseikatsu Nihonbashi is the first shop opened in Japan and has developed four zones that handle sophisticated items such as cosmetics and foods including books.
We want you to stop by this new shop which united culture of Japan and Taiwan.

4.0

200 Reviews

Tokyo Chuou-ku Nihombashimuromachi 2-2-1

0332420010

[Shop] 10:00-21:00 [Restaur…

View All

03

Visit the Symbolic Bridge

Nihonbashi

If you are walking around Nihonbashi, you have no choice but to visit the actual "Nihonbashi" bridge. You can see a series of animal statues along the bridge but the must-see elements are the dragons in the center of the bridge.
Dragons are said to be a symbol of prosperity and the ones on this bridge were created to ensure Tokyo became a successful city.
The current bridge with dragons was built in 1911.

Nihonbashi

04

Watch and Taste the Demonstration of Japanese traditional sweets

Tsuruya-Yoshinobu

Tsuruya-Yoshinobu

Tsuruya-Yoshinobu 鶴屋吉信 is an established Japanese sweets shop in Kyoto that started their business over 200 years ago.

Why not order their set of matcha and seasonal raw sweets for 1404 yen. Their skilled pastry maker will craft the sweets right in front of you.
In summer, you can also enjoy their shaved ice. They have beautiful sweets for different seasons, so you always have a reason to go back there and taste throughout the year.
Reservations are not necessary and it's in the Coredo 3 building.

Tsuruya-Yoshinobu

Tsuruya-Yoshinobu

Tokyo Chuou-ku Nihombashimuromachi 1-5-5 COREDO Muromachi 31F

0332430551

11:00-19:00 (for the time be…

View All

05

Heal yourself at the Fukutoku Shrine

Fukutoku Shrine

Amidst the forest of buildings, the Fukutoku Shrine 福徳神社 is waiting for you if you need to experience relief from the busyness of the city.

The Fukutoku Shrine has been in Nihonbashi since 859 and it is said that one of most famous Japanese Shogunates, Ieyasu Tokunaga, came to visit the shrine.
Today, it is popular among people who are seeking good luck to win the lottery.
The Fukutoku Garden is right next to the shrine and is a beautiful place to rest, with restaurants also inside the garden.

Fukutoku Shrine

3.5

196 Reviews

Tokyo Chuo-ku Nihonbashi Muromachi 2-4-14

0332763550

View All

06

Visit the Pokemon Center and Cafe in the New Nihonbashi Takashimaya Shopping Center

Pokemon Center DX Tokyor and Pokemon Cafe

Takashimaya 高島屋 is one of the biggest department store groups in Japan and the Nihonbashi Takashimaya Shopping Center is a new facility that opened in 2018.
The most popular attraction in this huge shopping center is the Pokemon Center DX Tokyo.

What is so special about this Pokemon Center? They have a Pokemon café.
It's the only place in Japan where you can experience a Pokemon cafe and their menu items are unquestionably adorable. They have limited items too.

You can get a full meal with Pikachu's Plate or just grab a drink, such as Gengar's Mysterious Smoothie.
They also serve café lattes with Pokemon latte art so you can choose your favorite.

Pokemon Cafe

Pokemon Cafe

Pokemon Cafe

ポケモンカフェ 日本橋高島屋S.C.店

東京都中央区日本橋2-11-2 日本橋高島屋S.C.東館5F

03-6262-3439

View All

07

Enjoy a Luxury Edomae-Sushi Lunch

Sushi Yamaoki

Sushi (image)

Sushi Yamaoki 鮨 山沖 is a fancy sushi restaurant but they offer an affordable lunch set menu from 2000 yen between noon and 2 p.m. on Wednesdays and Fridays.
They only have counter seats but their sushi attracts a lot of people, which makes this physically small restaurant so socially big.

If you visit at night time (they are open Monday to Friday) it may be a bit expensive but they will definitely give you an unforgettably tasty time.

鮨 山沖

東京都中央区日本橋室町1-12-14

03-5201-8009

View All

08

Experience Tokyo's River Cruising

Tokyo's River Cruising

Tokyo's River Cruising

If you are tired of walking around beneath the tall buildings, how about getting on a cruise boat without a roof? There are quite a few river cruise courses to choose from.
Our recommendation is the Kandagawa 90 minute course (2500 yen per adult) where you'll see the tallest tower in the world, the Tokyo Skytree, and experience some dynamic action as you cruise beneath a bridge.

You can purchase tickets at the Nihonbashi Boarding Dock. Tickets are available in advance or on the day of the cruise.
You can't get on a boat if the seats are full, so you better go early. They open at 10 a.m.

Tokyo's River Cruising

Tokyo's River Cruising

09

Get sophisticated Washi paper goods

Haibara

Haibara

Washi 和紙 literally means "Japanese paper".
It is made using a traditional technique and is quite strong.

Haibara 榛原 is a washi specialty shop that has over 200 years of history.
They have a range of Japanese traditional paper goods, such as envelopes, a Haiku poem board, and paper fans. You can learn so much about different Japanese traditional arts and culture just by looking at their products.
They also have small accessories for sale, such as cylinder-shaped boxes.

4.0

25 Reviews

Tokyo Chuou-ku Nihombashi 2-7-1 Tokyo Nihonbashi Tower

0332723801

[Monday-Friday]10:00-18:30[S…

View All

10

Discover the Architecture of National Important Cultural Property

Bank of Japan

Nihonbashi Takashimaya

As Nihonbashi has a long history as one of Tokyo's main business districts, there are many buildings that Japanese people have attached special feelings towards.

Nihonbashi Takashimaya and Nihonbashi Mitsukoshi are the main branches of two of Japan's oldest department stores.
The Mitsui Memorial Museum is another destination where you can see the art works of Japanese cultural heritage.

Nihonbashi has some historical architectures besides― the Bank of Japan and NIhonbashi Bridge.
These architectures has been designated an Important Cultural Property by the Japanese government.

Nihonbashi Mitsukoshi and Mitsui Memorial Museum

Nihonbashi Takashimaya

Nihonbashi Mitsukoshi

3.5

14 Reviews

Tokyo Chuou-ku Nihombashimuromachi 1-4-1

0332413311

10:00-19:00[New Bldg 9/10 FR…

View All

4.0

28 Reviews

Tokyo Chuou-ku Nihombashi 2-4-1

0332114111

[Main Building/Takashimaya W…

View All

Tokyo Chuou-ku Nihombashimuromachi 2-1-1 Mitsui Main Building 7F

05055418600

10:00-17:00 (Admission until…

View All

Tokyo Chuou-ku Nihombashihongokuchou 2-1-1

0332772815

9:45-10:45, around 10:45-11:…

View All

11

Wait in line to make yourself full with Tendon

Kaneko-Hannosuke

Kaneko-Hannosuke

Kaneko-Hannosuke 金子半之助 is a restaurant where you can try tasty tendon 天丼, which is a bowl of tempura on rice topped with a special sauce.
This restaurant is named after the second chairman of the Japanese cook's association, Hannosuke Kaneko. His secret tendon recipe is still attracting people in Tokyo today.

You can try their Edomae tendon for 980 yen.
You'll get a full bowl of tempura, so much so that it is almost falling over! Kaneko-Hannosuke purchases their fish every morning from the market in Tokyo - it's no wonder their tendon is so tasty.

Kaneko-Hannosuke

Tokyo Chuo-ku Nihonbashi Muromachi 1-11-15

0362623734

View All

12

Explore the Tokyo Station area by Free Shuttle Bus

Metro Link Nihonbashi

Metro Link Nihonbashi offers free bus rides to Tokyo Station.
The bus comes every 10 minutes and you can alight at various spots.
Some of the easiest spots to find include the Subway Nihonbashi Station, Mitsukoshimae Station, the Mitsui Memorial Museum, and JR Shin-Nihonbashi Station.

When you arrive at Tokyo Station, you must admire the historic station building.
The Imperial Palace and Tokyo International Forum are also fun to visit and there are several museums within walking distance too.


Read more
11 of the Best Things to Do in Marunouchi & Tokyo station
One of Tokyo's most prestigious business districts, Marunouchi combines soaring skyscrapers and historic landmarks with leafy parklands …

Imperial Palace

Tokyo Station

13

Craft Beer Tasting at the NIHONBASHI BREWERY

NIHONBASHI BREWERY

NIHONBASHI BREWERY

NIHONBASHI BREWERY

If you are looking for the perfect way to finish your adventurous day in Nihonbashi, this is where you must go.
The head brewer of HUB (Hop Urban Brewery) in Portland, U.S.A., Mr. Trevor Bass, created the unique recipes just for the NIHONBASHI BREWERY.

Their food is also amazing and complements the beer perfectly. The vegetables are mostly sourced from local farms and are either organic or produced with minimal pesticides. In addition to their own brews, they also offer craft beer and craft cider from outside of Japan.

The atmosphere is stylish and bright, with the inside of the restaurant filled with happy people, especially on Fridays.

NIHONBASHI BREWERY. 人形町

東京都中央区日本橋富沢町10-13

0362310226

View All

14

Reasonable Capsule Hotel at Nihonbashi Muromachi BAY HOTEL

Nihonbashi Muromachi BAY HOTEL

Nihonbashi Muromachi BAY HOTEL

Fancy hotels are easily found in Nihonbashi and the surrounding area but there are also clean and reasonably-priced capsule hotels too.

Nihonbashi Muromachi BAY HOTEL is located about five minutes' walk from Mitsukoshimae Station and Shin-Nihonbashi Station.
Their capsules cost around 3500 yen per night, with access to lockers, a laundry space, a lounge, and other facilities included in the price.

There is a different branch in front of Tokyo Station too, so you can also check it out.

日本橋室町BAY HOTEL(日本橋室町ベイホテル)

東京都中央区日本橋本町2-4-7

0332422777

View All

15

In Spring: Enjoy the annual Sakura Event

Nihonbashi Sakura Festival in 2019

Nihonbashi has been designed with beautiful sakura trees, which is evident by their street names, such as "Edo Sakura Street" and "Nihonbashi Sakura Street".
Every year when the sakura blossoms explode in color, the whole city celebrates during the Nihonbashi Sakura Festival.
If you visit Nihonbashi during this festival, you can see the sakura motif everywhere on the streets, including inside and outside the shops and restaurants.

FLOWERS BY NAKED in 2019

FLOWERS BY NAKED in 2019

Besides this festival, the immersive event organized by FLOWERS BY NAKED is also very popular. During this time, you can experience the beautiful gardens not just by seeing, but also by touching, smelling, and listening to music.

※These events has been fihished. Check the next event information on the website.

URL: https://nihonbashi-sakurafes.art/en/
URL: https://flowers.naked.works/


Read more
Japan's fastest cherry-blossom viewing FLOWERS BY NAKED in 2019
To mark Japan's Ohanami (cherry blossom-viewing) season, FLOWERS BY NAKED has an exciting schedule of immersive events planned in Tokyo Nihonbashi…

Tokyo Chuo-ku Nihonbashi Muromachi 2-2-1 COREDO Muromachi 1B1F

0332420010

View All

16

In Summer: Enjoy the artistic displays of Goldfish

Art Aquarium in 2018

Art Aquarium in 2018

Art Aquarium in 2018

Art Aquarium is another super popular event in Nihonbashi, which can only be experienced in the summer.
As its name suggests, it is an aquarium where you can see artworks.
Indeed, it is like an art museum that contains lots of goldfish combined with innovative technologies. Goldfish are probably the most familiar fish to Japanese people and you will see how much they love them when you see the artworks here.

The first thing you will notice is the impressive lighting.
They shine colorful lights on wondrously- shaped water tanks with heaps of goldfish inside. Not only are the shapes of the water tanks very Japanese, but also the way of displaying, the positioning, and the side objects are too.


URL: http://artaquarium.jp/en/


Read more
Cyberpunk goldfish at Eco Edo Nihonbashi Art Aquarium
A quintessentially bizarre and beautiful Tokyo experience, the Art Aquarium in Nihonbashi electrifies an ancient, living artform with over-the-top staging …

Tokyo Chuou-ku Nihombashimuromachi 2-2-1

0352003210

[Weekday]10:00-19:00

View All