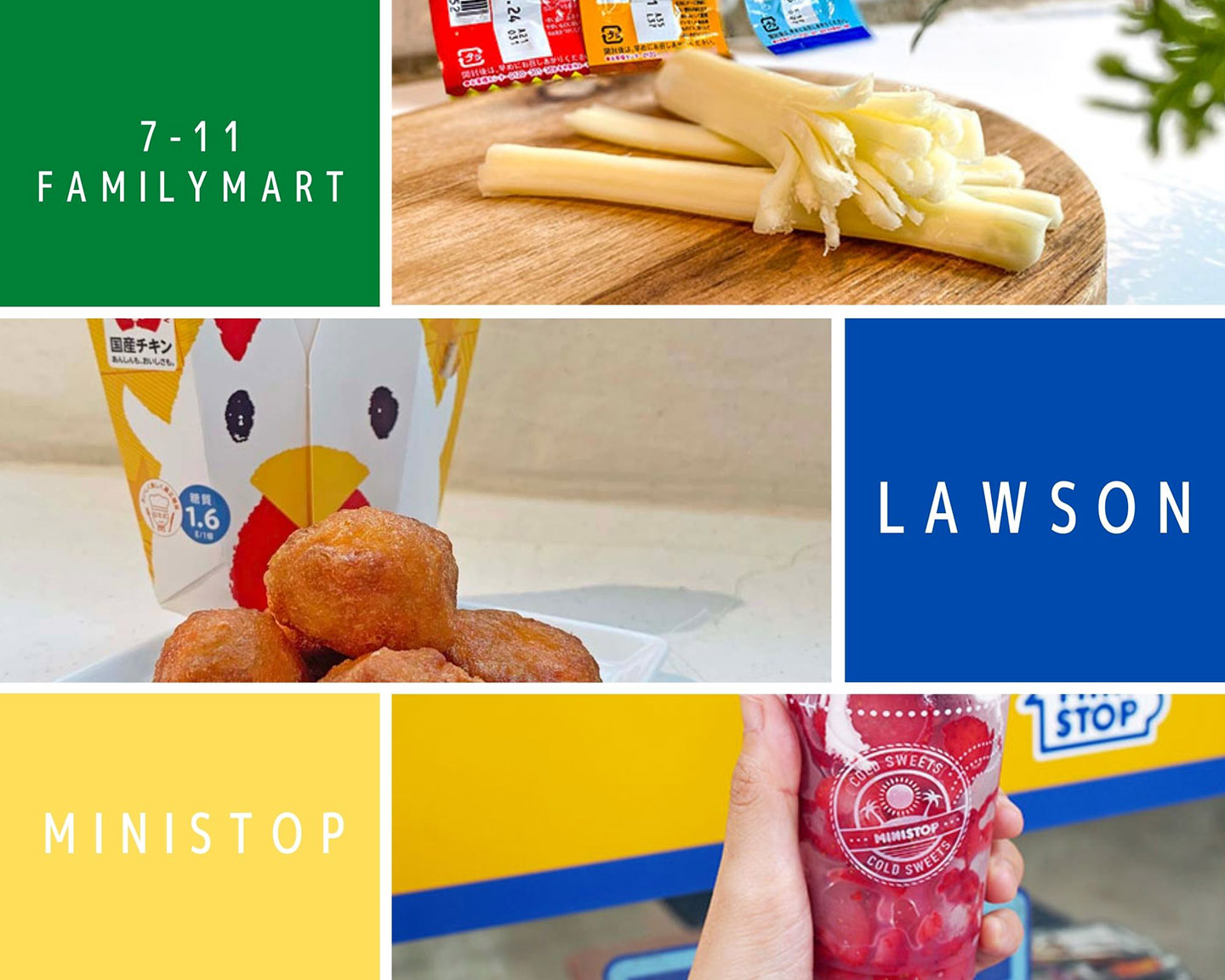 Japan is famous for its endless varieties of attractive snacks, which are represented by the Japanese phrase "Kuchi Sabishii". Loosely translating as "lonely mouth", it refers to a craving for food when you are not hungry. It's the perfect excuse to stuff yourself with scrumptious and inexpensive Japanese nibbles. All of these branded and private label snacks can easily be found in convenience stores, so be sure to look out for them while you're in Japan.
Sakeru Cheese by Megumilk Snow Brand is a milky string cheese made from 100% Hokkaido raw milk. Sakeru means "split" in Japanese and this pack of two string cheese sticks features a chewy texture that you can easily get addicted to.

There are currently six flavors available: plain, smoked, bacon, chili pepper, roasted garlic, and butter soy sauce. This nutritious cheese is popular as a finger food and also as a kid-friendly snack.

Sakeru Cheese

02

2. Rice Cracker: Kabukiage

Kabukiage by Amanoya is a deep-fried rice cracker flavored with sweet soy sauce. The name of this snack comes from Kabuki, the traditional Japanese performing art. With the intention of introducing both traditional Japanese culture and traditional snacks, family emblems of Kabuki actors are printed on the surface of the rice cracker. If you want to try this snack, look for the Kabuki tricolor (green, orange and black), which is the iconic pull-curtain pattern for Kabuki theaters.

Kabukiage

03

3. Instant noodle:Peyangu

Instant yakisoba (stir-fried noodles) can be a good midnight snack or a quick and cheap lunch option. Peyangu by Maruka Foods is an instant yakisoba that has been delighting noodle fans for over 40 years.

With just three minutes of your patience and hot water, you can easily enjoy this Japanese festival food at home. Just as you'd find at a food stall, this noodle is flavored with Worcester sauce and comes complete with crunchy cabbage and condiments.

Peyangu

READ MORE

Best Spicy Cup Noodle in Japan

Ramen

Hyoketsu by Kirin is made with vodka and fruit-flavored carbonated water, and usually contains only 5% alcohol. Standard flavors include lemon and grapefruit but there are many seasonal, limited-edition flavors that you can only get at specific convenience store operators like Lawson. There are also a few product series, such as Hyoketsu Strong that contains 9% alcohol or Hyoketsu Zero that contains no carbohydrates.

Hyoketsu

READ MORE

How to choose insanely great alcohol from convenience store

Need to Know

05

5. Cookie: Country Ma'am

Country Ma'am by Fujiya is undoubtedly the most popular semi-soft cookie brand in Japan. Since its debut in 1984, this chocolate chip cookie has seen more than 40 product improvements. Grab a bite and you will soon be hooked on its crispy surface and chewy texture.

If you want a freshly-baked taste, simply warm this cookie in the microwave. The standard flavors are vanilla and cocoa but many limited-edition flavors come out every year.

Country Ma'am

06

6. Chocolate Bar: Black Thunder

Black Thunder by Yuraku is a low-priced (only 30 yen before tax!) chocolate bar that's filled with cocoa-flavored biscuit bits. Despite its size, this chocolate snack's combination of crunchy texture and the perfect amount of sweetness has made a big impact on the hearts of many chocolate lovers.

Initially introduced in 1994, Black Thunder now has several flavors, including roasted corn and matcha, as well as an ice cream bar that's exclusively available at 7-Eleven convenience stores.

Black Thunder

07

7. Jersey Milk Pudding

Enjoying a silky pudding after dinner is a great reward at the end of a hectic day. Jersey Milk Pudding by Ohayo is a double-layered creamy pudding made from thick milk and sweet cream. While Holstein milk is widely produced in Japan, Jersey milk makes good dairy sweets because of its high butterfat content and rich flavor. The flavor of creamy delight will instantly fill your mouth and make your snack time exceptionally pleasant. Currently there are two flavors, Jersey Milk and Café Latte .

Left: Jersey Milk Pudding Right: Jersey Milk Pudding Café Latte flavor

08

8. Candy: Kamu Kamu Lemon

Kamu Kamu Lemon by Mitsubishi Shokuhin is a soft-chewing, citrusy candy made using lemons from the Setouchi region. One grain is supposed to contain 200 mg of Vitamin C (10 lemons worth), so this is a favorite snack for many beauty-conscious women.

The secret to its chewy texture comes from the three-layered structure, which consists of a lemonade-like sweet outer shell, an acidic inner shell and soft candy, leaving you with moreish pleasure.

Kamu Kamu Lemon

09

【7-Eleven private-label snack】

Originally from the United States, 7-Eleven is now the biggest convenience store operator in Japan. Although 7-Eleven is ubiquitous to Japan, there are many food items only available in specific regions. Marumochi Potato is exclusively available in the Kinki region, which includes Osaka and Kyoto, and is made of mashed potato and mochi (Japanese rice cake). Eat it while it's hot, so you can enjoy the crispy coating, as well as the fluffy stuffing.

Marumochi Potato

The convenience store is a good place to pick up a quick snack to get your day going. Burrito & Ham Cheese is a lightly-roasted tortilla wrap with ham and three types of cheese (gouda, mozzarella and cheddar). This trio of cheeses play a beautiful harmony when warmed in the microwave. The burrito is packaged in a plastic bag with a paper tray, so you can eat it without soiling your finger.

Burrito & Ham Cheese

Oishisa Marugoto Natural Potato (tasty salt flavor) is a wedge-shaped potato snack that is exclusively available in 7-Eleven stores in Tokyo and Kanagawa. This snack quickly disappeared from stores after one of the most famous Japanese YouTubers HIKAKIN raved about it on his channel.

This crunchy snack presents rich potato flavors due to its manufacturing process that involves vacuum fryers. A mayonnaise flavor is also available on the market and is a must-buy for mayo lovers.

Oishisa Marugoto Natural Potato

Cheese-in Snack Triple Cheese is a bite-sized crunchy snack infused with cheddar, camembert, and Emmental cheese. Once you open the package, a mouthwatering cheesy aroma wraps around your nose. Combined with the rich cheese paste inside, the crunchy crust coated with cheese powder brings a perfectly appetizing texture. This small snack is great finger food for when you're having alcohol and will have a big impact on your evening drinking time.

Cheese-in Snack Triple Cheese

Seven Premium Gold is the superior brand for 7-11 and denoted "to meet the needs of those who wish to try something a little more tasty as a luxury, equal to or better than the quality of products from specialty stores and popular stores" according to its webpage. Out of the many products from seven premium gold at 7-11, Seven Premium Gold Bread is highly popular. Unlike its name, Seven Premium Gold Bread, the bread won't shine in gold but metaphorically, it "shines gold" like brown by toasting. Baked with fresh cream from Hokkaido and fermented French butter, the soft and fluffy texture with the aftertaste of the fresh cream from Hokkaido makes this bread really delicious. The aroma of wheat and the gentle sweetness of the bread is also very pleasant, making it a delicious treat that lingers in your mouth.

Seven Premium Gold Bread

10

【Family Mart private-label snack】

Onigiri (rice balls) are the most standard convenience store food in Japan. Convenience store onigiri come in all shapes and flavors, so it's fun to discover your favorite. Wafu(Japanese style) Tuna Mayonnaise by Family Mart is a seasoned rice ball wrapped with soft seaweed and filled with tuna mayonnaise. The rice is seasoned with Japanese broth, including bonito flakes and seaweed, which contributes to its rich flavor.
One of the reasons why you should check convenience stores on a regular basis is that there is always something new to try. Family Mart's Zakutto Rayu (chili oil) onigiri has been catching many onigiri fans' hearts since its debut.
This onigiri is filled with chopped onion and garlic, then seasoned with mild chili oil. Once you bite into it, you will find an irresistible combination of crispy seaweed, soft rice, and a crunchy filling.

Left: Zakutto Rayu (chili oil) onigiri Right: Wafu (Japanese style) Tuna Mayonnaise Onigiri

When you go to Family Mart, you can't miss the hot snack section beside the cash register. Here, you can get their iconic snack, Famichiki (short for FamilyMart Chicken).This boneless chicken thigh is perfectly seasoned and the flavor of juicy chicken spreads throughout your mouth when your teeth sink in.

Apart from its original flavor, there are a few more choices that include spicy, umashio (tasty salt), salt lemon, and occasional limited-edition flavors.

Famichiki

READ MORE

Best Fried Chickens at Japanese Convenience Store

Many convenience store operators have their own brand products, which are also worth checking out. Family Mart's Horoniga Bitter Choco Ring is a ring-shaped corn-puff snack that's lightly dipped in dark chocolate. This adorable chocolate snack's light and crispy texture will surely please many chocolate lovers. Just be mindful to savor this bittersweet snack, otherwise you'll finish the whole pack in the blink of an eye.

Horoniga Bitter Choco Ring

Cheese Cake Frappe is inspired by a classic New York cheesecake and features three types of cheese (cheddar, gouda, and cream cheese), each of which brings its own rich flavor. This four-layered drink has sweet apple sauce on the bottom, which adds a great accent to the cheese layers when you mix it well.

To make this DIY drink, grab the frappe container from the refrigerator and pay at the cashier, then you can pour milk into your cup using the beverage machine.

Cheese Cake Frappe

Place the frappe cup below and press the button to make one

11

【LAWSON private-label snack】

Akuma no Onigiri ("Devil's Rice Ball")may have a hellish name but is actually one of the most sought-after rice balls at Lawson convenience stores. Inspired by the idea of dangerously addictive onigiri, Lawson sold about 10 million of these rice balls in the first 45 days after their launch in October 2018.

Featuring various ingredients that include brown rice cooked with a flavorful broth, tempura flakes and dried green seaweed, this notorious food tempts many shoppers into gluttony.

Akuma no Onigiri

One of the unmissable hot snacks at Lawson is Kara-age Kun Regular, deep-fried chicken nuggets packed in an adorable, rooster-shaped box. With the concept of portable finger food, these juicy five-piece nuggets' grand total sales figure exceeded three billion since they were debuted in 1986.

Despite its junky appearance, Kara-age Kun is also known as a low-carb snack that uses mainly chicken breast. While the standard flavors are regular, spicy red, and cheese, you can also occasionally find limited-editions flavors.

Kara-age Kun Regular

READ MORE

Best Fried Chickens at Japanese Convenience Store

There are many reasons to go grocery shopping while you're traveling in Japan: you'll be introduced to popular Japanese foods, learn a bit of Japanese, and also pick up cheap souvenirs for family and friends back home.

Ika no Sugata Fry ("Fried Squid Snack") is a squid-shaped crunchy snack. When you open the package, the squid aroma will immediately whet your appetite. This savory snack is a perfect accompaniment to beer and a spicy flavor is also available.

Ika no Sugata Fry("Fried Squid Snack")

Inspired by the idea of having a delightful tea time at home, Lawson's Uchi Cafe ("Home Cafe") series offers an extensive selection of sweets. The Mochi Shokkan Roll Cake is a fluffy and smooth sponge cake wrapped with melt-in-the-mouth cream that's made using raw milk from Hokkaido. Currently priced at 295 yen (with tax), this six-piece snack is great value for money and perfect for sharing.

Mochi Shokkan Roll Cake

Premium Roll Cake is a classic cake roll that features a soft sponge cake and milky cream filling. Mixing honey into the dough, the sponge ring's moist texture wows anyone with a sweet tooth. The lightly sweetened whipping cream perfectly matches with the mellow sponge but can also be enjoyed by itself.

If you are lucky, you might also find a limited-edition flavor made in collaboration with famous sweets companies, so look through the shelves carefully.

Premium Roll Cake

12

【Ministop private-label snack】

Halohalo is only available at the convenience store "Ministop". With this sweet perfect for hot summer, one can try kakigori (shaved ice), ice cream and jelly(jello-o) all at once. With a wide variety of flavors to choose from, getting tired of halohalo is hardly an option!