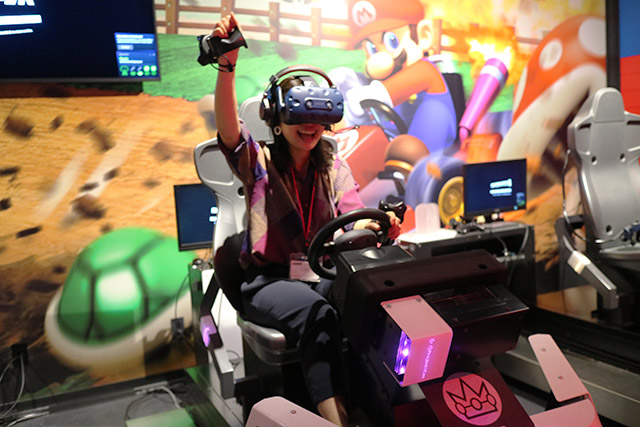 You can do almost anything on a rainy day in Tokyo as long as you have an umbrella. Here are our recommendations for what to do and where to go when it's wet outside in Tokyo.
01

Haneda Innovation City

Haneda Innovation City aka HICity. Just one stop via the monorail from Haneda Tokyo International Airport Terminal 3, some of the facilities at a major cultural and technological complex has opend. Its new entertainment facility, "Haneda Dejima | DEJIMA by 1 → 10" runs a program using Magic Leap 1 to express a fictional world nonverbally through combining the latest digital technology in addition to live dances and combats. This is a must be visited new entertainment facility.

READ MORE

Haneda Innovation City with Zepp Haneda

Best Restaurant Guide

"Shibuya Scramble Square" is a 47-storey large-scale complex consisting of offices, event spaces, restaurants, fashion and general stores. On the rooftop (230m above the ground) is Shibuya skyline's highest viewing platform, called "Shibuya Sky", where you can take in the view of the entire Shibuya area from above. If you're lucky enough you can even see Mt. Fuji on a clear day.

It has undercover connections to nearby department stores such as Shibuya Hikarie and Tokyu Department Store, so you can enjoy moving between the shopping centres without getting wet.

READ MORE

Shibuya Sky : The Best Observation Deck in Tokyo

Japanese Cuisine

4.0

81 Reviews

Tokyo Shibuya-ku Shibuya 2-24-12

0342214280

[SHIBUYA SCRAMBLE SQUARE Sho…

View All

03

Sunshine 60 Observatory

Sunshine 60 is a 60-story skyscraper on the east side of Ikebukuro that's home to cafes, a post office, health care center and numerous restaurants. But the highlight is stepping into what is one of the fastest elevators in the world and traveling at 36 km/h up to the 60th-floor observation deck.

Also known as the Sky Circus, the observation deck offers incredible views across Tokyo that stretch as far as Mount Fuji on clear days. Aside from its views, the Sky Circus also offers a range of exhilarating virtual reality experiences, including the Tokyo Bullet Flight and Swing Coaster.

SKY CIRCUS Sunshine60 Observatory

Tokyo Toshima-ku Higashikebukuro 3-1 Sunshine 60 building 60F

0339893457

View All

Nestled at the base of the Tokyo Skytree in Oshiage, Tokyo Soramachi is a large shopping, dining and entertainment complex that houses more than 300 tenants. Here you'll find speciality stores selling unique Japanese foods and traditional Tokyo crafts, as well as souvenirs from the Tokyo Skytree itself.

If you want some of the best views of the Tokyo Skytree, head to one of the restaurants on the top two floors of the Skytree East Building. Soramachi is also home to the Sumida Aquarium and the Konica Minolta Planetarium, as well as the newly opened Post Museum where stamps from across the world are showcased.

Sky Tree lit up in pink during pink ribbon day

Tokyo Sumida-ku Oshiage 1-1-2

0570550102

[Whole building] 10:00-21:00…

View All

05

Mori Building Digital Art Museum

While the digital art collective teamLab has been hosting exhibitions around Japan for the last few years, it was only in 2018 that they launched their first permanent installation at the Mori Building Digital Art Museum in Odaiba. It's a feast for the senses, with 520 computers and 470 projects used to create what is a truly unique experience and a "must-do" activity on a rainy day.

Let your curiosity guide you as you explore the dynamic exhibits, many of which offer fantastic photo opportunities. Two of the most popular installations are the "Crystal World" and the "Forest of Resonating Lamps", both of which will have you snap happy!

READ MORE

Digital Art Museum: EPSON teamLab Borderless at Mori Building

Art & Museums

The world's largest miniature theme park, Small Worlds Tokyo has opened featuring 1/80th scale models of objects spanning across six different worlds including the Space Center, Kansai International Airport, Pretty Guardian Sailor Moon, Neon Genesis Evangelion Tokyo-III, Neon Genesis Evangelion Cage and Global Village with five countries from Asia and Europe.

READ MORE

Small World Tokyo: World's Largest Indoor Georama Theme Park

Indoor Activities

Tokyo Koto-ku Ariake 1-3-33 Ariake Butsuryu Center

View All

Small Worlds Tokyo E-Tickets

¥6,200

Update date:2023/10/01

This Snoopy Museum is the official satellite of the Charles M. Schulz Museum in Santa Rosa, CA. Visitors can enjoy permanent exhibition such as 8 meter long huge sleeping Snoopy to special exhibitions that include extensive collection of new and reproduced comic strips and lots more. Don't forget to drop by at Brown's Store for exclusive original merchandise. (The store is only accessible to those who has a ticket and finish seeing the exhibition)

Snoopy RoomSnoopy Museum Tokyo. Photo © Peanuts Worldwide LLC

READ MORE

Snoopy settled down in his new home in Western Tokyo

Art & Museums

Tokyo Machida-shi Tsuruma 3-1-4

0428122723

10:00-18:00 (Last entry 17:3…

View All

Beer lovers can get their fix even on rainy days at the Museum of Yebisu Beer in Ebisu, which was opened to mark the 120th birthday of the brewery. A highlight is the 40-minute Yebisu tour led by a Yebisu expert who will share the company's history and techniques for drinking beer.

After the tour, you can sample various types of beer in the Tasting Salon using specially designed Yebisu coins. The museum also features a shop that's stocked with limited edition Yebisu items that make for a great gift or souvenir, as well as the Yebisu Gallery where old advertising signs and historic bottles are displayed.

4.0

521 Reviews

Tokyo Shibuya-ku Ebisu 4-20-1 In Yebisu Garden Place

0354237255

11:00-19:00

View All

Ueno Park serves as the cultural heart of Tokyo and is home to many of the city's finest museums, which are ideally explored on a rainy day. Experience what life was like in Tokyo 100 years ago at the Shitamachi Museum or admired the contemporary Japanese and Western artworks of the
Ueno Royal Museum.

Ueno Park is also home to the The National Museum of Western Art, as well as the Tokyo Metropolitan Art Museum that focuses on sculptural and calligraphic works by Japanese artists. Spend an afternoon getting hands-on at the National Museum of Nature and Science or lose yourself in the immense (and outstanding) Tokyo National Museum.

National Museum of Nature and Science (kids room)

4.0

289 Reviews

Tokyo Taitou-ku Uenokouen 2-1

0338237451

9:30-16:30 (admission until …

View All

4.5

912 Reviews

Tokyo Taitou-ku Uenokouen 7-7

05055418600

9:30-17:30 (until 20:00 for …

View All

3.5

211 Reviews

Tokyo Taitou-ku Uenokouen 1-2

0338334191

10:00-17:00 (Admission until…

View All

4.0

545 Reviews

Tokyo Taitou-ku Uenokouen 8-36

0338236921

9:30-17:30 (Last entry 17:00…

View All

Tokyo Taitou-ku Uenokouen 7-20

05055418600

[Regular]9:00-17:00[Friday S…

View All

Tokyo National Museum of Nature & Science E-Tickets

¥630

Update date:2023/10/01

Tokyo Taitou-ku Uenokouen 13-9

05055418600

9:30-17:00(Last entry16:30)

View All

10

National Museum of Emerging Science and Innovation (Miraikan)

Miraikan, officially known as the National Museum of Emerging Science and Innovation, this innovative museum in Odaiba explores the world of science and technology. Its hands-on exhibits are loved by adults and kids alike, with highlights including real-time displays from seismometers across Japan and Asimo the Honda robot.

See a rock core taken across the Cretaceous-Paleogene boundary that illustrates a major meteorite impact and gets up close to a model maglev train. The Miraikan also hosts an exciting range of temporary exhibitions throughout the year, together with talks by leading names in the scientific world.

4.0

1089 Reviews

Tokyo Koutou-ku Aomi 2-3-6

0335709151

10:00-17:00 (ticket purchase…

View All

The Ad Museum Tokyo is an advertising-themed museum in Caretta Shiodome, Minato-ku, Tokyo. Around 320000 advertising materials and works, from the Edo period to the present day, have been collected in the museum, and the museum's library has a massive 27000 books on advertising and marketing. If you're wondering where to go on a rainy day, this is a recommended spot as you'll have a chance to see interesting advertising related items that you've likely never seen before.

Best of all, even though this is such a unique museum, admission is free!

* Closed days can be confirmed on the "Open Calendar" on the official website.

4.0

58 Reviews

Tokyo Minato-ku Higashi-shinbashi 1-8-2 Caretta Shiodome B2F

0362182500

12:00-18:00

View All

The TeNQ Space Museum is divided into nine areas, with fascinating exhibits that allow you to discover the universe beyond planet Earth.

3.5

76 Reviews

Tokyo Bunkyou-ku Kouraku 1-3-61 Tokyo Dome City Yellow Building 6F

0338140109

[Weekday] 11:00-21:00 (Last …

View All

KidZania is a children's virtual reality world of sorts, where children can live out their fantasies by pretending to be workers in around 100 kinds of jobs such as police officers, bakers, drivers, models, and shop assistants. Kids will be paid in the local KidZania currency, which they can also use to shop for items within the area. Of course, they get to take home what they made!

Since real companies sponsor the concept, uniforms and tools used are surprisingly authentic and adult-like. Target age is 3 to 15 years old.

Tokyo Koutou-ku Toyosu 2-4-9 Urban Dock LaLaport Toyosu NORTHPORT 3F

0570064646

[Part 1] 9:00-15:00[Part 2]1…

View All

Joypolis is a SEGA-themed amusement park in Odaiba where you can relive your childhood love of Sonic and Resident Evil. It's packed with typical arcade-style games, as well as three floors of 3D and virtual reality attractions that will keep you entertained for hours on a rainy day.

You can soar through the air on the "Wild Wing" or experience the 3D world of "Mystic Mansion", then fight robots at the "Transformers-Human Alliance" attraction. Joypolis is also home to cafes and a creperie where you can grab a bite to eat, as well as the JD store where souvenirs of all your favorite SEGA characters are available.

Tokyo Minato-ku Daiba 1-6-1 Dex Tokyo Beach 3-5F

0355001801

[Weekday]10:00-20:00[Saturda…

View All

Tokyo Joypolis Passport E-Tickets up to 800 JPY OFF vs Tickets Sold Onsite!

¥3,500

Update date:2023/10/01

A quintessentially bizarre and beautiful Tokyo experience, the Art Aquarium's first permanent museum is now open in Nihonbashi electrifying an ancient, living artform with over-the-top staging and impressive lighting. The stunning goldfish exhibition features goldfish swimming in glass vessels of all shapes and sizes, lit with moving projections and multicoloured lights

READ MORE

Cyberpunk goldfish at Art Aquarium

Art & Museums

ART AQUARIUM MUSEUM

Tokyo Chuo-ku Nihonbashihoncho 1-3

View All

16

Maxell Aqua Park Shinagawa

Maxell Aqua Park Shinagawa is an aquarium which features spectacular dolphin shows. It is a world of entertainment created by combining various technologies and gorgeous decorations with marine displays and attractions.

The very popular Dolphin performances are held in a 360 degree stadium-type venue that allows the performance to be viewed from any angle. By day, the audience has a chance to participate in the shows, and at nighttime you can sit back in comfort and enjoy the dazzling light production.

READ MORE

Maxell Aqua Park Shinagawa is a Secret Sightseeing Spot

Aquariums

Tokyo Minato-ku Takanawa 4-10-30 within Shinagawa Prince Hotel

0354211111

[Weekday] 10:00-18:30 (Last …

View All

The use of lighting combined with the limited space on the rooftop has been cleverly arranged, creating a relaxing entertainment area for both children and adults. The sea lion show is a must-see, and of course the sight of the rooftop's cute penguins will soothe anybody's soul.

4.0

722 Reviews

Tokyo Toshima-ku Higashikebukuro 3-1 Sunshine City World Import Mart Bill/rooftop

0339893466

[Spring/Summer] 9:30-21:00[A…

View All

NEWoMan is recommended for women who love the feeling of being in the midst of style!
NEWoMan is a multi-purpose commercial facility directly connected to JR Shinjuku Station's JR Shinjuku MIRAINA tower and New South Gate (the Shinnan ticket Gate).
There are about 100 stores that offer the latest fashion, gourmet cafes, lifestyle goods stores, and so on.

"With Harajuku"is a three basement floors and nine above-ground levels shopping complex housing restaurants, co-working spaces, shops and an event hall with a capacity for 300 people. The building was designed to be a 'hangout space for the future', where people can eat, shop, work and convene. Floors 4 through 9 are set aside as residential apartments.

READ MORE

Returning of UNIQLO in Tokyo fashion capital Harajuku

Shopping Mall / Fashion

Located between Shibuya and Harajuku, a new cultural hot spot, Miyashita Park reopened as a three-story, multi-purpose complex. It includes new playground space on its rooftop, as well as equipped with commercial areas, parking lots, and lodging spaces all within the same compound.

READ MORE

Shibuya: New Miyashita Park

Parks

RAYARD MIYASHITA PARK

Tokyo Shibuya-ku Jingu-mae 6-20-10

View All

With its glass walls offering superb views across the city, Shibuya Hikarie is one of several multi-story shopping destinations in Shibuya. But its newly refined sundries and food floor are what sets it apart, making it the ideal destination for foodies to visit on a rainy day. Sample unique culinary delights in the basement food halls or head to the 8th floor d47 eatery where dishes from each of Japan's prefectures are on the menu.

Aside from its multiple floors of retail stores, the Shibuya Hikarie is home to the Tokyo Theatre Orb that puts on Western-style musicals and a 16th-floor sky lobby that offers incredible nighttime vistas.

4.0

524 Reviews

Tokyo Shibuya-ku Shibuya 2-21-1

0354685892

[ShinQs] 10:00-21:00 [Cafe &…

View All

22

Roppongi Hills and Midtown

Roppongi Hills and Midtown are two urban districts that have been described as a "city within a city". With their shopping, dining and entertainment offerings, they're the perfect place to head on a rainy day. Midtown comprises six buildings surrounded by lush greenery and is packed with fashion boutiques, interior design stores and e international-styled cafes.

Roppongi Hills lies at the heart of the Roppongi district and is dominated by the 238-meter-high Mori Tower. The first few floors are occupied by shops and restaurants but if you travel up to the top floor, you'll find the Tokyo City View observation deck and the Mori Art Museum, with a collection that showcases modern works from all over the world.

Roppongi Hills

Roppongi Midtown

Tokyo Minato-ku Roppongi 6-10-11

0364066000

[Shop] 11:00-21:00[Restauran…

View All

4.0

939 Reviews

Tokyo Minato-ku Akasaka 9-7-1 others

0334753100

[Shop] 11:00-21:00 [Restaur…

View All

Ginza Six is the largest commercial facility in the Ginza area of Tokyo, and is packed with more than 200 stores, a 4000 square metre rooftop garden (Ginza Six Garden), and is also the location of the "Kanze Noh Theater", home to the Kanze school of Noh.

Ginza Six's vast number of shops will leave you with the welcome problem of deciding where to head first!

24

COREDO Muromachi Terrace

Coredo Muromachi Terrace is one of the commercial facilities scattered around JR Shin-Nihonbashi Station. It features a large open-air square covered with a 1500 square meter awning, allowing you to relax outdoors even on the rainiest of days. As well as local brands, Coredo Muromachi Terrace has many international shops, including Taiwan's select shop "Sincerity Life", creating an atmosphere which lends itself to both Japanese and international cultures.

Also check out the nearby commercial facilities "COREDO Muromachi 1", "COREDO Muromachi 2" and "COREDO Muromachi 3". COREDO Muromachi 1 has shops influenced by the traditions of the "Nihonbashi" area (dating back to the Edo period), COREDO Muromachi 2 is where you head for your gourmet food fix, and COREDO Muromachi 3 is where fashion meets every day shopping needs.

4.0

201 Reviews

Tokyo Chuou-ku Nihombashimuromachi 2-2-1

0332420010

[Shop] 10:00-21:00[Restauran…

View All

25

Hibiya Chanter and Hibiya Midtown

If you're in need of some retail therapy, head to Hibiya where the Hibiya Chanter and Hibiya Midtown is located. Hibiya Midtown is a stylish shopping complex that's home to luxury fashion retailers and upmarket lifestyle brands, as well as an excellent choice of cafes and restaurants. Aside from its fabulous Hibiya Food Hall, the complex is also home to a massive cinema complex.

Hibiya Chanter is another new entertainment complex with shops, restaurants and its own Toho Cinemas movie theater. It's fronted by a small plaza where metal castings honor celebrities (much like Hollywood's Walk of Fame) and is renowned for its large statue of Godzilla situated atop a pedestal.

26

Tokyo Station's Underground Mall

There are many shops in the underground shopping area of Tokyo Station, a station which is known for its beautiful red brick facade.

Recommend spots for tourists are Tokyo Ramen Street and Tokyo Character Street. Tokyo Ramen Street has eight of the most popular ramen shops found in Japan, and Tokyo Character Street has shops featuring characters from anime and manga, and is a must-visit for people who like their Japanese comics and characters.

The maze-like underground shopping mall Gransta is the place to check out if you want to buy souvenirs. There are 90 shops, including those that sell freshly prepared bento lunch boxes and special sweets.

Tokyo Character Street

Tokyo Ramen Street

Housed within the Japan Post Tower, Kitte is a newly opened shopping, dining and entertainment venue in Marunouchi. It's just a one-minute walk from Tokyo Station and connected by an underground passage, which means you can easily get there even on rainy days.

It still houses the Tokyo Central Post Office, together with more than 100 retail establishments and a terrace overlooking Tokyo Station where you can watch the trains coming and going. Don't miss the stunning Kitte Marunouchi Atrium or the free Intermediatheque museum, which focuses on the relationship between form and function between the natural and human spheres.