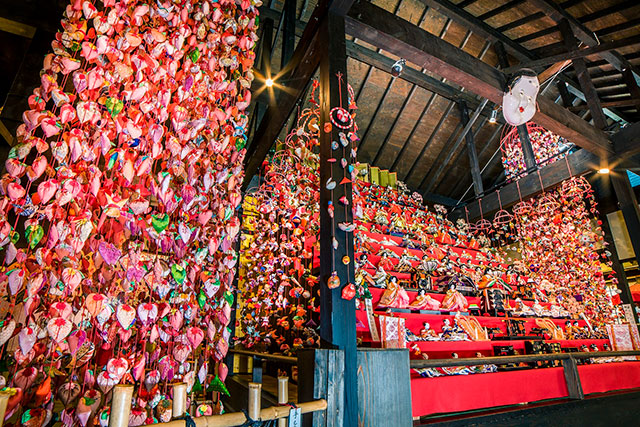 March heralds in the start of spring, with peach blossoms igniting towns and cities across Japan.
This is marked by Hinamatsuri (Girls Day), which is also called the Momo no Sekku (Peach festival) and is held throughout the country. But Japan also hosts a number of other festivals and celebrations to look forward to.

In this guide, we've selected some of the most popular events that take place in Japan during March and the scenic landscapes that you can only see at this time of the year.
01

Hinamatsuri (Girls' Day / ひな祭り)

Hanging Hina Doll in Inatori Onsen of Izu

Celebrated every year on March 3, Hinamatsuri (which is also known as Girls' Day or Doll's Day) marks the start of spring and has long been associated with the flowering of peach trees.
It sees ornamental dolls representing the Emperor and Empress dressed in Heian period outfits being displayed on platforms covered by red carpets.

02

― Ibaraki: Makabe's Hinamatsuri

Makabe's Hinamatsuri

While the festival is held across Japan, the celebrations in the Makabe District of Ibaraki Prefecture (真壁のひなまつり) have become particularly popular.
People come from across the country to wander through the historic streets and see precious dolls displayed by locals while enjoying the local hospitality and cuisine. Also popular are the celebrations in Yuki City where old stores and sake breweries are transformed into doll exhibition spaces.

Read more: Makabe's Hina Matsuri


Date: 4 February to 3 March, 2020
Website: https://www.ibarakiguide.jp/seasons/hina.html

03

― Izu: Hanging Hina Doll Festival in Inatori Onsen

Hanging Hina Doll Festival in Inatori Onsen

In the hot spring town of Inatori Onsen, the rare and expensive handmade dolls known as Hina are displayed during the Hanging Hina Doll Decoration Festival (伊豆稲取温泉 雛のつるし飾りまつり).
The tradition of hanging these beautifully designed dolls is said to bring good health to young girls, with flowering cherry blossoms only adding to the stunning scene.


Date: 20 January to 31 March, 2020
Website: http://www.inatorionsen.or.jp/hina_sp/index.html

Shizuoka Pref. Kamogunhigashizuchou Inatori 1729

0557952901

[1/20-3/31]9:00-16:30[Early …

View All

04

― Tokyo: Meguro Gajoen

Hyakudan Hinamatsuri

Hyakudan Hinamatsuri

Every year, historic ornamental dolls from various Japanese prefectures are showcased as part of the Hyakudan Hinamatsuri (百段雛まつり) exhibit at the Hotel Gajoen Tokyo.
"Hina dolls stories of Izumo, Inaba, Hagi" as the main theme, this year will see dolls from Shimane, Tottori and Yamaguchi prefectures.


Date: 24 January - 15 March, 2020
Website:https://www.hotelgajoen-tokyo.com/en/hyakudankaidan/

ホテル雅叙園東京

東京都目黒区下目黒1-8-1

0354343837

View All

Sakuramochi

The traditional food of Hinamatsuri is the sakuramochi, a sweet, pink-colored rice cake that's stuffed with red bean paste and wrapped in a pickled cherry blossom leaf. You can find sakuramochi at department stores and Japanese-style confectionary shops throughout the spring season and they're an essential treat to eat during hanami (cherry blossom-viewing parties).

06

Niigata: Tsunan Snow Festival (つなん雪まつり)

Tsunan Snow Festival

Niigata Prefecture's town of Tsunan experiences some of the heaviest snowfalls in Japan. The resilience of local people to coexist with the snow is celebrated each year during the Tsunan Snow Festival.
Among the events that take place are a snowboard straight-jumping competition known as Snow Wave, which sees skilled snowboarders show off their skills, and the Sky Lantern launch when hundreds of illuminated lanterns are released into the sky.
Aside from being a magical sight, it's an opportunity for people to deliver prayers or send messages for the health and happiness of their family and friends before letting the lanterns float towards the heavens.

Tsunan Snow Festival

Tsunan Snow Festival

Specialist food stalls set up around the festival events and you can see traditional performances of tengu dance, as well as participate in a range of family-friendly snow play activities. The Tsunan Snow Festival takes place around March 10 each year, with tickets released the previous December. So start planning ahead for the 2021 festival!


Date: 14 March, 2020
Website:https://snowfes.info/

07

Nara: Todaiji TempleOmizutori (東大寺 お水取り)

Todaiji Temple Omizutori

Shunie is the name for a series of Buddhist repentance rituals that have been taking place at the Todaiji Temple in Nara prefecture for more than 1,250 years. The most famous and spectacular event is Omizutori, which begins just after sunset each night and sees giant torches being carried to the balcony of Nigatsudo Hall (a sub-complex of Todaiji Temple).
Here their burning embers shower down and bestow onlookers with a safe year ahead.

On the night of March 12, the torches are larger and more numerous, attracting the biggest crowds. Between 1:30 and 2:30 am, priests descend repeatedly to draw water from the well at the base of the temple hall in a ritual known as Omizutori ("water drawing").
It's believed that the well's water only flows once a year and has restorative properties.
This is followed by the Dattan ceremony that's performed inside Nigatsudo Hall and features the ringing of bells, blowing of horns and swinging of burning torches.


Date: 1 - 14 March, 2020
Website: http://www.todaiji.or.jp/contents/function/02-03syunie1.html

4.5

5684 Reviews

Nara Pref. Narashi Zoushichou 406-1

0742225511

[Apr.--Octo.] [Great Buddha…

View All

08

Shiga: Omihachiman Sagicho Fire Festival (近江八幡 左義長祭り)

Omihachiman Sagicho Fire Festival

One of Japan's most colorful historic festivals is the Omihachiman Sagicho Fire Festival, which takes place on the third weekend in March each year in Shiga prefecture.
The origins of the festival are unclear, with some believing it was started in the 16th century by the warlord Oda Nobunaga and others saying it celebrated his death and the burning down of the castle.

Omihachiman Sagicho Fire Festival

Today, the neighborhoods that surround the old castle spend months building impressive floats featuring the year's lunar calendar animals and a tall pine torch decorated with strips of red paper.
Men dressed up as women carry the floats through the street and play "fight" with one another before burning the floats to the ground amidst much dancing in the firelight.


Date: 14 - 15 March, 2020
Website: https://www.sagicho.net/

09

Tokyo: AnimeJapan 2020

The state of Anime Japan 2019

If you're a fan of anime, then you won't want to miss one of the world's biggest and most exciting anime conventions.
AnimeJapan will be taking place from 21 - 22 March in 2020 and centered around the theme of "JAPAN".

It's being held at the Tokyo Big Sight (Tokyo International Exhibition Center), with anime-themed exhibitions and a range of manga and anime goods for sale, as well as stage performances from some of the industry's biggest names.
It's a fantastic opportunity to dress up in cosplay and meet like-minded anime fans, with a Cosplayer's World where you can have your photo taken against various manga and anime backdrops.


Date: 21 - 22 March, 2020
Website: https://www.anime-japan.jp/en/

3.5

681 Reviews

Tokyo Koutou-ku Ariake 3-11-1

0355301111

8:00-22:00※Depending on the…

View All

Nakameguro Sakura in Tokyo

While you can view cherry blossoms at numerous locations across Japan, one that you must see is the famous Nakameguro Sakura in Tokyo.
The Meguro River becomes a cherry blossom wonderland during spring when trees draped in pink blossoms hang over the canal.
Shops and stalls created especially for the occasion line the waterway selling everything from spring-themed foods to pink champagne.

Along the Meguro River

Nakameguro is the best place in Tokyo to view the cherry blossoms, which tend to flower around late March to early April.
Aside from picnicking beneath the trees with the locals and strolling along the river walk, you shouldn't miss a visit at night when the cherry blossoms are beautifully illuminated.
Click here to see more information about conditions.

Read more:
From earliest to latest, follow the blooming flowers of cherry blossom 2020


Date: late March - early April (depending on the cherry blossoms)