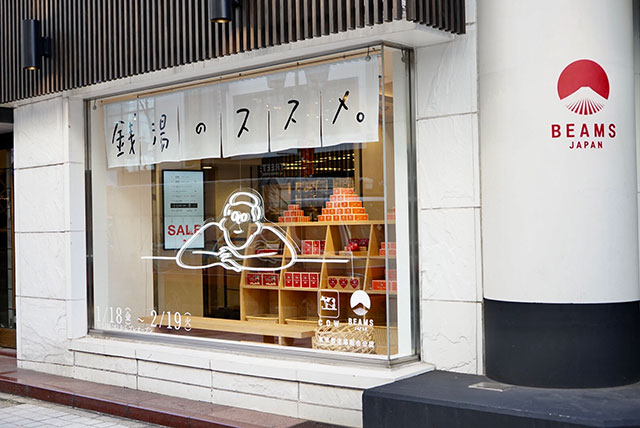 Japanese clothing brand Beams and the Cow Brand Soap Kyoshinsha are collaborating for a special event this January and February to celebrate Japan's traditional public bath culture. Titled "銭湯のススメ (Sento's Recommendation)", their pop-up shop will be selling limited edition items and publishing an informative magazine about how to enjoy sento culture in the Tokyo area. The event will also see unique noren ("shop curtains") displayed in bathhouses throughout the region and special mural art showcased at Kotobukiyu Sento in Higashi Ueno.
01

"銭湯のススメ (Sento's Recommendation)"

Beams will be holding a collaboration event "Sento's Recommendation" in conjunction with Cow Brand Soap Kyoshinsha, a long-established local store that was founded 110 years ago and is famed for its iconic red box. Limited edition items will be sold on the 1st floor of Beams Japan or you can browse them at their official online store.

Cow Brand Soap

An event will also be taking place in the 1st-floor Atrium of the HEP FIVE shopping mall in Umeda on the 16th of January. Here, you can begin collecting stamps for the "Sento's Recommendation" stamp rally and hear about the public bath events that will be taking place, as well as pick up a magazine to learn more about sento culture.

To mark the occasion, a number of limited edition items will be released, including the first collaborative product for Cow Brand Soap - a Cow Brand Soap "orange box". You can also find water absorbing towels with illustrations by Yu Nagaba, as well as wash basins, toiletry cases, T-shirts and caps. Price range from 370 yen to around 5,500 yen (without tax).

Limited edition items

Limited edition items

Limited edition items

In conjunction with the release, a pop-up shop that replicates a series of traditional public baths will open at Beams Japan between January 18 and February 19. This is a unique opportunity to learn more about sento culture before heading to your first public bathhouse in Japan!

03

Unique noren "shop curtains" and stamp rally

In addition, a unique noren ("shop curtain") with an illustration drawn by Mr. Yu Nagaba will be adopted by approximately 550 public baths who are members of the Tokyo Baths Association. Noren are fabric dividers that separate rooms or define entrances, with slits cut into them to enable easy access. While they were traditionally used to protect a house from wind, dust and rain, they can also be purely for decorative purposes.

These bathhouses will also be participating in the stamp rally for "Sento's Recommendation". Bathers can collect stamps at each bath they visit and go into the lottery draw to win prizes, such as limited edition items that have been released for the event.

04

Kotobukiyu Sento mural

Throughout the "Sento's Recommendation" event, the mural painting at Kotobukiyu Sento in Higashi-Ueno will feature an illustration drawn by Mr. Yu Nagaba. His unique and minimalist style of black and white illustrations has made him popular not only in Japan but also overseas.

Kotobukiyu

Kotobukiyu

On Saturdays, Sundays and holidays during the period, bathers visiting Kotobukiyu Sento will be treated to a unique bath featuring Cow Brand Soap "red box". With so many ways to celebrate Japan's sento culture, this special event is not to be missed!

"銭湯のススメ (Sendo's Recommendation)" will take place from Friday the 18th of January to Tuesday the 19th of February, 2019, with a pop-up shop at Beams Japan. You'll also be able to pick up limited edition items to celebrate the event, as well as the magazine "銭湯のススメ(Sento Recommendation)" to learn more about Japan's ancient sento culture.

During the event, around 550 sento in the Tokyo area will change their noren ("shop curtain") to an original noren design that's been created especially for the event by a Japanese illustrator. Participants are encouraged to collect stamps at each sento as part of the stamp rally, with a lottery taking place where you can win prizes, depending on the number of stamps you collect.

A sento event will also be held in Higashi Ueno at Kotobukiyu Sento where a mural by illustrator Mr. Yu Nagaba will be completed by santo painter Ms. Mizuki Tanaka. On Saturdays and Sundays during the event, bathers are welcome to enjoy a hot spring soak with a scented and colored bathing agent created to mark the event by Cow Brand Soap Kyoshinsha.