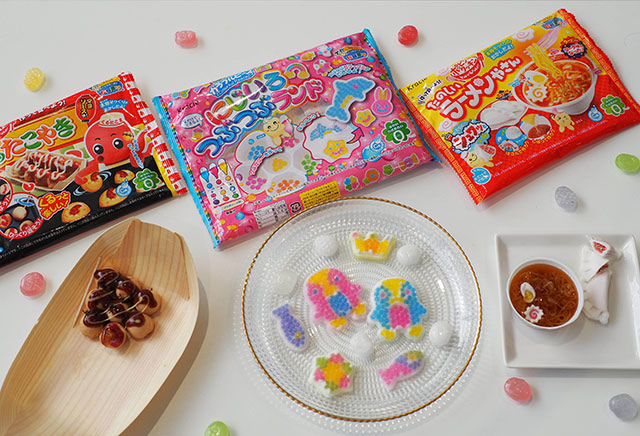 There are many kinds of sweets to be found in Japan from the traditional wagashi, to sweets that were imported to Japan at various points of the Japanese history. But of the many, these DIY candy packs known as "chiiku-gashi" literally translated as intellectual training candy or educational confectionaries have been popular not only among children but also adults. Its popularity not just comes from giving children the chance to explore colors, tastes, and textures while developing fine motor skills, practicing patience, and learning how to follow instructions, but also evoke nostalgia. Since the birth of the first DIY series, Neru Neru Neru Ne back in 1986, those in their 30s or above can not regist to pick it up and try them for themselves to bring back their childhood memories.
Neru Neru Neru Ne is the classic and the first DIY candy kits in Japan which was released in 1986. The word "neru" means to mix and as its name implies, to eat this candy, one must mix powder and water to create a swirl of colors and candied fruit flavors. There are many different types of Neru Neru Nerune. The standard flavor is grape, but there are also flavors available in soda, tangerine, and many others.


How to make it
The process of making it is very simple. First detach the triangular water tray on the left. Then pour the packet 1 in the labeled space in the container and add water using the tray that you just detached it. Use the spoon to mix until you get a jelly-like consistency. Then, pour packet number 2 and mix until the color changes. After the color changed, pour the packet 3 into the empty container on the right. This is the topping. Scoop up a dollop of Neru neru neru ne with the included spoon and decorate with a sprinkling of candy pieces.

Fun Sushi Kit is a DIY sushi kit. Mix and mold your own gummy fish toppings to make tuna, egg sushi and a piece of seaweed to wrap around the gunkan maki topped with ikura (salmon roe). To make a salmon roe, use a liquid dropper to form a round shape. Don't forget to dip your candy confections into the complimentary sweet "soy sauce". The key to making the perfect "sushi" is to moist your fingertips with water and to keep the rice fluffy. To make it even more realistic, overflowing the salmon roe is recommended.

These coke flavored ramen noodles are entirely made of candy, even the egg, the Gyoza and the naruto fish cakes. For each package, a bowl of ramen and two gyoza can be made. All you need to prepare is a scissor and water to make this. However, the tricky part is making the noodle itself. To make that thin noodle, you would need to squeeze the dough continuously with consistency. For more information on the tutorial, see here. This may be hard for some children and would need a help of an adult, however, it doesn't necessary have to be a perfect noodle for it to look like a real ramen. Each noodle come in different lengths and sizes so making your own unique one might be fun.

Try making a bento meal out of candy with this kit. Inside each package are all the tools and ingredients you will need to make a triangular rice ball decorated to look like a panda, spaghetti, egg roll, sausage, fried chicken, and broccoli. There are a lot of steps involved in the making this product, which requires a lot of concentration and creativity but it's rewarding once accomplished. Once making all the side dishes, don't forget to put in the bento box that also comes with the package.

05

Colorful Peace Umi Nijiiro Tsubu Tsubu Land

Exclusively sold only in Japan, this Colorful Peace Umi Nijiiro Tsubu Tsubu Land is a DIY kit to make your own original colorful jelly gummies. The packages come with 7 different molds in the shape of a dolphin, penguin, star, fish etc. The key here is to make as many small round jellies as possible at the beginning, and place them into the molds while thinking about which color to create each gummies. It's fun because it's all about individuality depending on how you make it.

Unlike any other DIY kit mentioned in the article, this one will require a microwave. By mixing and placing the candy bread-mix to the molds, elephant-shaped naan breads, nuggets and soda jelly can be made. The package includes all the necessary ingredients, tools and instructions so the process of making it is pretty much straightforward. However, when heating it up as a final touch, make sure to follow the instructions and put the tray in the correct place and watch out when taking it out. It might get pretty hot.

Originally from Osaka, takoyaki is a popular fast food made from batter, small pieces of tender octopus and other ingredients, like green onions and ginger in a round ball shape. Takoyaki Balls Kit will mix water and ingredients to replicate the real takoyaki. Instead of the real octopus, a red mold is added in the dough before heating them up with the microwave. Once heated, use your skills to turn the takoyaki balls over. As a final touch, decorate the balls with takoyaki sauce and mayonnaise to get the same taste as the real one.

The kit comes with ketchup, cheese, buns, meat patty, french fries, and coke powder, that all can be mixed with water to make a miniature hamburger meal, complete with fries and a Coke. The cooking process is very simple, just mix water with each powder and shape the dough using the provided molding tray. You will need to use a microwave for finishing up the french fries before cutting into slices. To replicate the fizziness of the drink, it is recommended to make the Coke last.

These Japanese DIY Candy Packs are all available at Don Quixote, especially the MEGA Don Quijote in Shibuya. This store was renovated in 2017, expanding more items for sale in the confectionery department and souvenir area, and there are many other types of products besides the ones introduced in this article too. These are sure to be a delightful souvenir for your friends too.
If you're interested, look for it at the nearest Don Quijote!