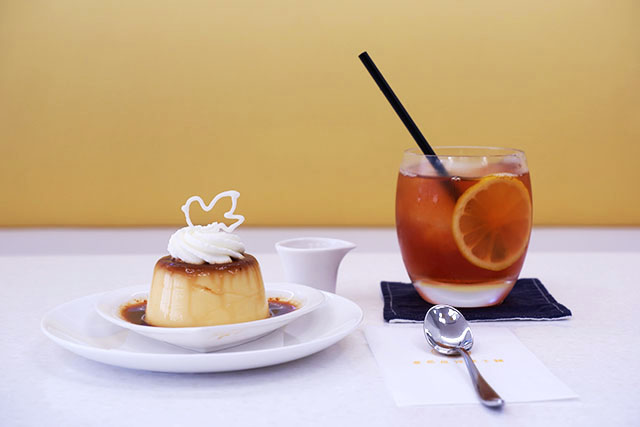 Situated just south of Tokyo, Kamakura is a seaside city that's a popular destination for sightseeing trips (particularly dates and women's trips).

It's clustered with plenty of fashionable cafes, such as retro-styled coffee shops, a photogenic gelateria and a traditional bubble tea store serving matcha tapioca.

In this article, we'll introduce some of the cute and stylish cafes that are making a hit on Instagram due to their photo-worthy goods. We've selected them not just because they look amazing, but because they taste so incredible too! Plan your sightseeing breaks and cafe stops beforehand so that you can check out one of these Kamakura cafes.
01

Kannon Cafe's Kamakura-limited Daibutsu Crepe

Kannon Cafe's Kamakura-limited Daibutsu Crepe

Just three minutes on foot from Enoden Hase Station is this fashionable cafe that's renowned for its Insta-worthy Daibatsu Crepe. A feature of this sweet dessert is its biscuits that are shaped like the Great Buddha (+120 yen) who perches perfectly on top of the fresh cream, nuts and flakes.

The cafe is tucked away in a side alley off the main road that leads from Hase Station to the Kotoku-in Temple where you'll find the Great Buddha itself. You can opt to eat in or grab some of their delicious baked goods that go perfectly with coffee to take home as a souvenir.

Kannon Cafe's Kamakura-limited Daibutsu Crepe

4.0

13 Reviews

Kanagawa Kamakura-shi Hase 3-10-29

0467847898

View All

02

Teaven's strong Uji Matcha Tea × Colorful Tapioca

Teaven's strong Uji Matcha Tea  550yen

Teaven is a Japanese-style bubble tea store whose interior is inspired by traditional tea ceremonies. It offers a wide selection of flavored bubble teas featuring colorful tapioca that are all highly Instagrammable.

One item on their menu which is a must is "Uji no Hatsuyuki", which is recommended if you're a connoisseur of matcha tea. After you order, a server will make your tea in the style of a traditional Japanese tea ceremony using matcha from Kyoto and milk from Hokkaido.

You might of guessed it, but Teaven's name combines the words "tea" and "heaven". Just a one-minute walk from Kamakura Station, why miss out on this heavenly tea experience.

Teaven

Teaven

Kanagawa Kamakura-shi Komachi 1-5-27

【instagram】https://www.instagram.com/teaven_japan/

View All

03

Futsu ni Fruits' fruit sandwiches and bottle drinks

Futsu ni Fruits' fruit sandwiches

Futsu ni Fruits is a fruit sandwich shop that's run by the store "Bread, Espresso &". It was created with the idea that fruit should be eaten as part of meals and not just reserved for desserts.

The store features a retro-styled facade and a fruit-adorned interior, with a single wooden bench running the length of the small room. At the front counter, you can select from the days' fruit sandwiches, including their specialty Futsu ni Fruits (380 yen) that includes banana, kiwi, orange and grapefruit.

Aside from capturing a photographic memento of your fruit sandwich, you can also pick up one of their cute Gyunyu series bottled drinks to take home. The store is around five minutes on foot from Kamakura Station.

Futsu ni Fruits'bottle drinks 400yen

Futsu ni Fruits

4.0

9 Reviews

Kanagawa Kamakura-shi Komachi 1-3-4

0467815022

View All

04

Gelateria Santi's seasonal gelati with Enoden views

Gelateria Santi's seasonal gelati 550yen

This small gelato shop offers delicious iced treats made using fresh ingredients mainly from Shonan and its distinctive "gelato" sign is a landmark in itself.

Flavors change with the season, depending on the availability of fruits and vegetables, so there's always something different to try.

In addition to their attractive (and delicious) gelato, the store also boasts about the views of the Enoden electric railway passing by. So it's the perfect place to take a break from sightseeing in Kamakura and watch the world go by. Gelateria Santi is just a four-minute walk from Kamakura Station.

Gelateria Santi

Kanagawa Kamakura-shi Onarimachi 2-14

View All

05

Daily by Long Track Foods' ice cream sandwiches

ice cream sandwiches 380yen

Located within the Kamakura Agricultural Cooperative Federation where local vegetables are sold, this hidden store sells a range of homemade pickles, dressings, scones and pound cakes.

But it's their ice cream sandwiches (380 yen) that have become a hit on social media, with a thick slab of ice cream sandwiched between two biscuit pieces. We recommend the strawberry mascarpone flavor, which is particularly delicious!

The store is beautifully styled with homemade goods and there's a small bench outside where you can enjoy your sweet treat before it melts. Daily by Long Track Foods is around a five-minute walk from Kamakura Station.

Daily by Long Track Foods

Daily by Long Track Foods

Kanagawa Kamakura-shi Komachi 1-13-10

0467247020

View All

06

Mont Blanc Stand's supreme desserts

Mont Blanc Stand's supreme desserts 「Mont Blanc」600yen

Opening in 2019, this specialty store serves up freshly prepared mont blanc, with the cream squeezed before your very eyes.

During the chestnut season, you can enjoy carefully selected chestnuts with your mont blanc, which work perfectly with the delicious meringue.

However, we recommend you come in the offseason when their Glacé Mont Blanc with Black Beans (600 yen) is offered, featuring rare black bean paste. All of their mont blancs are designed to be eaten on the spot, with a shelf life of only two hours.

If you return your cup to the server, they'll also give you a cute heart meringue in return! The Mont Blanc Stand is around a seven-minute walk from Kamakura Station.

Mont Blanc Stand

Mont Blanc Stand

3.0

1 Reviews

Kanagawa Kamakura-shi Omachi 1-1-12 WALK Omachi IIA

0467334677

View All

07

Tea Room BunBun's Snowflake Cake

Snowflake Cake Set (945yen~)

This charming tea shop serves up beautifully crafted sweets accompanied by a wide variety of fine teas, making it a popular place to take a break while exploring Kamakura.

While you can order scones and sandwiches here, we recommend their Snowflake Cake that features a meringue cake with a layer of fresh cream and strawberries. Despite its decadent appearance, it's only moderately sweet and goes very well with their teas.

The Tea Room BunBun is around a seven-minute walk from Kamakura Station.

Tea Room BunBun

4.0

16 Reviews

Kanagawa Pref. Kamakurashi Sasuke 1-13-4

0467252866

10:00-19:00

View All

08

Momiji Chaya's smooth Uji Matcha Tiramisu

Uji Matcha Tiramisu 600 yen

Momiji Chaya is a Japanese-style cafe that specializes in matcha drinks and sweets using matcha from the well-established Kyoto shop, Morihan.

It's easily accessible from Kamakura Komachi Street and the Tsurugaoka Hachimangu Shrine if you're ready for a break from sightseeing.

Their biggest hit on Instagram has been their Uji Matcha Tiramisu (600 yen), which brings together delicious mascarpone cream with the refreshing taste of matcha. It's served in a cypress box that enhances the taste and aroma of the dessert. If you're visiting in the summertime, be sure to try their Matcha Shaved Ice (1,100 yen).

Momiji Chaya is about an eight-minute walk from Kamakura Station.

Matcha Shaved Ice 1,100 yen

Momiji Chaya

もみじ茶屋 鎌倉小町通り

神奈川県鎌倉市雪ノ下1-4-26 WELLHOUSE 1F

0467605331

View All

Momiji Chaya

09

Toshimaya Yougashiho Okiishi's pigeon-topped pudding

Traditional Pudding 300yen

Toshimaya is a Western-style confectionery store that's famed for its Hato Sable ("Pigeon Cookie"). It is located on Wakamiya Oji street near Kamakura's largest Shinto shrine "Tsurugaoka Hachiman-gu".

It came into existence in 1897 and has become one of Kamakura's best locations for getting souvenirs. Aside from picking up some cookies to take home, be sure to try their Traditional Pudding (300 yen), which is topped by a pigeon-shaped piece of white chocolate. It goes perfectly with their Sayama Tea, which is one of Japan's top green teas.

Toshimaya also runs a Japanese-style cafe known as Toshimaya Karyo Hatokoji that's also highly recommended.

Toshimaya

4.0

16 Reviews

Kanagawa Pref. Kamakurashi Komachi 2-15-5

0467228102

[1F]10:30-18:30[2F]11:00-17:…

View All

10

Café Vivement Dimanche's cute parfait

Pudding Parfait 800 yen

This long-established cafe has been serving freshly ground and roasted coffee for more than 20 years, making it a go-to place if you're in need of a caffeine fix while in Kamakura.

Not only do they roast the coffee themselves, they grind the beans only after having received an order. Recently, Café Vivement Dimanche has been making waves on social media with its new menu item Pudding Parfait (800 yen), which features layers of cream and fruit with a flag on top that's undeniably cute. It's just four minutes on foot from Kamakura Station.

Café Vivement Dimanche

Kanagawa Pref. Kamakurashi Komachi 2-1-5

0467239952

11:00-18:00

View All

11

Milk Hall's unique dishes accompanied by healing jazz

Milk Hall's Cheese cake & drink Set1,200yen

Hidden in a small alley that runs off Komachi Street, this eclectic cafe was founded in 1976 and will transport you back to the Taisho era.

The stylish interior is complemented by the sound of jazz music. Plus, the menu offers plenty of dishes that you won't find elsewhere. If you're looking for some afternoon tea, they serve delicious cake sets which include your choice of cake and tea. You can opt for something with more substance, such as their Opera Rice, which features tomato-based chicken rice topped with a white sauce.

Milk Hall is five minutes on foot from Kamakura Station.

Milk Hall

4.5

26 Reviews

Kanagawa Kamakura-shi Komachi 2-3-8

0467221179

11:00-20:00(L.O.)[SaturdaySu…

View All

12

Iwata Coffee's John Lennon-approved hot cakes

Kamakura has a well-established cafe culture, with many old-fashioned coffee houses that have been around for years. One that's been popular throughout the decades is Iwata Coffee. Famous Showa-era celebrities such as John Lennon and Yasunari Kawabata have made the trip here.

The most famous menu item at this retro-styled cafe is their two-tiered hot cakes, which are made using a thick dough. They're completely different from the fluffy pancakes of today and have the consistency of a Portuguese castella cakes. Iwata Coffee is a two-minute walk from Kamakura Station.

Iwata Coffee's pancake 800yen

Iwata Coffee

Kanagawa Pref. Kamakurashi Komachi 1-5-7

0467222689

9:30-18:00 (LO17:30, pancake…

View All