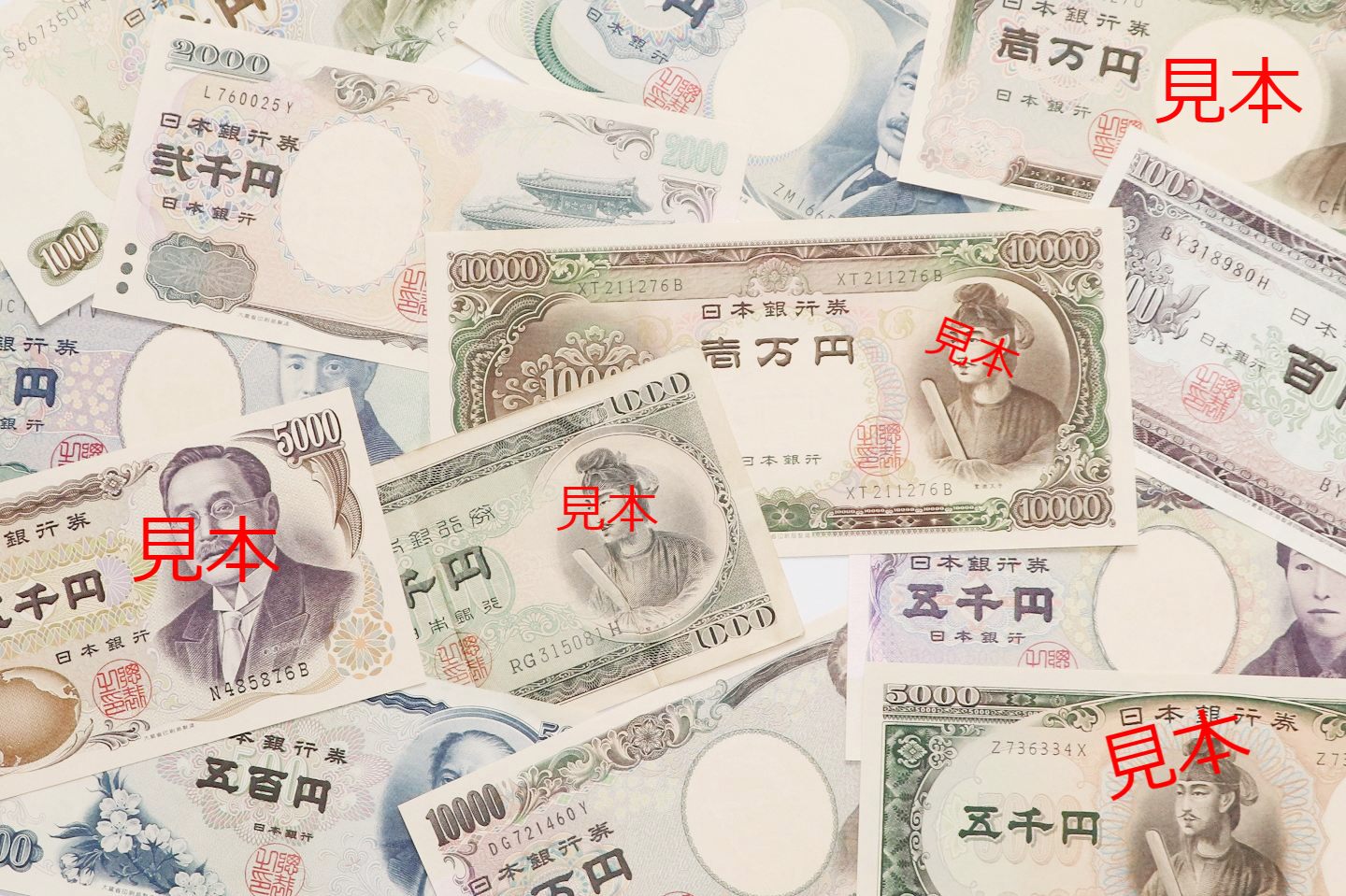 The first change since 2004, Japanese banknotes are planned to get a makeover around 2024. Japan is a country where cash is still commonly used for day-today purchases, although there is a rise in a frequent use of credit cards and e-money. Japanese currency is quite easy to use once you get used to it.This article will go through its history, its changes and other helpful facts to get you more familiar with Japanese money.
Since 1877, over 140 years, the National Printing Bureau has been in charge of the design and creating Japanese banknotes and coins, while the Bank of Japan is the sole authority for notes. The first paper money was issued by the Meiji government in 1868, which was called the Dajokansatsu (Cabinet notes) printed with the conventional woodblock or copper plates. Combined with exquisite workmanship, since 1881, the National Printing Bureau, formerly known as the Printing Bureau under the Ministry of Finance has been processing these notes through modern printing techniques. Since then, expert artists who possess a high degree of skills in designing, engraving and etching have collaborated to draw the portraits, buildings, and landscapes which are used as the main design on Japanese notes. Although there are no standard rules for choosing portraits for banknotes, in general, they are selected for such reasons like someone who was depicted in textbooks, has a really detailed portrait of themselves, etc. The persons depicted in the notes are then printed on the obverse of notes with landscapes and buildings representing Japan such as Shinto Buddhist temples, Mt. Fuji, The House of Parliament, etc. in the reverse.

02

The basics of Japanese currency

In Japan the currency is called Yen and is written with the symbols ¥, 円, or JPY.

The 10,000 yen note has a portrait of the Meiji Period scholar and a founder of Keio University, Yukichi Fukuzawa (1835-1901) on the front. Its reverse has an illustration of the famous phoenix from Byodo-in Temple in Uji, near Kyoto, which are also featured on the 10 yen coin.

Yukichi Fukuzawa 10,000yen note

The 5,000 yen note features Ichiyo Higuchi (1872 -1896), Japan's first important female writer of the Meiji era. On the reverse are irises from a byobu folding screen by Ogata Korin (1658-1716).

Ichiyo Higuchi 5,000 yen note

The 2,000 yen note is rarely seen in circulation. Some say that this note makes up just around 0.9% of the bills in circulation in Japan. It would be a miracle to find this and would be a great collection. This note features the Shureimon Gate in Naha, Okinawa, on the front and an image of a scene from The Tale of Genji and the author Murasaki Shikibu on the lower right corner.

2000yen note

The 1,000 yen note (Series E) issued in 2004 illustrates the bacteriologist, Noguchi Hideyo (1876-1928) who first discovered Treponema pallidum, the causative agent of syphilis, in the brains of persons suffering from paresis. On the reverse, there is an image of Mt Fuji, Lake Motosu and cherry blossoms.

Noguchi Hideyo 1,000yen note

05

New Banknotes (2024~) ※tentative

The government announced that for the first time in two decades, Japanese banknotes will go through a makeover in 2024. Of the three, the new 1,000yen notes will feature "The Great Wave of Kanagawa" by an ukiyo-e master, Katsushika Hokusai, one of the country's most iconic art pieces in the world. In order of the value, Eiichi Shibusawa (1840-1931), who is widely known as the "father of Japanese capitalism," educator Umeko Tsuda (1864-1929) and physician and bacteriologist Shibasaburo Kitasato (1853-1931) were chosen as the new three portraits. To strengthen the notes' security, both the 10,000 yen and 5,000 yen bills are planned to incorporate a hologram showing a three-dimensional portrait of the person portrayed on the obverse of the notes. These new banknotes are planned to be in circulation in the first half of fiscal 2024.

Obverse: Eiichi Shibusawa Reverse: Tokyo Station出典:財務省ウェブサイト(<a href="https://www.mof.go.jp/currency/bill/20190409.html" target="_blank" style="word-wrap:break-word;">https://www.mof.go.jp/currency/bill/20190409.html</a>)

Obverse: Umeko Tsuda Reverse: Wisteria flowers出典:財務省ウェブサイト(<a href="https://www.mof.go.jp/currency/bill/20190409.html" target="_blank" style="word-wrap:break-word;">https://www.mof.go.jp/currency/bill/20190409.html</a>)

Obverse: Shibasaburo Kitasato Reverse: "The Great Wave of Kanagawa" by an ukiyo-e master, Katsushika Hokusai出典:財務省ウェブサイト(<a href="https://www.mof.go.jp/currency/bill/20190409.html" target="_blank" style="word-wrap:break-word;">https://www.mof.go.jp/currency/bill/20190409.html</a>)

Current Japanese coins come in 1yen, 5yen, 10yen, 50yen, 100yen and 500yen denominations. There is a number written on the coins and it's very straightforward to find out which denominations each are. The government announced that in the first fiscal 2021, a new 500yen coin with the same design but using new materials are to be introduced.

07

Currency Museums in Japan

There are two distinctive currency museums in Japan dedicated to the history of money in Japan. One is the Bank of Japan Currency Museum which is located in the financial district near Nihonbashi Station. At this museum, there are many valuable exhibits including the oldest official Japanese coinage and real large gold coin known as "oban" in Japanese. Visitors can even try to hold 1 hundred million yen to experience how heavy or light its weight is.
It is a short walk from Mitsukoshi-mae Station B1 exit on the Tokyo Metro's Hanzomon Line, or A5 exit on the Ginza Line, or the Nihonbashi Station A1 Exit on the Tozai Line. Alternately, its 8 minute walk from Tokyo station, Nihonbashi exit.

Bank of Japan Currency Museum

4.0

234 Reviews

Tokyo Chuo-ku Nihonbashi Hongokucho 1-chome 3-1

0332773037

View All

The other is the Bank of Tokyo-Mitsubishi UFJ Money Museum which is located in Nagoya. This museum holds a wide collection of more than 10,000 world currencies from before the first century to the present day where visitors can learn and experience the history of money. It is located a minute walk from Akatsuka-Shirakabe stop via a bus from Nagoya Station City Bus Terminal.
※At bus stand 10, take a Key Route 2 bus for Hikarigaoka-Idaka Shako and get off at Akatsuka-Shirakabe. Or go to bus stand 8 and take a Kan-Meieki Route 1 bus for Ozone via Shirakabe and get off at Akatsuka.

Bank of Tokyo-Mitsubishi UFJ Money Museum

Aichi Pref. Nagoyashi Higashi-ku Akatsukachou 25

0529335151

View All

#1: The life of a bill

According to the Bank of Japan, the average lifespan of a bill is said to be 1 to 2 years for 1,000yen and 5,000yen notes while 10,000yen tend to last for about 4 to 5 years. The more frequent the notes are used, their lifespan tends to be shorter. These bills in circulation are sent back to the Bank of Japan via financial institutions for a close checkup for authenticity and damage before either putting them back in circulation or shred them. Of those that are shredded are either being recycled into toilet papers or are being incinerated as general waste.

#2:Tactile marks
The banknotes issued after 2004 have tactile marks so that the visually impaired are able to distinguish them.The location of those more thickly printed areas can be found here.


#3:Yen or En

According to the Bank of Japan, ever since the Japanese money was issued in 1885, its currency is written as "Yen", and not "En". There is no clear explanation as to why this decision is made, however, there are three theories that could be its factors; ①pronunciation: According to the first full scale Japanese-English/English-Japanese dictionary, which had a strong influence on Westerners in Japan back in 1800's, "e" was spelled as "ye". This is because the Portuguese missionaries heard "e" but pronounced it to a sound close to "je" and wrote it as "ye" instead of "e". ②to make a clear distinction between Japanese and other languages. For example, "En" can be used to mean "in", "on", or "at" in Spanish, and it is used to indicate location and time.③ The phonetic reading from Chinese, "yuan" turned into "yen" somewhere


#4:Exchange Damaged Bills
Damaged Japanese banknotes and coins can be exchanged if taken to the Bank of Japan located in Nihonbashi, Tokyo or to one of its 32 branches within the country. However, not everything can be exchanged. For is standard policy see here.