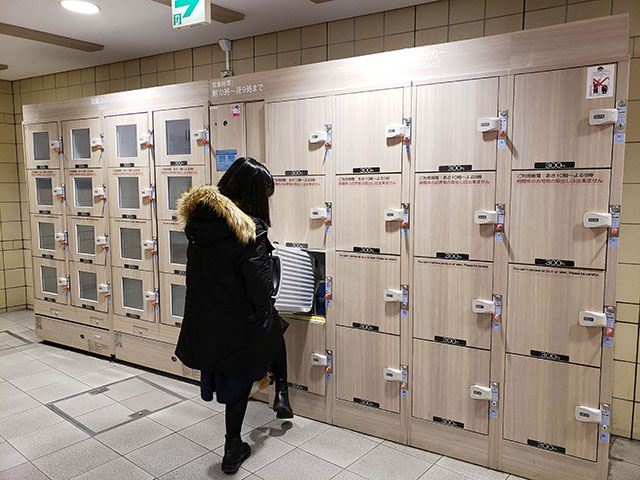 Coin lockers can come in incredibly handy when you're traveling, allowing you to store your luggage before heading to the airport or secure heavy items when out and about shopping. So if you want to take advantage of convenient and safe coin lockers while in Japan, we've created a basic guide to help you use them.
01

Prices of coin lockers in Japan

Coin lockers in Japan are available in various sizes, with some differences in dimensions and fees depending on the location and manufacturer. For your reference, coin lockers installed at JR stations are usually the following sizes:

Prices of coin lockers in Japan

・Small (around 300 yen): 200~400mm height × 340mm width × 570mm depth
・Middle (around 400 yen):550mm height × 340mm width × 570mm depth
・Large (around 500 yen):840mm height × 340mm width × 570mm depth
・Extra large (around 600 yen):1030mm height × 340mm width × 570mm depth

Small lockers are ideal for backpacks or totes but you'll probably need a medium-size locker for small suitcases. Bigger suitcases will require a large locker while extra large lockers will probably be able to accommodate two luggage bags.

02

How to use lockers that accept IC cards (Suica and Pasmo)

How to use lockers that accept IC cards (Suica and Pasmo)

You will generally find two different types of coin lockers in Japan - those that accept coins and those that use IC transportation cards for their operation. Some will accept both, with the option to pay either using coins or your Suica and Pasmo cards.

Lockers that accept transportation cards are increasing due to their convenience. Not only will you save time looking for the appropriate coins but you'll avoid the risk of losing your key (which will result in a heavy fine).

Please be aware that lockers marked as Suica will also accept Pasmo cards and the other way around. If you're traveling outside the Tokyo area, the relevant transportation cards may also be accepted at local coin lockers.

To use a coin locker, simply put your baggage into the locker. When the lever is lowered, the locker will flash red. Return to the electronic panel to confirm the locker number you selected is a match with the one on the panel and press OK.

If you want to pay using your IC card, simply touch your IC card against the panel and the process is complete. Even when it comes to removing your baggage, all you have to do is touch the IC card to unlock it.

If you prefer to pay by cash, have some 100 yen coins at the ready to deposit your luggage.

Simply put the coins into the designated slot and don't forget to take the receipt that's issued. It might look like every other receipt in your wallet (and could easily get thrown away by mistake), but it will have a PIN written on it that is required to open the locker.

Don't hesitate in taking the receipt, as there are some machines which will take the receipt back after 30 seconds to prevent someone from else from finding it and stealing your luggage.

So please be careful in looking after the receipt and be sure not to lose it!

03

Coin locker opening hours

Coin locker opening hours

Above the coin lockers will usually be some notes with information about using the coin lockers.

It's important not to presume that you will be able to access the coin lockers 24 hours, as this will be affected by the facility's opening hours. For example, at a JR station, the coin lockers will only be accessible from the first train in the morning to the last train at night.

04

What can you do if you try and access your luggage too late?

What can you do if you try and access your luggage too late?

The signboard will generally explain the charges you will incur if you access your luggage too late but it's usually in Japanese, so may be difficult for visitors to understand. Normally, if you try and access your luggage later than the designated opening hours, a fee for the next day will be added.

Luggage can usually be stored in lockers for up to three days. After that, it will be moved to the administration center, so please be careful not to forget your bags!

05

What happens if you lose the key

What happens if you lose the key

If you accidentally lose the key to the coin locker, you'll need to contact the management company. Their number is always listed on the signboard and even if you can't read Japanese, you'll be able to find it, as it will be the only phone number there. However, it would be easier if you have some Japanese or can ask a Japanese friend to help you make the call.

The cost of losing a coin locker key is anywhere between 1500 and 5000 yen, so be careful not to lose it!