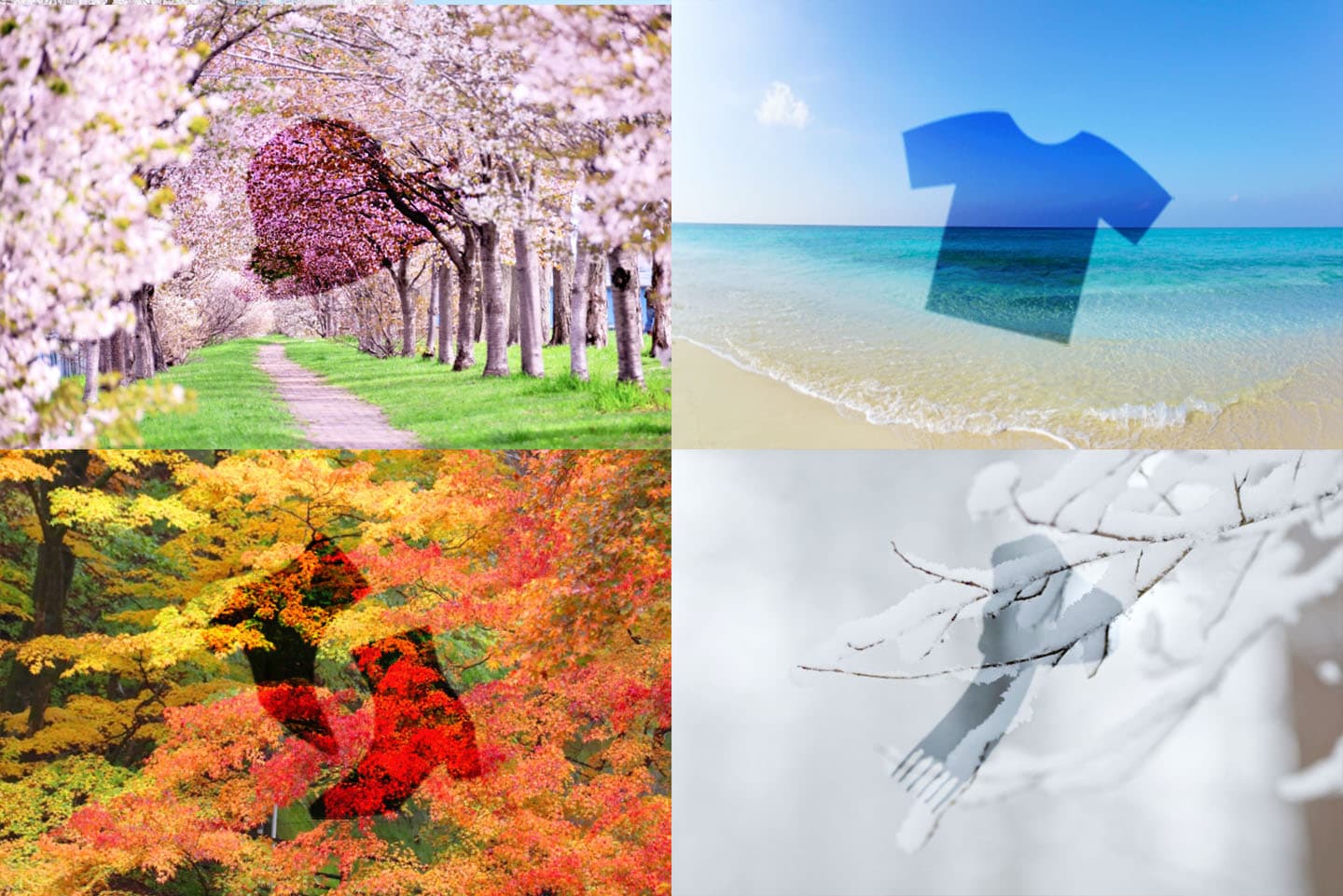 Japan experiences four distinct seasons - spring, summer, autumn and winter - each of which brings different temperatures and weather conditions to the islands.
So to help you pack suitable clothing to wear, we've put together this guide of recommended garments and accessories. We've also highlighted a number of shops where you can pick up any items you may have forget, ensuring you have an enjoyable holiday in Japan.
Japan (Tokyo) Climate

Japan (Tokyo)

Spring:April to June

Pack light clothes, but enough to layer up a little. Depending on where you are the temperature can be surprisingly temperamental, going from warm sunny days to exceptionally cool evenings, especially the higher up you go.

Around April is prime season for cherry blossoms, but it's also prime allergy season too, so if you are prone to hay fever, be sure to pack the necessary medication. Do be warned that Japan may have restrictions on bringing particular medicines into the country. Medicines that contain Pseudoephedrine or Codeine are prohibited depending on the quantity of stimulant raw materials. If you're not too sure, check with the embassy first. If you don't have medication, you can always consider picking up a facemask from a convenience or drug store.

Note ! Rain gear such as umbrellas / raincoats is needed in June as it is a rainy season.
Both items can be purchased at convenience stores.

Spring:April to June

03

Summer: July to September

Summer: July to September

It's important to bring sunglasses and a hat to help protect you against the strong sunlight in Japan during the summer months.

For so many of us, summer means long warm, dry, sunny days, but in Japan - especially during typhoon season - it can be a very different story.
Summer is incredibly humid in Japan, so it's worth packing clothes made from extra absorbent and breathable fabrics, cotton shirts are a good tip.
Also, a light waterproof jacket won't go astray if you get caught in a summer downpour.

Sweating a lot is a given too, so if you're feeling self-conscious, it may be worth packing a small hand towel, carrying something like a tenugui -small cloth towel- is standard practice during the warmer months. Finally, don't forget to pack your swimming gear as Japan has some incredible beaches!

Summer: July to September

04

Autumn: October to December

Autumn: October to December

Autumn: October to December

Autumn is cooler and easier to spend like spring, so please lightly wear the jacket.
The autumn leaves season in November when the natural landscape is at its most beautiful, so chances are you'll want to get out there and explore. There are countless scenic walking trails just a short trip from most of the major cities, like Mount Takao just outside Tokyo, so make sure to pack those walking shoes.

Autumn: October to December

05

Winter: January to March

Winter: January to March

Winter in Japan can get bitterly cold, especially if you're planning a trip up north, but even Tokyo drops to sub-zero temperatures in the colder months.

Thermals are a given if you want to make the most of your time not cooped up indoors. Down jackets with extra padding are worth throwing in the suitcase too. If you do forget anything, you can find plenty of winter necessities, such as Heattech clothes, at UNIQLO. The air during this time of year is particularly dry and can be harsh on sensitive skin, so to avoid the confusion of ving to decipher creams and lotions at the drug store here, consider bringing your own.

Winter: January to March

06

Temperature Variations between Hokkaido and Okinawa

Temperature Variations between Hokkaido and Okinawa

It's important to remember that Hokkaido (in the north of Japan) and Okinawa (in the south) experience completely different climates and weather conditions.

Hokkaido

Hokkaido Climate

Hokkaido

Hokkaido is renowned for its snow and experiences heavy snowfall in winter. Even during the summer months, it can be chilly, so remember to a pack long-sleeve shirts and long pants, no matter what time of the year you're traveling. If you're traveling to Hokkaido in the winter, you'll need to bring suitable snow gear and snow shoes.

For more on Hokkaido, please see our guide here: Hokkaido yet to know –The local side-

Okinawa

Okinawa Climate

Okinawa

Okinawa is Japan's warm southern prefecture, with the maximum temperature even during the coldest months (December, January and February) being around 17 degrees Celsius. Okinawa's beaches are open to the public from March to October, although the best time to swim is generally considered between July and September. So don't forget your swimwear!

If you're visiting Okinawa in September, be aware that frequent typhoons hit, so bring wet weather gear. Conditions can change rapidly during this month, from clear, sunny days to wet and windy.

For more on Okinawa, please see our guide here: Twelve Hours in Paradise: A Day Trip to Zamami Island

09

Recommend Shops for Visitors to Japan

10

Hats, Gloves and Scarves

Hats, Gloves and Scarves

If you need to pick up hats, gloves and scarves during the cooler months, there are numerous fast-fashion brand stores located throughout the country.
Brands such as UNIQLO, H&M and ZARA usually have reasonably priced items and don't forget to check out the local Japanese label GU, which is geared towards a younger market.

GU

GU

11

Umbrellas and Raincoats

Umbrellas and Raincoats

Wet weather gear such as umbrellas and raincoats are readily available throughout Japan, so there's no need to bring them from home.
You can pick up both umbrellas and raincoats at Seven-Eleven, Lawson and Family Mart convenience stores, as well as at 100-yen stores such as DAISO and Can★Do.
Expect to pay around 500-600 yen for a plastic umbrella at the convenience stores and around the same for a raincoat (Size L is suitable for those 180-185 cm in height).

Lawson

12

T-shirts with Japanese Writing

T-shirts with Japanese Writing

T-shirts with Japanese Writing

T-shirts can be purchased throughout the country if you need additional clothing or if you just want to pick up a local souvenir.
For something really unique, look for T-shirts with Japanese writing at i-RIE Harajuku store and Sparkle Asakusa.

13

Handy Items to Pack when Visiting Japan

Handy Items to Pack when Visiting Japan

Backpack: Tokyo is a large sprawling city, and if you want to make the most of your time there, or in any of Japan's other major cities, you'll probably be out most of the day. A backpack is the easiest way to carry all your daily necessities and is an easy bag to manage when both battling early morning commuter trains and climbing the outer city hiking trails. You can also leave your luggage at Hands-Free Travel stations across the country to make getting around easier.

Shoes that slip on and off easily: In Japan, wearing shoes inside a house, and other particular locations (certain temples, some restaurants, places with tatami mat flooring) is considered a no-go, so to avoid headaches, pack shoes that can be slipped on and off easily.

Tattoo coverings: Although the attitude is slowly changing, some places in Japan are still somewhat wary about tattoos. Traditionally tattoos in Japan were associated with mafia (yakuza) activity. Onsens, public pools, gyms, and even some nightclubs may turn you away if they see you brandishing any ink, so pack some plasters or bandages to keep the tattoos under wraps.

The temperatures in Japan change quickly throughout a year. It is recommended to check what clothing and useful items are appropriate for each season.
There are many items and products available to purchase in Japan. We hope you have a chance to buy these items and enjoy travelling in Japan!