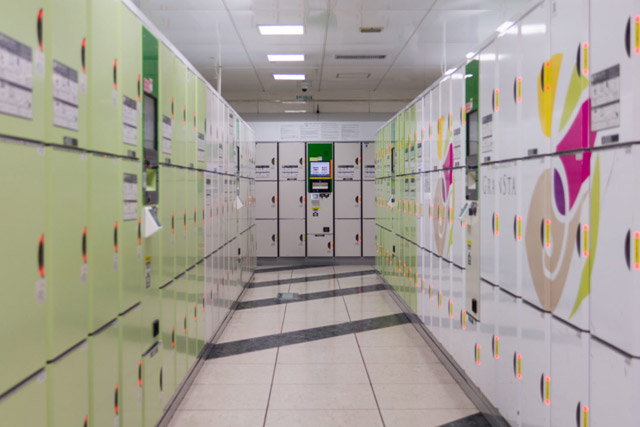 01

Lock it up and forget about it

There are a lot of situations with Japan travel where you just don't want to deal with your luggage. Went skiing in Niigata but now taking a fews days from Tokyo to Kyoto? No need to bring all of that gear with you, as there are easy ways to store even large luggage during your trip.

02

Arriving before check-in

If you arrive in your destination city before check-in you have a couple of options depending on your plan for the day. With most check-in times being around 3pm, this is common! Most accommodation will simply allow you to drop off your bags in advance so you can go out and explore.

If you're in a major city you can take care of your things immediately and simply check them in at a major train station, most of which have either a staffed luggage room or coin lockers of various sizes. Most of these will only cost you between 300-500 yen per day.

03

Out for the day – Coin Lockers

The downside of Japan being an amazing place to shop is that you can quickly accumulate bags of gifts and souvenirs that you need to carry around all day. If you need to store bags temporarily, from a few hours to a few days, there are a lot of automated options in any city that are both secure and affordable. Coin lockers are exactly what they sound like: Public lockers for storing your things, and cost just a few coins.

04

Storage Locker Locations in Japan

You can find coin lockers all over Japan, but especially near train stations. These are great for coming in on a day trip and storing your bags while out and about, or having a place for your shopping while exploring the city. Most are inside the station or just outside. You can even find refrigerated lockers inside some supermarkets to keep your groceries fresh while you shop!

05

Storage Locker Sizes in Japan

Most walls of lockers have small, medium, and large size lockers, but major train stations will even have extra large lockers for luggage or golf clubs. There are many more small lockers than the other sizes, so you're not guaranteed to get what you need during busy times. If you need something bigger we recommend using luggage storage rooms located in major stations like Tokyo and Shinagawa.

Prices for lockers are fairly consistent at 300 yen for small ones, and up to 500 or 600 yen for larger versions. Time limits can vary, but if you go over the set time (such as 24 hours) you will need to pay an additional time-based fee before you can unlock it.

While most coin lockers still operate using a key, there are more and more options available that use e-money cards like Suica and Pasmo. This is much more convenient as you don't need to make small change to pay, and the card itself functions as the key! Simply touch your card to the reader and it will remember which locker you're using and allow you to both pay and open your locker.

If you have large luggage or equipment you'll have a more difficult time storing it, even at some major stations. Tokyo Station and Shin-Osaka station have both luggage rooms and coin lockers that can also hold fairly large bags. These are your best bets, especially if you're planning on leaving some things behind for multiple days.

In fact, most major stations have large coin lockers at the very least, but it's impossible to tell whether they'll be vacant or not. When in doubt, just ask at the information desk and they'll help you out.

It's also possible to store luggage at the airports, but that can be a bit more complicated to deal with since the airports aren't easily accessible. However, if you just have a layover and want to get into the city, this is your best bet.

09

Storing Your Luggage – Tips

Since a lot of coin lockers are inside train stations, be very careful that you get back to them before that part of the station closes. They may even be inside the gates, so you would need through the gates to access them.

If the lockers are outside be aware of the weather, especially in the summer. The heat can affect those chocolates you bought as a souvenir!

A lot of newer coin lockers let you use your e-money card as both payment and key, meaning you don't need spare change or have to keep track of a tiny key.

If you lose your key you're going to need to find staff to help.

Safety and security: No need to worry!