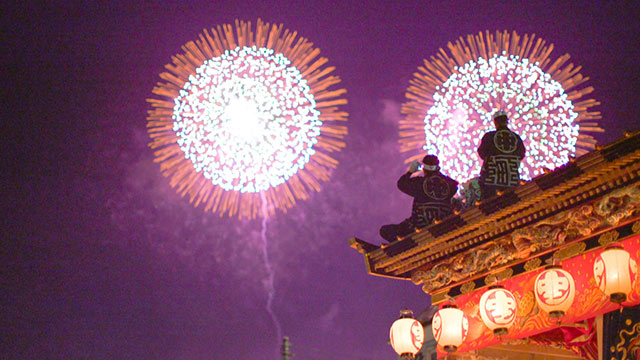 Summer in Japan is synonymous with traditional festivals celebrated across the country. Here are three of the best.
As the temperatures and humidity rise in Japan, the energy, spectacle, and entertainment come together in a long lineup of matsuri that attract from hundreds to hundreds of thousands of participants every year. While festivals of all sizes happen year-round across Japan, especially with harvest-centric festivals in the autumn, the most local and celebratory events take place in the summertime when it's more about having fun for the sake of it, dancing, drinking, and playing carnival games. 

Each matsuri has its own theme and charm, and since there's never an entry fee they attract quite a crowd. Just remember to come with a big appetite! Rows of street food stalls with local and traditional fare make it possible to sample a bit of everything without breaking the bank, and locals are always happy to have visitors join in the festivities.

02

Tenjin Matsuri (Osaka)

Dedicated to Sugawara no Michizane, the deified patron of learning and art, the Tenjin Matsuri in Osaka is one of the top three festivals in Japan, and takes place on both land and water. The main celebrations kick off on the second day with drummers and dancers leading a procession of portable shrines from Tenmangu shrine through the streets of Osaka, where they are then loaded onto a hundred illuminated boats that parade up and down the Okawa river. Onlookers have plenty of food and drink to choose from, and crowd the riverbanks for a two-hour fireworks display. Having hopefully entertained the deity, the parade returns him to his home at Tenmangu to wait another year.

03

Aomori Nebuta Matsuri (Aomori City)

Get your cameras ready for this spectacular lantern festival in northern Japan, centering on over twenty massive lantern floats based on kabuki or mythical stories. Constructed throughout the year by local craftsmen, the colorful floats of painted washi and hundreds of lights are up to five meters tall and nine meters wide. Haneto dancers dressed in vibrant costumes push the floats along while jumping, dancing, and shouting "Rassera! Rassera!" around the city. Anyone can join in the procession, but you'll need to rent haneto costumes for about 4,000 yen. On the final night, the floats are loaded into boats and ferried around Aomori Bay as a fireworks display caps off this fiery festival.

04

Awa-Odori (Tokushima City)

The Awa-Odori is celebrated to mark the Obon period and welcome ancestral spirits back to this world. Participants of all ages put on yukata and straw hats to dance to the traditional Tokushima song, "Awa Yoshikono," accompanied by traditional instruments. This dance dates back to 1587 when the Tokushima castle was newly built and the feudal lord Hachisuka Iemasa offered sake to the townspeople, who ended up getting drunk and dancing in the streets. As the song itself goes, "It's a fool who dances and a fool who watches! If both are fools, you might as well have fun dancing!" so don't hesitate to join the massive street dance party from 6 PM onwards.