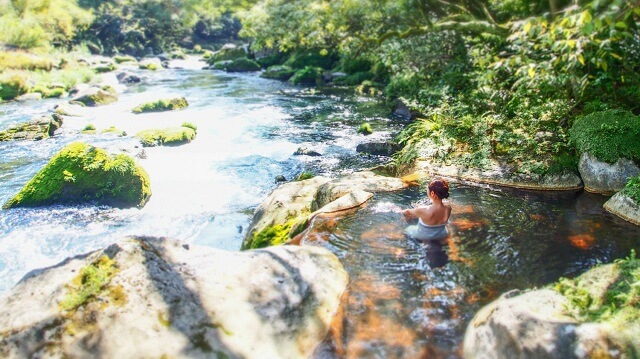 Kirishima is home to hundreds of natural hot springs. Most of these onsen in the area have high Sulphur content which is said to be good for the skin, diabetes, bronchitis, high blood pressure, and achy joints.

Sulphuric baths require good ventilation and so you'll find that many of the onsen in Kirishima are 露天風呂 rotenburo (open air baths). Two of the most famous spots are Kirishima Hotel which has an indoor, gender-separated bath, and Shin'yu which features a traditional outdoor, mixed-gender bath.

02

Hiking & Mountain Climbing

Kirishima is pretty much a nature lover's dream come true. There are many hiking trails and you can discover some of the highest Japanese crater lakes above sea level. The most popular hiking spot is Mt. Takachiho which offers a stunning view of the often-erupting volcano, Mt. Sakurajima, on a clear day. The hike can take anywhere from 3-5 hours. Kirishima is so famous for hiking that chances are there's a trail near any place you're staying, so just ask your hotel or ryokan staff and they can point you in the right direction.

Mt. Takachiho

"I'm on vacation. Why would I go to a farm?" you're probably thinking. Have you ever milked a cow? Wanna try? For couples, singles, and families alike, 高千穂牧場 Takachiho Bokujo offers a pretty cool experience for everyone. You can experience life on a real Japanese farm. You can take care of (and play with) various animals and grow and harvest vegetables. There are small restaurants that serve dishes made from homegrown ingredients. What's cooler yet, the areas surrounding Takachiho Bokujo were locations for the classic 1967 James Bond film, You Only Live Twice. You might want to bring a Japanese speaking friend or guide because at the time of writing, there's no official English language support.

Takachiho Farm

4.0

119 Reviews

Miyazaki Pref. Miyakonojoushi Yoshinomotochou 5265-103

0986332102

[Apr.-Oct.]9:00-17:30[Nov.-M…

View All

04

Check Out Works of Art Created to Blend with Nature

The Kirishima Open Air Museum (called 霧島アートの森 Kirishima Art Forest in Japanese) lies 700 meters above sea level at the base of Mt. Kirishima. It has an indoor gallery with rotating exhibitions, but the museum's main attraction is the permanent outdoor collection – all of which was custom made by artists specifically for the museum with the intention of blending in with the surrounding terrain and nature. If you're traveling with kids, this is a great spot! Some of the pieces are interactive – meaning you can climb on them – and there's plenty of space to run around play.

Kirishima Open Air Museum

Kagoshima Pref. Airagunyusuichou Koba 6340-220

0995745945

9:00-17:00 (Reception until …

View All

05

Play Miniature Golf & Go Grass Sliding

While we're on the subject of families, Shinwa no Sato Park is spot well known to locals but not well known to foreigners. This family-friendly mountainside park has a number of fun attractions for kids and parents alike. You can take a gondola up the mountain, ride a tram around the park grounds, cruise down the slopes on various "grass slides," play Japanese miniature golf, or my favorite, race down the mountain on Alpine slides. There's a petting zoo and a restaurant that specializes in Japanese dishes made from locally raised kurobuta, black haired pig. It's a great way to spend a day with the family before heading back to your hotel to relax in the onsen.

Shinwa no Sato Park

4.0

50 Reviews

Kagoshima Pref. Kirishimashi Kirishimataguchi 2583-22

0995571711

[Apr.- Oct.]9:00-17:15[Nov.-…

View All

06

Visit Temples & Shrines

Kirishima plays a major role in the Japanese creation story. It's a bit complicated, so you might want to check my feature article on Kirishima for more details. First, 高千穂神社 Takachiho Shrine commemorates the time when the sun goddess Amaterasu hid in a cave, plunging the universe into darkness before being tricked into coming back out. Nearby 天岩戸神社 Ama no Iwato ShrineAma no Iwato Shrine marks the exact location of the cave. A wooded path decorated by ritual stone piles left by centuries of pilgrims leads to 天安河原 Ama no Yasukawara Shrine, the place where the other gods met to discuss how to lure Amaterasu out of the Ama no Iwato cave so she would restore light to the universe. Finally, the main shrine is the one from which the area gets its name, 霧島神宮 Kirishima Shrine. The shrine commemorates an event in the creation story known as 天孫降臨 tenson korin when the sun goddess's grandson came to earth to plant rice and eventually establish the imperial family. The spot where he first arrived from heaven was the peak of Mt. Takachiho and he stuck his spear into the ground and left it there. At Takachiho Shrine, every evening they perform 神楽 kagura (shrine music and dance) recreating various scenes from the creation myth.

Takachiho Shrine

4.5

77 Reviews

Miyazaki Pref. Nishiusukiguntakachihochou Mitai 1037

0982722413

Open 24 hours [Ofudasho] 8:…

View All

07

Enjoy Seasonal Festivals

Because of the abundance of temples and shrines, there are many festivals throughout the year. The first is the Kirishima Nanohana Flower Walk (last Saturday of March) when you can walk among a sea of yellow flowers. Next is the Minami Kyushu Kagura Festival (last Saturday of August) where you can enjoy a variety of street food and local crafts while watching kagura performances. Tenson Kōrin Gojinka-sai (Fire of the Gods Festival) (November 11th) at the peak of Mt. Takachiho to venerate Ninigi's sword. Then there's the Harvest Thanksgiving Festival (November 23rd) at Kirishima Shrine and Midori no Mura which features an open-market, kiddy parade, sumo wrestling, and yabusame. As with all of Kagoshima Prefecture, in June, many shrines hold Rokugatsudo festivals where people decorate paper lanterns and bring them to shrines at dusk – a local tradition since days of old Satsuma Province.

08

Row a Boat through the Mountains

Takachiho Gorge is one of the most scenic spots in the whole country. It can be hiked or you can rent canoes and take a leisure ride down the slow moving Gokase River. The gorge is beautiful year round for nature lovers. In the early spring, the mountain cherry blossoms bloom and in the late spring, wisteria and azalea flowers cover the area. In the summer, the area is covered and lush green vegetation that glimmers with thin beams of light passing through the leaves. In the autumn, the forest lights up with in brilliant hues of yellow and red. Many of the giant cedar trees in the forest are thought to be more than 800 years old!

While it's possible to get around to the major sites by public transportation and taxis, it's extremely time consuming, requires a lot of planning and familiarity with timetables, and you'll probably have somewhat limited access. The best way to do Kirishima is the way the locals do: by car. Luckily, Nippon Rent-a-Car has 7 locations in Kagoshima, so as soon as you get off the shinkansen or airplane, you can hop right in a car and start your adventure.