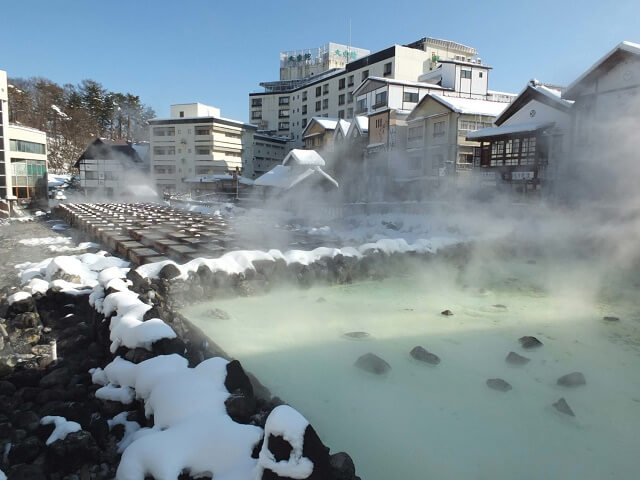 Just a few hours outside of Tokyo is Kusatsu, a centuries-old destination for relaxation and therapy through bathing. Even today you'll find a well-preserved and charming town, and some of the more interesting hot springs bath culture in Japan.
Communal baths are an intrinsic part of the Japanese culture. Some may find it weird to get naked and relax while passing time soaking in a large tub of natural hot water in front of complete strangers. But make no mistake: going to an onsen (hot spring) can definitely be a soothing and unique experience.

To ensure so, there is no better way than visiting the best hot spring towns the country can offer. And Kusatsu Onsen (草津温泉), situated 1,200 meters above sea level in the mountains of Gunma Prefecture and only 200 kilometers away from Tokyo, is one of the top 3 in Japan.

Somewhat nostalgic looking small town of Kusatsu

The resort boasts the largest natural flowing water volume of all Japanese hot springs. More than 32,000 liters of spring water are pumped out every minute in the whole resort – enough to fill 230,000 barrels a day.

The natural prowess of Kusatsu Onsen can be admired in the Yubatake (which literally means "hot water field"), its symbol and main source of hot spring. It is said that the town developed around the spot, which has many ryokans and shops clustered next to it. And as with many onsen towns there's no shortage of "onsen tamago", which are raw eggs that can be purchased and put in a basket to cook slowly in the naturally hot water. In the dead of winter they're a perfect snack between baths.

Boiling egg using the power of onsen

The hot spring water naturally comes out at a temperature of more than 70 degrees Celsius. Structures like the Yubatake use their pinewood-made conduits to slightly cool down the water before distributing it to Japanese style inns, hotels, public baths and spa facilities. And thus, using the century old method called "Yumomi", which has been passed down since the Edo period, the wooden panel is used to stir the onsen to cool it down to just the right temperature without adding any cold water. There is a 30-minute show where visitors can see the performance of yumomi where local women stir the waters from 65 degrees Celsius to enterable 48 degrees while they sing folk songs.

Kusatsu Onsen waters are so acidic that they can dissolve an aluminium 1-yen coin in a week. Such acidity is the key to its germicidal properties, which are capable of interrupting the proliferation of bacteria and fungi by killing them within minutes. Centuries ago, the town boasted that its waters could cure all kinds of ailments – other than lovesickness.

Ladies using wooden panel to show "Yumomi"

Despite being established long before, the resort fame was propelled in the late 1800s by claims of the German anthropologist Erwin von Bälz, also the personal physician of the Japanese Imperial Family. Bälz recommended Kusatsu Onsen for its mountainous air and water's health benefits. The town is located along Japan's Romantic Road and still maintains a quintessential old-time look. A stroll around is enough to dive into the Japanese culture.