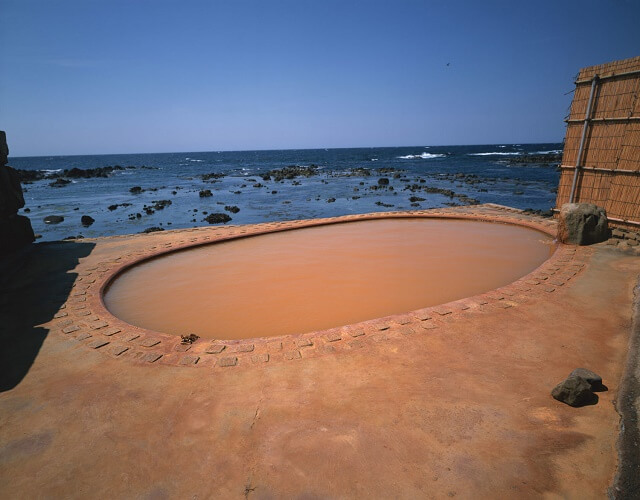 The countryside is one of the first things that come into mind when someone talks about onsen (hot spring). But that is definitely not the case. Located in Aomori, the northernmost prefecture of the Japanese mainland, the outdoor hot spring of this inn is impressively just a few steps away from the Sea of Japan.
The main attraction of the Koganezaki Furo-fushi Onsen is that it makes its visitors feel they are inside the deep-blue sea itself. Its panoramic view accompanied by the refreshing sea breeze, the sound of the lapping waves and the hot bath comprise a unique blend.

Koganezaki Furo-fushi Onsen

Talking about mixtures, the other eye-catching feature of this onsen is the yellowish nature of its water, but there is no need to worry. The color is just the by-product of the oxidized iron that comes from deep underground. And its sodium, calcium and magnesium-rich water doesn't emanate a strong smell (unlike many other hot springs).

Still along the coastline, the inn offers both a mixed gender and separate women's outdoor hot bath. Day trips are available, but only overnight guests are allowed to be there from sunrise to sunset and, in consequence, enjoy the spectacular sunset bathing. Visitors have to leave by 4pm.

The Sea of Japan sometimes gets stormy and the waves might start to cover the outdoor bath. In such conditions, the staff is oriented to immediately close them. This ends up not being a huge problem, given that the Furo-fushi Onsen also has two large indoor pools open until 9pm. Both also offer astonishing views of the Sea of Japan, but keep in mind that there's nothing compared than to be outside, in the wild.