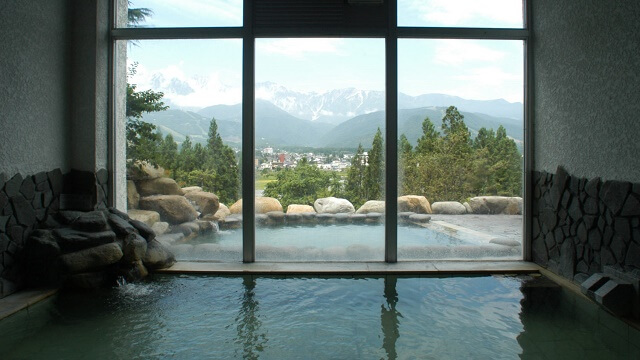 With a snowfall of 11 meters annually, Hakuba is a prime ski/snowboarding town. Home to the 1998 Olympics, powder hounds of all levels find the slopes of Nagano invigorating with over 200 runs and some of the longest trails in Japan.
Particularly known for its powder, and the steep terrain it provides, there is a little something for every fan of snow sports. From snowmobiling, to nighttime snowshoeing and beyond, Hakuba can be your destination location for all things cold and outdoors.

Strolling just got a little bit colder, snowshoeing is a workout that does not leave you fearing for your life. For any lodge sitters who wants to stroll around, snowshoeing might just be your cup of tea. There are even nighttime snowshoeing and fondue tours.

For powder hunters, there are tours dedicated to taking groups to untracked locations, and all the special back country locations. Because jumping out of an airplane isn't intense enough, heliskiing puts you on untouched snow, letting you fend for yourself all the way to the bottom.

Ski jumping is not for the feint of heart. Standing at the top of a 90 meter drop, one imagines the courage it must take to barrel own these jumps. At 90 and 120 meters, seeing is believing. The ski jumping stadium encourages visitors to take the chairlift and then the elevator up to the top of the jumps. You can feel for yourself the terror of such heights. Being at the top of those jumps really would be an experience.

After a long day of snow sports, muscles are aching and exhaustion is setting in. The perfect end is a delicious meal followed by a soak in the onsen. There are a variety of onsen to choose from, each with their own special healing properties. Yet, it is safe to say that soaking in any of them will certainly ease the inevitable soreness and help get you ready for another day on the slopes.

Then, for a little high-speed adventure, try snowmobiling. Feeling the cold morning air on your face, hearing the snow crunch under your feet as you make the first steps into fresh powder, feel the engine start underneath you and off you go. For the experienced snowmobiler back country snowmobiling might just be the thrill you've been looking for.

Another way to enjoy the speed and power of snowmobiling without the thrill seeking element, is to try snow rafting. An experienced snowmobiler will take your snow raft over the bumps and banks you want. Or if you prefer, give you a smooth ride to enjoy the view.