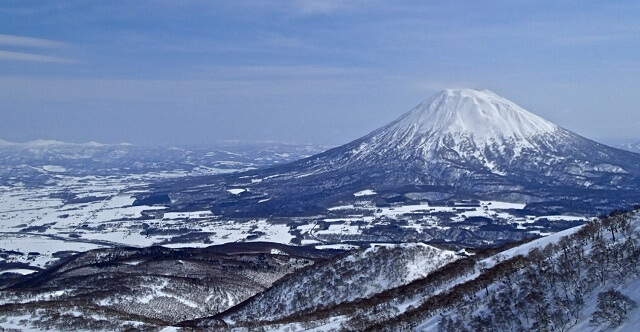 Niseko is where powder dreams become a reality. Is it worth the trip all the way to Japan? Absolutely.

Niseko is now a household name for winter sports lovers worldwide thanks to the many magazine layouts and film crews shooting the steep and deep every year. The name Niseko, derived from the Ainu language, means "a cliff jutting over a riverbank deep in the mountains", however it just as easily could mean "I just did a powder run with snow up to my waist!".

The thing that attracts so many people to Niseko is the quality of the snow, which due to a moisture content of only 8% is extremely light and dry, making for an epic snowboarding and skiing experience.
Niseko is actually a group of ski areas which stretch far around the mountain, providing extremely favorable light conditions from morning until evening. This means that after hitting the slopes all day, you can continue with night skiing courses that are well-lit for many hours. Lifts are open until 9:00PM, so you can take advantage of smaller crowds and fresh evening powder runs and do a "Niseko nighta".

Niseko is very, very big, with over 48km of runs in total. In fact, the 900m vertical drop positions it alongside other world class resort destinations. The longest run is a challenging 5.6km, so start working on those leg muscles long before your trip!

The mountain has terrain for everyone; wide open groomed runs for beginners at the base of the mountain, and legendary tree runs like Strawberry Fields for advanced riders. Spectacular steep and deep runs can be found under the Kogen gondola, and powder hounds will find the bowls and tree runs through the many numbered gates on Annapuri.

On bluebird days, you will notice "ants" on the peak above the highest lifts. These are boarders and skiers hiking the peak to the top of the mountain. The view from the top is breathtaking, in fact, under the right conditions, you can even see the Sea of Japan. If you choose to ride the back side of the mountain, be sure that you have your backcountry gear with you.

For those with the budget and desire to go where no man has gone before, a burgeoning backcountry business has blossomed in Niseko, which can accommodate advanced and professional riders.

There are four main areas in the Niseko Ski Resort – Annupuri, Higashiyama, Hirafu, and Hanazono, and from November to April strong winds blows in from Russia, blanketing the region in deep snow. The best powder days are found in late January-February, although there are often late snow dumps in March extending the season.

Snowboarders tend to prefer Annapuri with its numerous off-piste gates, and skiers gravitate towards Hanazono with the wide steep mogul-dotted hills. Whatever your style of riding, Niseko has you covered.

Niseko's All Mountain lift pass, at 8,000 yen per day, allows visitors to explore all four areas of the mountain taking advantage of the area's 38 lifts and gondolas.

Hiraru Town is the crowning jewel of winter resorts in Japan. The last twenty years in Hirafu has seen exponential growth almost exclusively driven by foreign investment. Gone are the shabby backpacker pensions of years gone by, Hirafu is now shining new. This means it's expensive but also a lot of fun, especially when the sun goes down.

From coffee shops to hotel workers, everyone speaks English.
Some may be surprised to learn the English is the de-facto language in Hirafu. From coffee shops to hotel workers, everyone speaks English. In fact, a significant number of workers in the village are young Australians on working holidays. If you are lucky enough to be able to get a working holiday visa in Japan, why not try Niseko for a winter? We guarantee you will have a blast.

Both upper and lower Hirafu are packed with hotels, holiday homes, pensions, and high-end condominiums. Budget accommodations will put you a bus ride away from the slopes, with a few of the highest end condominiums being ski-in ski-out. If you have a large group, you should maybe consider renting a house for your holiday. 4-5 bedroom houses with fireplaces and full western kitchens are not uncommon in lower Hirafu. We highly recommended booking your accommodation 3-4 months before your trip, as Niseko is very popular and bookings go fast.

Restaurants in the village run the gamut from food trucks to fine dining, with varied cuisines and an overall generally high quality of food.

There are a few Japanese convenience stores selling local foods and drinks, and 2013 brought an international supermarket stocking many overseas food products and fresh foods as well. This is a great option if your rental condo or house has a kitchen (many do!).

For late night crowds, there are now cigar and wine bars that have joined dance clubs and local izakaya (bars) as apres ski options.

Pick up a map of restaurants and activities to do in Hirafu from the tourist center beside the bus stop when you get dropped off.

4.5

796 Reviews

Hokkaido Abutagunkucchanchou Yamada 204

0136220109

8:30-16:30 ¥ [Nighter Sa…

View All

One of the real benefits of having a destination winter resort are the many wonderful restaurants that open in the area. Dining in Hirafu does not disappoint, and can fit into any budget. The locals often get take out pizza, or Indian curry from one of the food trucks in town, while those with a bit more to spend have world class dining options. In between, there are some gems not to be missed as well.

Ezo Seafood is quite simply one of the best seafood restaurants in Japan. It's a small place, with reservations often made weeks to months in advance, but if you can make it in, the king crab legs are amazing. For a more informal night in a place serving great food along with a large selection of Japanese alcohol, try Bang Bang and Bang Bang 2.

Looking for great pizza and pasta in the heart of downtown Hirafu? Try Niseko Pizza. Take out and delivery pizzas are available, but if you'd like to eat in and enjoy the casual but stylish atmosphere of the small but often lively bar, it's probably best to make a reservation.

If you feel like picking up a cafe latte and a pastry before hitting the slopes, try the Green Farm Cafe. A funky interior makes this space a must visit for the morning crowd looking for their caffeine fix, and they also have breakfast and lunch specials served daily.

While some ski bums hit the sack early in order to wake up for first tracks, others realize the party doesn't stop when the mountain closes. Hirafu doesn't disappoint for the late night crowd. After early diners have shuffled home to sleep, the party starts rocking all over town. Bars, dance clubs, jazz clubs, billiards and darts, with both locals and tourists all joining in. There are often daily specials, as well as weekly events happening all over town during the winter. Be sure to check with the tourist office upon arrival to get up to speed with the latest event and nightlife info.

It's loud, fun, and always full of people…
In Hirafu it is difficult to find a quiet spot at night, most restaurants and bars are jammed every evening, and bars and clubs are loud, crowded, and often filled with young people. There are a few places to escape if you prefer a quieter experience, or more mature crowd. ONE Bar, in Upper Hirafu offers a large selection of cigars (including Cubans!), and also has a great drink selection including a nice selection of whiskey. Featuring a very relaxed environment, it offers a good opportunity to get away from the crowds. Niseko Cellars is where everyone shops in Hirafu that likes wine. The shop has a very nice wine selection from around the world that runs from reasonable to outrageously expensive. Most guests take the wine home after purchasing, but they do have a small bar that is often filled with a relaxed wine loving crowd. Why not pick up a bottle and share it with some new friends at the bar?

A word of caution though, buses do not run all night…

Hirafu is the "it" place to stay and enjoy nightlife after being on the mountain all day; however, it is not the only choice for accommodation.

To the West of Hirafu is Niseko Village which has two large hotels at its base including the upscale Hilton Niseko Village. The Hilton Niseko Village is a ski-in ski-out resort, making it a convenient choice for those who want to hit the slopes as quickly as possible in the morning.

There are not many options for dining outside of the hotel, but it does have an all-you-can-eat lunch buffet that is excellent quality at a reasonable price, and is very popular with guests.

Further west is the Annapuri resort. If you like quiet, Annapuri is your place. There are fewer crowds in the mornings due to the main body of boarders and skiers slowly making their way across the mountain from Hirafu and Hanazono. The Green Leaf Hotel is at the base of Annapuri, and after a recent renovation has become a popular destination for those looking for a more relaxed holiday away from the Hirafu nightlife.

There are buses that run between all areas of the mountain during the day and evening. A word of caution though, buses do not run all night, so if you choose to go into Hirafu for a night on the town, be sure to check when your last bus is so you are able to make it back to your hotel.